viral
Kapil Sharma Claims That He Didn't Delete The Tweet, Know More Inside!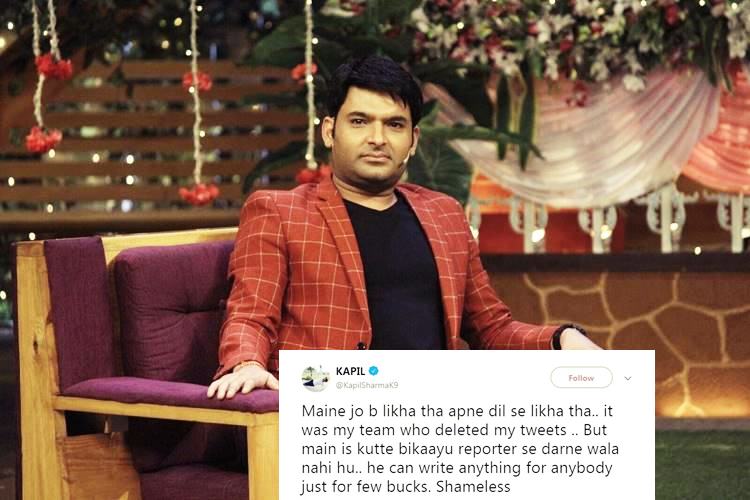 It started with Kapil Sharma defending Salman Khan on Twitter who is convicted in poaching case. But in no time things turned ugly when kapil blamed the "system"  and "Media" for spreading negativity about Salman. His one of tweet read as,
"Maine bohat saare aise maharaja type dekhe hai jo bade fakr se batate hai ki humne sher ka shikaar kiya hai… main mila hun unse. Salman bohat logo ki madat karta hai… accha aadmi hai… I don't know if he did it or not…but see his best sides…ghatiya system…"
In an another tweet, he lashed out on media saying that-Â "Agar main prime minister hota to fake news banane walo ko faansi laga deta".
What shocked his followers the most in his language he used in his tweets. Here are the series of tweet by Kapil. Have a look:-Later, all these tweet disappeared from Kapil's twitter handle and  Kapil came up with an another tweet in which he apologized and claimed that his account was hacked. Hi tweet read as-
"Hi all, please ignore the previous offensive tweets as my account was hacked. Apologies for the inconvenience caused. Love and regards to all," 
[Also see:Â 
Kapil Sharma ABUSES A Popular Website Editor And Threatens To SLEEP With His Daughter!]
Kapil Sharma also filed a police complaint against his ex-managers Neeti, Preeti, and journalist Lalvani claiming that Lalvani was trying to extort Rs 25 lakh from him. He also went up on saying that when he refused to pay him, Lalvani went up on defaming him on digital media.
Kapil Sharma filed a police complaint against his ex-managers Neeti, Preeti and journalist Vicky Lalwani for trying to extort Rs 25 lakhs from him, alleged Vicky Lalvani started a false & malicious propaganda to defame him in digital media after he refused to pay him the amount pic.twitter.com/F50H1tSDFt

— ANI (@ANI) April 7, 2018
Once again on Friday night, Kapil wrote an another tweet stating that it was not him who deleted those tweets but his team did.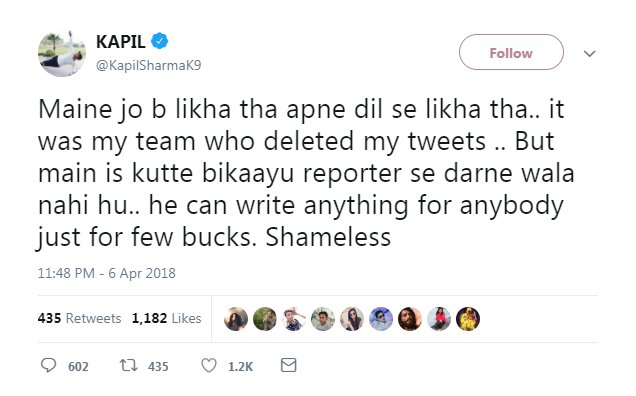 [Also see: WATCH: New Teaser Of Sunil Grover's 'DHAN DHANA DHAN' Is Out!]
He also posted the images of the complaint filed.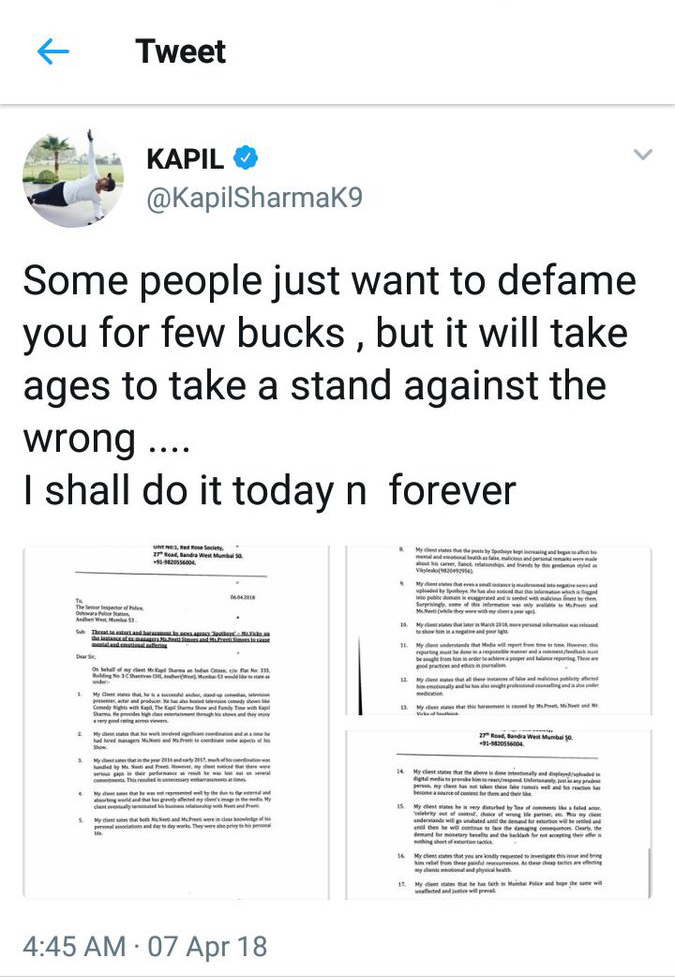 See how people reacted after Kapil claimed that his account was hacked and he didn't deleted the tweets.
https://twitter.com/udaasKrishna/status/982227529879601156
https://twitter.com/isocialsaint/status/982233717107113987
Stay tuned with us for all latest updates!