News & Gossip
This Is How Harbhajan Singh Convinced Geeta Basra To Be With Him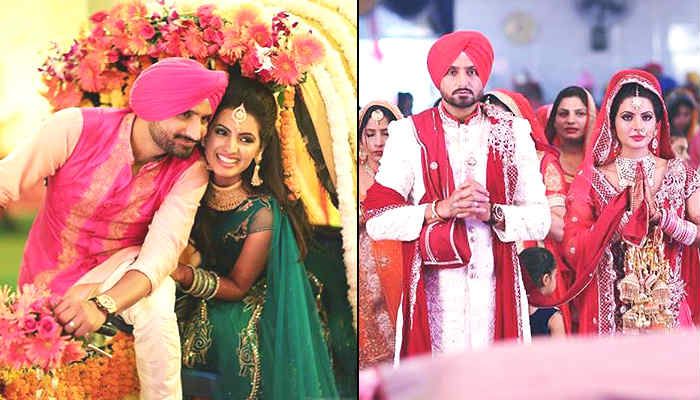 Combination of Bollywood and Cricket is an age old combination and a lot many celebrities actresses from Bollywood have married cricketer! One such combination is that of Harbhajan Singh and Geeta Basra and here's Harbhajan Singh himself revealing how he managed to convince Geeta Basra to be with him!
https://www.instagram.com/p/Bp36zaKlLjX/?utm_source=ig_embed
After being in a relationship for quite some time, Harbhajan Singh and Geeta Basra tied the knot on 29th October 2015. On 27th July 2016, the couple was blessed with a daughter, Hinaya Heer. We know all these details about the cricketer and the actress but we know little about their love story.
https://www.instagram.com/p/BpgSXo8h3a9/
Recently, Harbhajan Singh was on Neha Dhupia's show, No Filter Neha and he spoke about how he fell in love with Geeta Basra and how he convinced her to be with him!
https://www.instagram.com/p/BoI586rBGqh/
"I saw her in one of her posters and I asked Yuvi (Yuvraj Singh) who is this girl? He said he didn't know. Toh maine kaha phir lao pata (I asked him to find out who she was). We have a friend called Suved Lohia and we asked him. Geeta knew Suved and he conveyed the message to Geeta. That time, we had just won the World Cup. Uske baad toh raja the hum log (We were the kings at that time). When we came back, I sent her a message saying that I would like to meet you for coffee. Toh uska koi reply hi nahi aaya (I didn't get any reply). Then IPL was starting and she asked 'is it possible to get a couple of tickets?' But that wasn't for her, it was for her driver. Toh isko laga maine isse favour puchi hai toh I have to return the favour (Since I helped her, she felt that she had to return the favour). We then met for coffee. We then kept on meeting and then she was like 'no, I want to focus on my career' and I was like ya, even I want to focus on my career but at the same time let's see where it goes. So yea, it took me around 8-9 months."
Stay tuned for more updates!