The bold and beautiful Kangana Ranaut has no godfather in the industry,  she has often spoken about issues when the big names in the industry. Kangana Ranaut is one badass and confident woman who has carved her own path in the Bollywood.
But at the same time, she uses to have ups and downs in her personal and professional life. From controversies surrounding Aditya Pancholi to her public fallout with Hrithik Roshan, she has been through a lot.
Kangana Ranaut had left her home at the age of 15 to become an actress, so she came to Mumbai with a dream-like common person. When the acid attack happened to Rangoli Chandel, Kangana was just 19, and that time she was struggling in the industry. She wasn't financially strong. Kangana wanted the best surgeon for her sister's treatment, so she worked hard in the films.
"Girls around me would feel depressed by a bad hair day or because a meal was not to their liking. I was grappling with something far more real and yet had no time to sit and cry. I did tacky films, took on roles I did not deserve, accepted guest appearances, so my sister could be treated by the best surgeon in India. It took 54 surgeries," Kangana told
She was pursuing engineering, Rangoli was attacked in Dehradun.
"Shortly after this image was clicked, the guy whose proposal I refused threw one-liter acid on my face, I had to go through 54 surgeries strangely and simultaneously my little sister was physically assaulted and almost beaten to death for what ?" she had revealed on Twitter.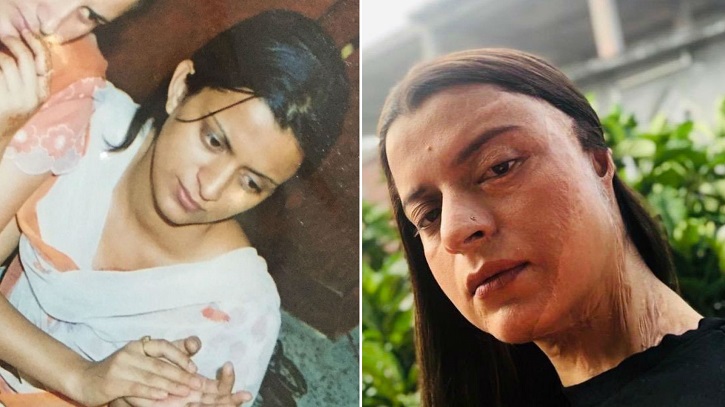 OMG !! Such an overwhelming response to our childhood pics, lot of friends asking for my pics from college, ha ha we were science students, we had no time for all this, still found one from annual day 😁 pic.twitter.com/baO8WTWYDu

— Rangoli Chandel (@Rangoli_A) October 1, 2019
Lot of people feeling sorry about the fact that I lost my beauty, honestly when your organs melt before your eyes beauty is the last thing you care about, even after 54 surgeries over a span of 5 years doctors couldn't reconstruct my ear…(contd) pic.twitter.com/M5MMHVHpOx

— Rangoli Chandel (@Rangoli_A) October 2, 2019
(Contd)…..I had lost one eye had a retina transplant, doctors took skin patches from all over my body and grafted my one breast which was severely damaged, during breast feeding Prithu I felt many complications….(contd)

— Rangoli Chandel (@Rangoli_A) October 2, 2019
"I don't know what to say honestly I had given up on my life, my now husband bt back den just a normal friend washed my wounds &waited outside operation theatres fr years very supportive sister & parents collectively breathed life into me… can't take credit fr wat my life is today," Rangoli said.
Read More: Abhishek Bachchan's Tweet Might Hint Aishwarya Rai Bachchan's Getting Pregnant Again, Fans Wondering
Rangoli and Kangana Ranaut supported Deepika Padukone's Chhapaak, a film that is based on the life of acid attack survivor Laxmi Agarwal.