Featured
Arjuna awardee Mandeep Jangra Becomes the first Indian Boxer to be signed by Pro Box Promotions, USA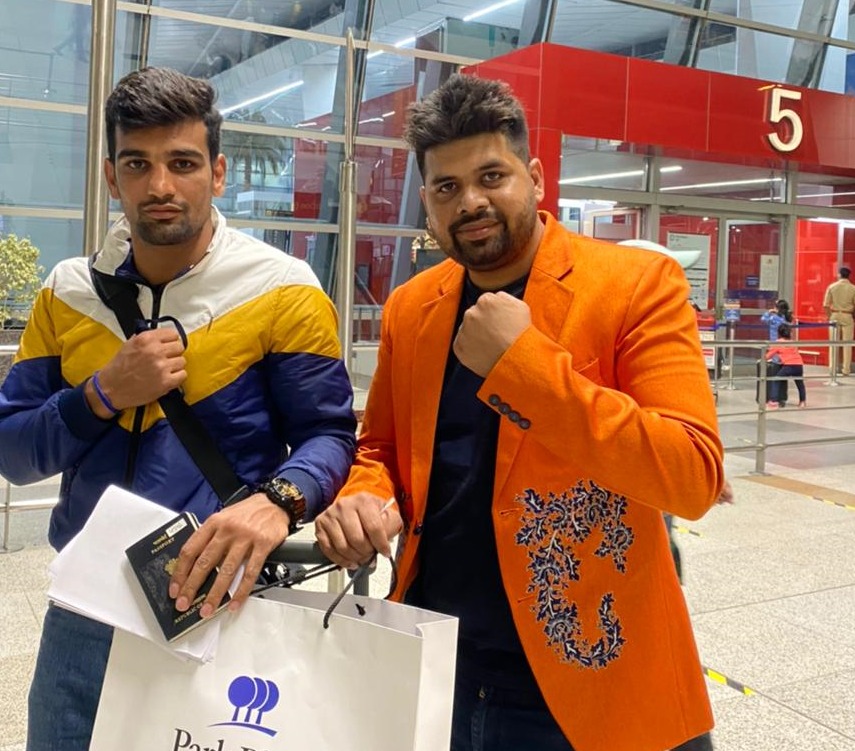 Arjuna Award Winner Mandeep Jangra who is the most promising star boxer from India is the first ever Indian boxer to be signed up by the prestigious Pro Box Promotions and going to have his International Professional fight debut in Tampa, Florida USA on 1st of May 2021. There is an interesting story behind how this became a reality.
"I am delighted to have signed with Pro Box Promotions and Garry Jonas. Garry has guided world champions such as Juan Carlos Payano and Argenis Mendez, so I am very excited to follow in their path and become a world champion for people of India," Jangra said in a press release in US.
"I grew up watching Mike Tyson, and Garry was a long-term business partner of Mike Tyson, so it is a dream to work with someone who did great things with one of my heroes Mike Tyson. I am looking forward to fighting on May 1 in Tampa, Florida and that will be a top-quality night of entertainment. I am all about bringing entertainment to all of the sporting worlds."
 " I was due to fight this week in Tampa, however, my promoter thought it was better for me to continue to train hard and box on a bigger show that will be available to viewers in India. So the team decided that was the best decision right now" Jangra said."I am already getting into the best shape of my career with my coaches Marc Farrait and Asa Beard and I believe this is the team that has the right global experience that can turn me into a star like Amir Khan"
"Due to COVID-19 restrictions it was a great challenge to get a suitable event to have Mandeep's Professional fight debut, because majority of events were getting cancelled or postponed worldwide and it was due to the effort of Mr. Bob Yalen (CEO MTK Global, former WBC Chairman) with reference from boxing promoter Amjad Khan and persistent effort of our team for over last six months a spot was secured by the organizer Mr. Ryan Rickey. Upon reaching Florida I received a call from Mandeep and was delighted to know that, while training for the event,he was spotted by Probox Promotions who offered to train and launch him. Mandeep Jangra is the first Indian boxer to be launched by the prestigious Probox Promotions" said Shabeer Hamza, Vice President of the promoter AKBF.
 Amjad Khan Boxing Foundation (AKBF) had initiated the process over six months ago to get an appropriate event for the pro fight debut of Mandeep. Sponsorship became a big challenge as all of the sponsors and those expected backed out at the last moment, at one point it seemed Mandeep won't be able to make it to USA for this event due to the same reason. Mr.Rohtash Karir extended support to cover the expenses and at the last moment his medical tests, including for COVID were done and he boarded the flight to Florida as planned on 7 th of March 2021.
Mr.Akhil Kumar- 2010 CWG gold-medalist had mentored Mandeep early in his career, Apart from the prestigious Arjuna Award Mandeep has the following accolades to his name – Won national Championship 3 times, won state championship 10 times, won Gold at Cyprus – International Limmasol Boxing Cup 2013,won Gold at Ulaanbaatar International Boxing Cup, Mongolia, won Gold at South Asian Games in 2016, in 2019 he had a 5 win with no loss record at Big Bout International Boxing League making him the Champion and there are several silver and bronze medals to his name in prestigious international events like Glasgow Commonwealth Games, Senior Asian Championship, XXXVI FXTM International Tournament in Poland, Zharylgapov Boxing Tournament in Kazakhstan, Qatar International Boxing Cup, World Series Boxing he won against China, etc
Mandeep Jangra runs boxing clubs in his home town in the state of Haryana and goes out of the way to mentor many youngsters and especially students in schools and colleges in an attempt to bring discipline to their life and to promote and conducts camps to make boxing as a sport more popular in India. He has also done some brand promotions. Mandeep aims to bring the World Boxing title to India.