What is unique and different about me?
I'm a major in Economics and a fashion blogger. Blogging is my passion and completely gave up my academically oriented career to take up content marketing and blogging full time. A different path rather than moving with the sheep.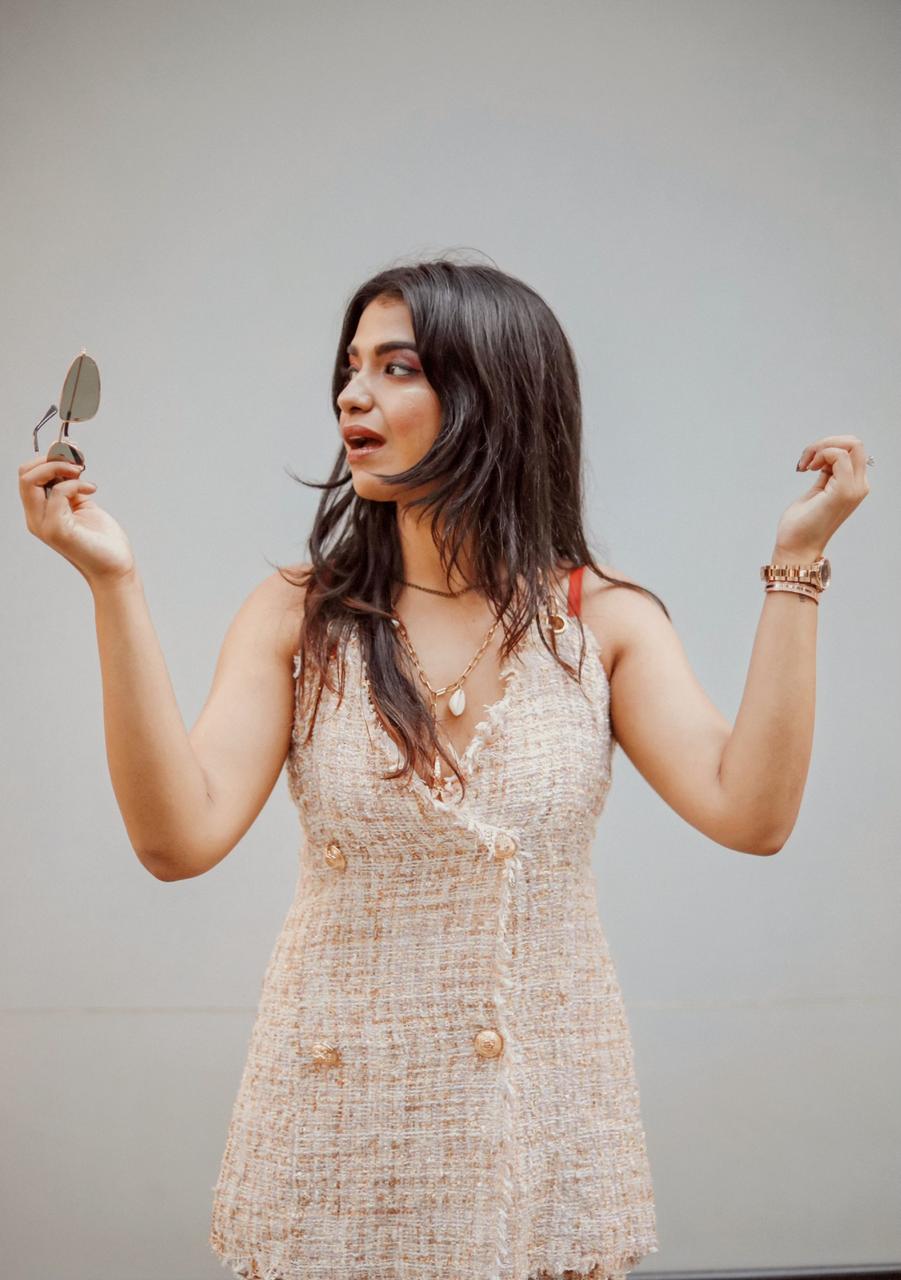 Nishtha, what are your passion and aspiration in life? How did you start as a Blogger?
I always thought dressing up for me was more than just looking good. It gave meaning to my life and sort of fed my ego when I was going through an existential crisis. I feel looking good forms a major aspect of selfconfidence, without which anything in this world is almost impossible to achieve. I started blogging only when I realised I love being in front of the camera and getting appreciated for my fashion sense and I continued blogging during my college days because it was an escape for me. Eventually, I ventured full-time into the digital and internet creative marketing world.
Who is your inspiration in life Nishtha? How do you keep inspired?
Inspiration can come from a lot of things, people, celebs, your folks, travelling, reading and even from places. Every different moment in your life, you pick a different source of inspiration to motivate you and support your success. Your life is a direct manifestation of your thinking. So if you can see a small single thing such as a person on the road struggling even to beg and survive or somebody who has two left feet trying to learn how to dance and make that a source of your inspiration, then why not. Another thing that has inspired me to do well in life is a pain. Everybody around you will cause pain; it depends on how you use that pain to your benefit that determines your growth.
We all make mistakes Nishtha; we wish we could take back. Please tell us about time being a Blogger; you wish you'd handled a situation differently with a colleague.
https://www.instagram.com/p/B4pWGSUBrd7/
I feel without mistakes, nobody can learn. But the only thing whether you call it a mistake or not I have made is when I had worked on barter even when I knew I should take money for what I'm doing and secondly is wearing clothes of a brand or endorsing a brand that does not fit your sense of style is also the second biggest mistake you can do.
Nishtha, when you're working with a large number of clients, it's tricky to deliver excellent service to them all. As a Blogger, how do you go about prioritising your clients' needs?
I usually don't promise all the clients at the same time. I try prioritising my time to one client at a time and if by chance I'm not able to deliver due to the time crunch. I apologise and don't take a huge responsibility the next time.
Please tell us Nishtha, about a time you had to be very strategic in order to meet all your top priorities as a Blogger?
I am not a full-time blogger. I have either been studying while blogging or I have been doing a job. So the only thing I have to be really strategic about is managing my time when it comes to shoots, my office and attending media events.
Nishtha, please give us an example of a time when you were able to persuade someone to see things your way at work successfully.
I think when you work with photographers, they try to impose their view on you. And you work entirely on the basis of your outfit being portrayed in the best light in a picture while a photographer would always want the photo to be more picturesque. It's always tough to make them understand what is it that you want to be highlighted in your pictures. I have had a tough time persuading different photographers to photograph my way.
Nishtha, please tell us about your proudest professional accomplishment as a Blogger. There might be many, but there is always this proudest moment that you want to share with everyone. What is it and why?
The proudest moment was during my initial days, it had only been a few months, and I was invited for a press conference with 13 other best bloggers of Delhi to meet Deepika Padukone ( a renowned Bollywood actress) at a Tissot event.
https://www.instagram.com/p/B5992-uh8MW/
Nishtha, please give us an example of a time you were able to be creative with your work. What was exciting or difficult about it?
Choosing of locations and compiling outfits and thinking of a theme you want in a particular shoot is the most exciting and creative part of blogging. The difficulty arises when you want to be different and have the edge over other bloggers, and you want to try something that hasn't been tried before.
What advice would you give to the people who want to be successful as a Blogger?
I think hard work, persistence and uniqueness in your content will take you to different heights.
Read More: Akshaye is a treat to watch in the new track from Sab Kushal Mangal titled "Ishq Ne Mara Re"
Are you looking for collaboration with fashion talents, brands and creatives? If yes, please state below what type of collaboration you are looking for?
Yes, I am, I'm mostly looking forward to travelling collaborations and fashion labels too.