News & Gossip
Rishabh Pant SLEDGED Australians By Saying "Not everyone is Pujara here", Twitter Gives Thumps Up
India is currently playing first Test Match against Australia in Australia. This time India is looking to win their first test series in Australia. As you all know, Australians are known for sledging when it comes to cricket. However, Indian wicket Keeper Rishabh Pant has given them a taste of their own medicine and everyone is loving it.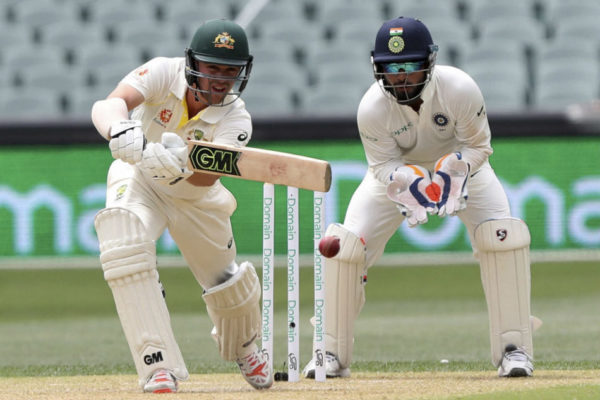 Rishabh Pant showed his funny side during the ongoing Test match when he teased the Australian batsman from behind the stump. He can be heard saying, "Not everyone is Pujara here". The meaning behind this statement was his praise for Pujara who played the spectacular innings taking team's total to 250 despite early fall. Pujara scored a century in the challenging situation. 
Sledging by Pant has taken the internet by storm, as fans are pretty happy about it. It soon became the talking point among cricket lovers. The micro-blogging platform Twitter was flooded with some hilarious reactions for the same. Scroll down and check it out:
1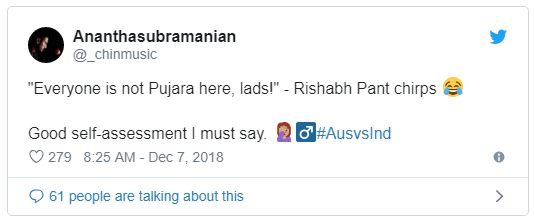 2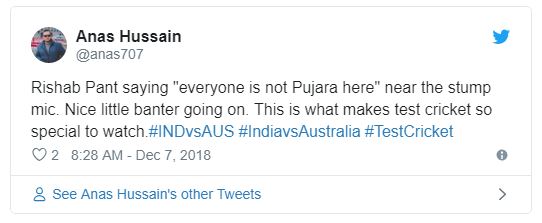 3

4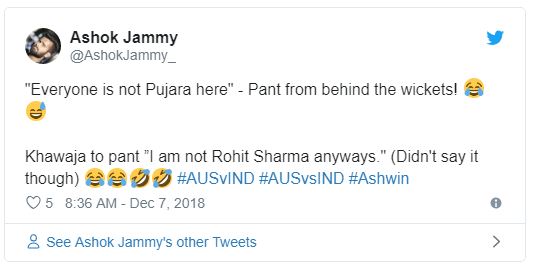 5

6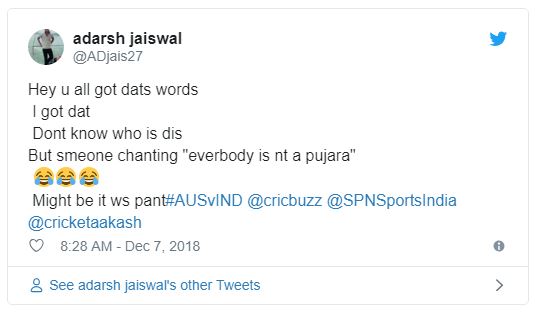 Third-day play of the first Test between Indian Vs Australia will decide the outcome of the match. And if we look at the score, Indian has already managed to get a lead of more than 100 runs with the loss of 2 wickets. It looks like we are going to win the first Test after all.
Coming back to Rishabh Pant's sledging, what do you think? Tell us in the comment section down below.