News & Gossip
Priyanka Chopra's 75 Feet Vile Has Internet Rolling, These Memes Are Too Funny To Be Missed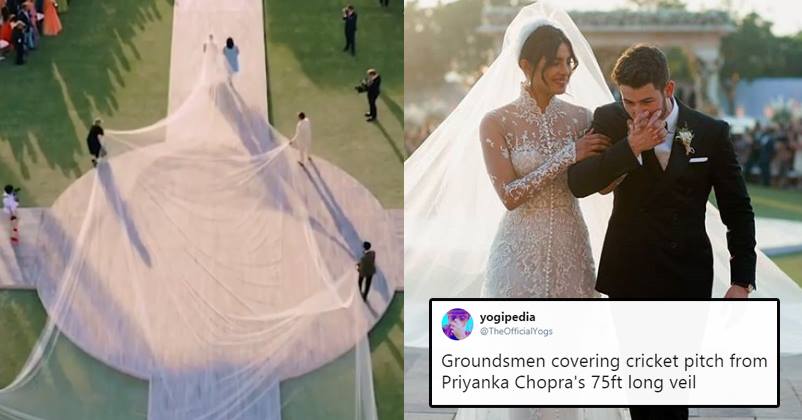 Bollywood actress Priyanka Chopra got married to her boyfriend American singer Nick Jonas in a grand wedding at Umaid Bhavan, Jodhpur. They married in a very private wedding, as no pictures were released or leaked, all thanks to the strict no mobile policy for the guests. However, some tidbits about the big fat wedding are coming out gradually. The latest updates will shock you to a whole another level.
Nick Jonas took to Twitter to share two wedding pictures, one from Christian wedding and other from Hindu style wedding. Both the pictures were breathtaking and were trending for quite some time. Priyanka Chopra wore a Ralph Lauren gown that had a 75 feet long vile. It took 1,826 hours to complete the gown.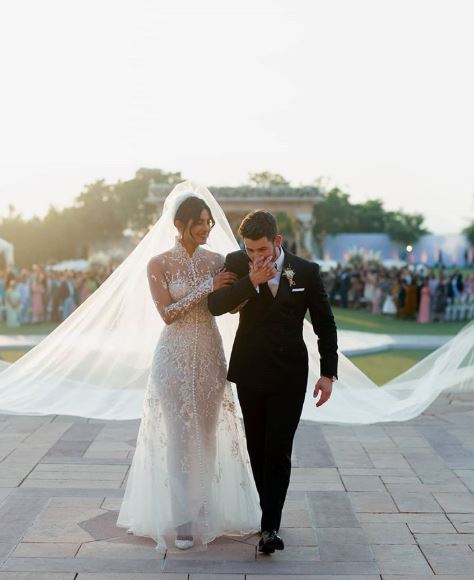 However, the picture of Priyanka Chopra from her Christian wedding has become a hot topic for memes and jokes creators on social media, all thanks to the 75 feet vile. Everyone is talking about such a long vile with a hilarious twist. There are countless memes and jokes floating around on the social media. These memes are so hilarious that you'll cry laughing. We brought you some of the funniest one down here.
1
Priyanka Chopra's veil could serve as a mosquito net for my entire apartment with double insulation for the my windows. Wawu!!

— Kathy T (@_katarinha_) December 4, 2018
2
priyanka's veil is bigger than my future pic.twitter.com/DyISyFg5C8

— hooman bing (@swegysuga) December 4, 2018
3
all I can think of when I see priyanka's wedding veil is that I want to run underneath it lol pic.twitter.com/vPBtc9rnPj

— Anil Chitrapu (@anilchitrapu) December 4, 2018
4
Priyanka Chopra's wedding is the the actual royal wedding.😭😭😭😭😭😭😭
Her veil is EVERYTHING!!!!!!!!!!!!!!!!!!!!
That veil is longer than satan's plans to ruin mankind🙆🏾‍♀️ pic.twitter.com/1gbK3XxDB3

— Lady Whistledown(she/her) (@wendielazbaru) December 4, 2018
5
Priyanka Chopra's wedding veil is the level of extra I aim to be pic.twitter.com/MgcXN192Qw

— Kozza (@Kozza) December 4, 2018
6
Also why was Priyanka's veil longer than the Jonas Brothers' career

— Zahra (@Zal_lra) December 4, 2018
7
#Priyanka's veil is twice the size of my Pune PG. #PriyankaKiShaadi #NickYanka #NickJonas #PriyankaChopra pic.twitter.com/CoQSXxGpKp

— Sirf Anshu (@SirfAnshu) December 5, 2018
8
May your bank balance in 2019 be as extra as Priyanka's veil

— aleya (@aleyakassam) December 4, 2018
9
OMG… Priyanka Chopra & Nick Jonas just had a better #RoyalWedding than BOTH of this year's royal weddings 😯😯🙌🏻🙌🏻

I wonder if this was an actual convo..

Meghan Markle: "My veil will be 16 feet long."

Priyanka: "That's cute. Mine will be 75 feet." 👑👑👑

— Rachel Bogle (@rachelbogle) December 4, 2018
10
Groundsmen covering cricket pitch from Priyanka Chopra's 75ft long veil#NickYanka pic.twitter.com/oEhNNpDC7D

— yogipedia (@TheOfficialYogs) December 4, 2018
11
Priyanka Chopra's veil is bigger than a script of sanjay leela bhanasali's movie#PriyankaNickWedding pic.twitter.com/3vN2TcckCk

— Boogie-woogie (@_BoogieWoogiee_) December 4, 2018
That's hilarious, isn't it?
What do you think? Tell us your thoughts in the comment section down below.