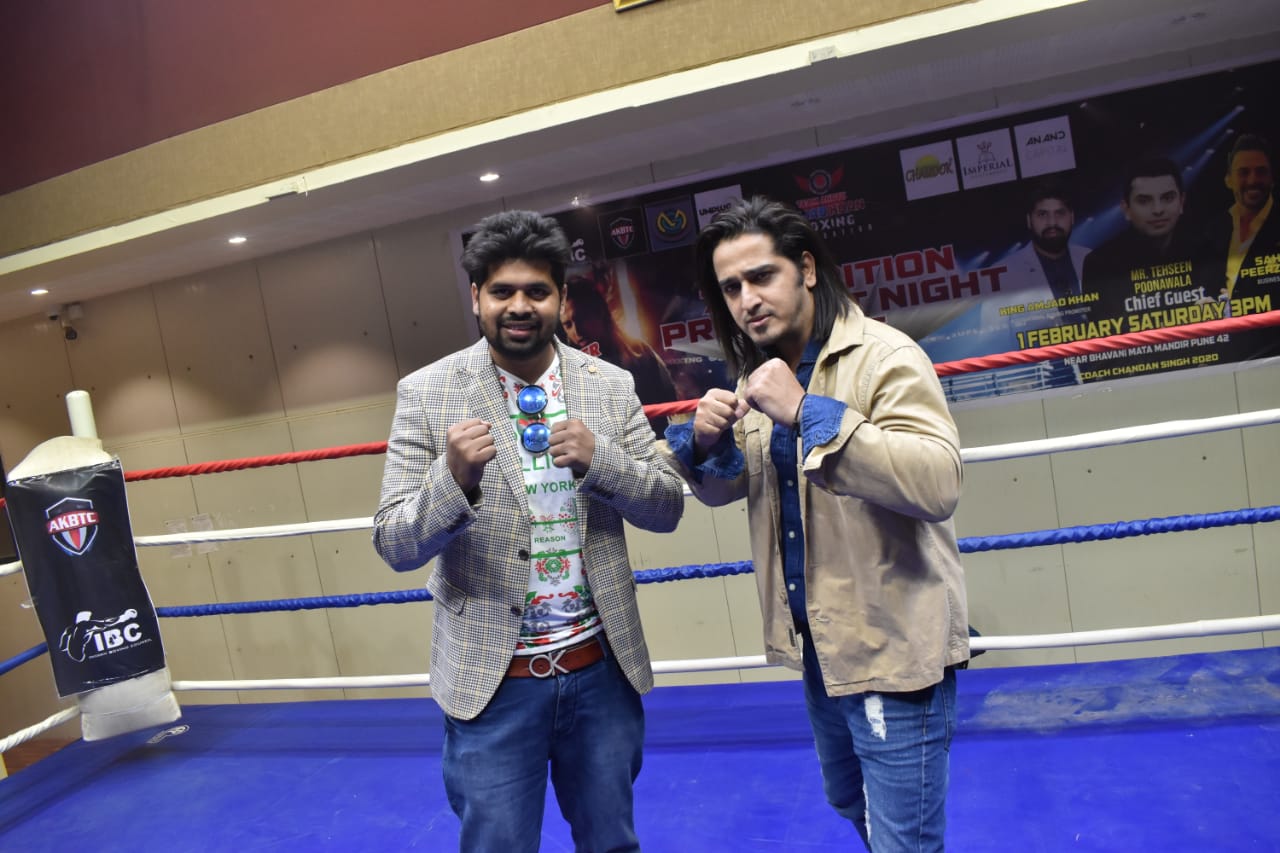 Amjad khan boxing training center (AKBTC) presents the 7th Pro Fight Night event in Pune for 1st February. There is nothing more exciting and compelling for a boxing fan than a Fight night. The view of a boxing ring, the arena, the match itself is a thrilling experience. And as a treat to boxing fans, Amjad khan boxing foundation (AKBF) is again presenting, '7​th Pro fight Night'.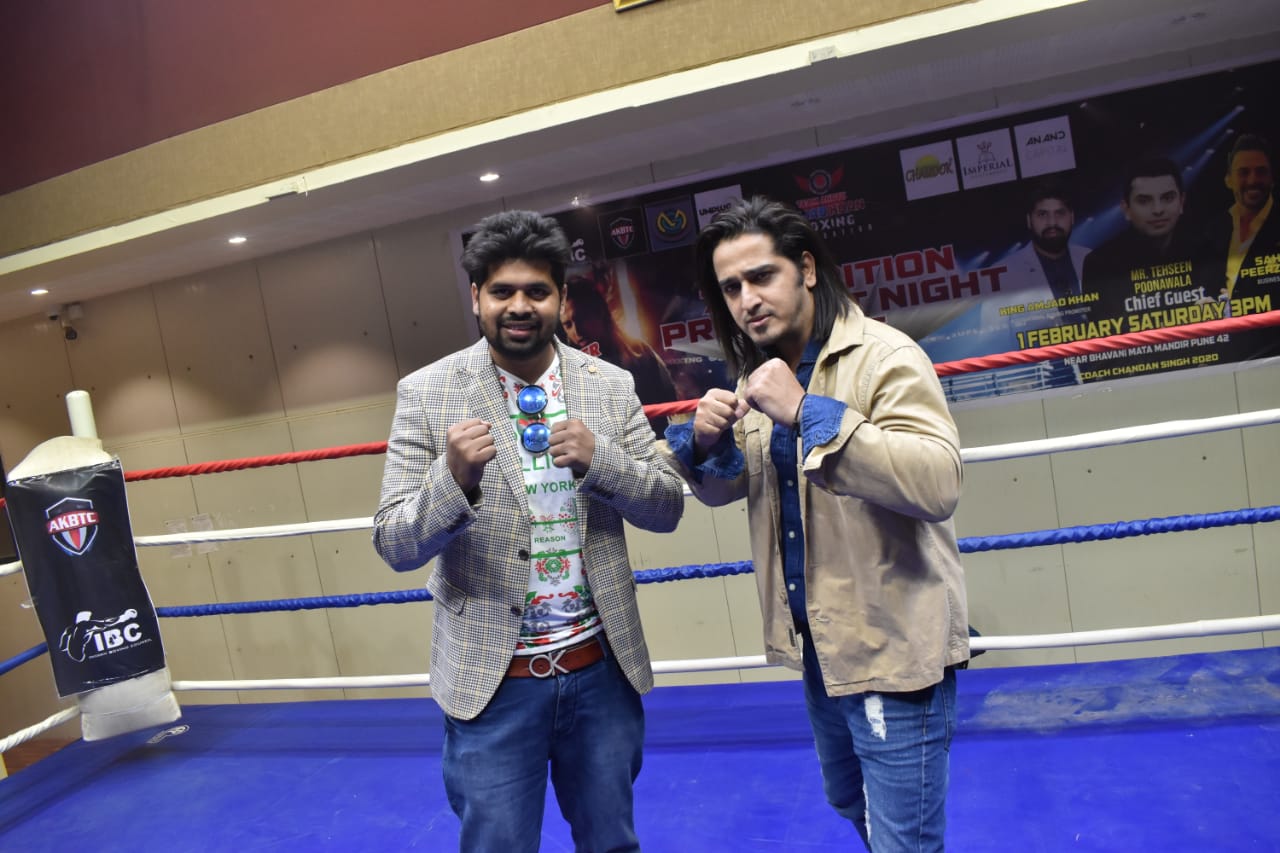 It is their signature event. Wherein, national and international boxers get an opportunity to showcase their talent. As a boxer, promoter, a fan of boxing and the founder of AKBF, Amjad khan believes, this event is a platform where the sport of boxing is celebrated. The 7​th Pro Fight Night is scheduled in Pune on 1​st February 2020. Save your date and be present at Arun Kumar Vaidya Stadium Bhawani Peth, Near Bhavani Mata Mandir, Pune-42.
The AKBF pro-fight is supported by Indian boxing council which affiliates professional boxing events in India. Stunningly organized by team AKBF, the event is adorned by well-known personalities from the entertainment industry to politics and business entrepreneurship.
The guest of honours includes names like talented singer Tauqeer Qazi, Ace actor Parvin Dabas. Another name adding to this list is, successful business tycoon Sahil Peerzada, who is coming to extend his constant support to his friend Amjad khan. IBC president Brig. (retd.) P.K.Muralidharan Raja will also be present in the event as one of the guests. Meanwhile, the guest of the event is Rahul Arrowa.
The Guest of Honor for this event is Gopal Narayan Devang, an Olympian Boxer and Arjuna awardee, special guest of honour is Binoy Gopal. The chief guest for this event is Qazi Tauqeer, who is a leading Singer and actor. And not to forget the experienced AKBTC pro boxing Coach Chandan Singh.
International Boxing Promoter and founder of AKBF King Amjad Khan (Net worth 8M) is highly inspired by UK based international boxer Amir khan. He considers him as his mentor and is in all praise for him. Amir Khan too extends his best wishes for the pro fight night. The fight night includes a total of 20 matches including men as well as a female match played in various weight categories.
Read More: VIdeo: Ananya Pandey Dancing On Sara Ali Khan's 'Aankh Maarey', Who Did Better
FULL FIGHT CARD:
Saurabh Chaudhary Vs Vinay Varma – Bantamweight (4 Round)
Sagar Narwat Vs Harish – Super welterweight (4 Round)
Ravi Vats Vs Ravinder – Cruiserweight (4 Round)
Anuditiya Sharma Vs Mohit – Cruiserweight (4 Round)
Rahul Kumar Vs Rakesh Baba – Super Welterweight (8 Round )
Rakesh Lohchab Vs Deepak – Featherweight (8 Round)
Boby Vs Sachin – Middleweight (4 Rounds)
Harsh Gill Vs Gurmeet Singh – Cruiserweight (4 Round)
Mazhar Hussain Vs Munir Monawary (Afghanistan) – Super Featherweight (4 Round)
Aaryan vs Amit Kumar – Light heavyweight (4 round)
Juber Ali Vs Naveen – Cruiserweight (4 Round)
Sachin Nautiyal vs Tarun – Super Welterweight (4 Round)
Tej Chowdhury Vs Jatin – Super Welterweight (4 Round)
Sangita vs Chandni Mehra – Lightweight (4 Round)
Rahul Singh Vs Punit Lamba – Welterweight (4 Round)
Ashish Vs Himanshu Sandhu – Heavyweight ( 4 Round )
Lalrinsanga Talu Vs Wazir Ahmed (Afghanistan) – Lightweight (6 Round)
Sanjay Vs TBA
Which fight are you excited about the most?