Specials
Bollywood 100th anniversary: 100 fascinating facts to celebrate a century of Indian cinema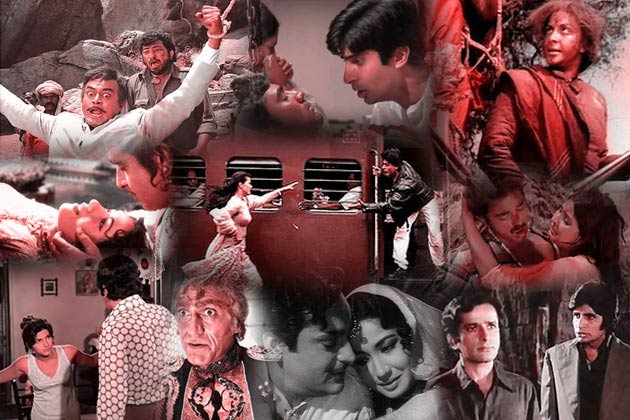 Bollywood 100th anniversary: 100 fascinating facts to celebrate a century of Indian cinema
D. Phalke's 'Raja Harishchandra' was a black and white, silent film premiered in 1913 while India was still under the control of the British Empire
Today marks the 100th anniversary of the first Bollywood film.
It has been a century since the first wholly Indian-produced film was released in Bombay.
D. Phalke's 'Raja Harishchandra' was a black and white, silent film premiered in 1913 while India was still under the control of the British Empire.
Indian cinema has come a long way since.  Bollywood is now the largest film industry in the world, having over-taken Hollywood in the 70s.
Below are 100 facts celebrating the 100 years of Bollywood existence:
1) The first wholly-Indian produced film was 'Raja Harishchandra', released in 1913
2) It was premiered in Bombay's Coronation cinema
3) The nickname Bollywood refers to the origins of Indian cinema in Bombay and Hollywood
4) The formal name for Indian cinema is Hindi cinema
5) The term 'Bollywood' was coined in the 1970s when Indian cinema overtook America as the world's largest film producer
6) The first Indian film was silent
7) 'Bombay Talkies' will be released on 3rd May 2013 in celebration of 100 years of Indian cinema
8) The first Indian film with sound was 'Alam Ara' released in 1931
9) Bollywood took off in the 1930s but was hit by the Great Depression.  Many films were escapist but some addressed social issues and Indian independence
10) India was still under British control in 1913 when the first film was released
11) The first Indian colour film was 'Kisan Kanya' in 1937
12) Hindi cinema flourished between 1940 and 1960 and is referred to as The Golden Age of Indian cinema
13) Film producers focused on India's social issues in the 1950s and especially working class, urban life
14) The India Wave movement began in Hindi cinema between 1940 and 1960.  It was a realist and naturalist movement about the sociopolitical happenings
15) 'Neecha Nagar' won the Best Film award at the first Cannes film festival in 1946
16) It was also the first Indian film to gain global recognition
17) Guru Dutt was ranked no. 73 in Sight and Sound's critics' and directors' poll of greatest filmmakers in 2002
18) Romance and action films were popularized in Bollywood in the late 60s
19) Indian cinema was criticized in 1976 for not pushing commercial films and focusing too much on the Indian Wave
20) 'Jai Santoshi Maa', released in 1975, was one of the top blockbusters of the time
21) Mid-1970s gave way to Indian gangster films
22) 'Indra Sabha' has 71 songs in it, the most any Indian film has
23) 'Salaam Bombay', 1988, won the Golden Camera and Audience Awards at the Cannes Film Festival
24) It's also the 2nd Indian film to be nominated for the Academy Award for Best Foreign Language Film
25) Bollywood is often used to describe the whole Indian cinema industry but is in fact just a Mumbai-based film industry
26) Bollywood is the largest film-producer in India and one of the largest in the world
27) Global recognition of Hindi cinema spread throughout the 2000s
28) Baz Luhrmann said that his hit musical 'Moulin Rouge' was influenced by Bollywood musicals
29) Indian film composer, A.R. Rahman, wrote the music for Andrew Lloyd Webber's musical 'Bombay Dreams'
30) Indian films are mostly musicals
31) Indian films are often referred to as the spice mix masala as they have a mixture of singing and dancing, romance, comedy and action
32) Typical Bollywood conventions include star-crossed lovers, angry parents, family ties, sacrifice, corrupt politicians and kidnappings
33) Bhanu Athaiya was the First Indian to Get an Oscar for the Best Costume Designer for Richard Attenborough's film 'Gandhi' in 1982
34) Ab Tumhare Hawale Watan Saathiyon is the longest Hindi film song, lasting 20 minutes, in the film by the same name
35) Salman Khan was the highest paid Bollywood actor of 2013 with a salary of around £7 million for one movie
36) Bollywood produces an estimated 1000 films every year
37) 'LOC : Kargil' is the longest Bollywood film lasting 4 hrs 25 min
38) Bollywood films now often feature Westernised dating traditions rather than pre-arranged marriages
39) It was only in 2001 that Bollywood films started recording sound on location.  Before, it was normally re-created in the studio
40) The Black Eyed Peas' song 'Don't Phunk with My Heart' was inspired by two Bollywood songs: 'Ye Mera Dil Yaar Ka Diwana,' 1978 and 'Ae Nujawan Hai Sub,' 1972
41) Songs in Hindi films are usually pre-recorded by professional singers and actors then lip synch the words on-screen
42) Indian films are usually written in standard Hindi to maximise the audience
43) 2011 film 'Ra One' cost $27 million making it the most expensive movie ever produced in Bollywood
44) Bollywood loses around $100 million from pirate DVDs and videos each year
45) Danny Boyle's 'Slumdog Millionaire' was inspired by Bollywood films
46) The Mumbai mafia shot film-director Rakesh Roshan in 2000
47) Billboards and film adverts used to be painted by Indian artists
48) Around 14 million Indians go to the cinema every day
49) The Filmfare Awards ceremony is the most prestigious events for Hindi films
50) According to Yash Raj Films, one of India's largest production houses and distributors, Bollywood films earn around $100 million a year in America
51) Bollywood producers usually release a films soundtrack before the film to boost popularity as the soundtrack is often more popular than the film
52) 2009 comedy, '3 Idiots' is the highest-grossing Indian film of all time with a worldwide gross of $71 million
53) 'Dilwale Dulhania Le Jayenge' (The Brave Hearted Will Take Away The Bride) ran at Mumbai's Minnerva cinema for 700 undeterred weeks.  It was the biggest Bollywood hit of the year and one of the biggest Bollywood hits of all time.
54) One song recorded in the film was rejected 24 times before the producer approve it as he wanted "everything to be just perfect"
55) Bollywood films are produced in Hindi, Assamese, Bengali, Gujarati, Kannada, Malayalam, Marathi, Punjabi, Tamil and Telugu
56) Muazzam Beg, an Indian film writer, will be making a documentary on 2 famous Indian actors, Sanjay Dutt and Salman Khan, both who are wrapped up in separate legal battles
57) There are talks of  remaking the 1957 Bollywood classic 'Mother India'
58) Indian actor Ranbir Kapoor who has won multiple Best Actor awards admitted he is "not even 2% happy with (the work) I have done so far"
59) Most Bollywood films are released on a Friday
60) Walk of the Stars in Mumbai is Bollywood's answer to the Walk of Fame
61) There are lots of accusations of plagiarism in Bollywood due to rushed schedules and limited funds
62) After 'Zindagi Na Milegi Dobara' (You will not get to live life twice) was shot in India, there was a 32% increase in Indians visiting Spain
63) Most Bollywood films are 3 hours long and have a break
64) Until 1990, Amitabh Bachchan was the only star paid in crores (around £120,000)
65) Shah Rukh said that he wouldn't mind over-charging for endorsements and stage shows but would prefer under-charging film producers because he owes his stardom to them
66) Bollywood tours are offered in India where tourists can visit sets and see celebrities homes from the outside
67) Odeon cinema created ODEON Bollywood and promise to showcase the best Indian films throughout the year
68) The Dadasaheb Phalke Award is India's most prestigious cinema award for lifetime contribution to Indian cinema given yearly by the Indian government
69) Indian films are screen in over 90 countries
70) Indian produced 1,288 feature films in 2009
71) Music right count for 4-5% of a film's revenue in India
72) In the first Indian film, women were played by male actors
73) The first chain of Indian cinemas was owed by an entrepreneur from Calcutta who oversaw the production of 10 films each yeah and then distributed them throughout India
74) 'Indra Sabha' and 'Devi Devyani' released in the 30s were among India's first musicals
75) 'Sant Tukaram' was the first Indian film to be screened at an international film festival at the Venice Film Festival in 1937. It was then judged one of the three best films of the year in the World
76) Half of India's cinemas were found in South India in 1940
77) S.K. Patil, head of the commission, defined Indian cinema as a 'combination of art, industry, and showmanship'
78) The Indian government set up a Films Division in 1948 which became one of the largest documentary film producers in the world.  It produced over 200 short documentaries each year all released in 18 languages
79) Satyajit Ray's had a huge impact on cinematography around the world.  He recreated the effect of daylight on-set with bounce lighting as well as photo-negative flash-backs
80) Chetna (1970) caused controversy as it showed a hard-drinking, hard-talking prostitute.  The actress, Rehana Sultan, revealed in a later interview that the film permanently damaged her image and career
81) Hollywood musicals from the 20s influenced Bollywood films
82) In the 30s, Indian films were filmed similarly in different languages and were known as multilinguals
83) Shilpa Shetty, who was the victim of racism on 'Celebrity Big Brother' in 2007, has been in 40 Bollywood films and also won 'Big Brother'
84) Aandhi (1975) was banned by the then-prime minister Indira Gandhi as it was rumoured to be loosely based on her life.  The producers added a scene where Aarti (supposedly Gandhi) tells her father that Indira Gandhi is her idol and she wants to serve the country like her, to show that  the film does not depict her life.  The film was approved by later government and premiered on national television.
85) Fox Star Studios is an Indian-based production and distribution company and a joint venture between Twentieth Century Fox and STAR which are owned by Rupert Murdoch.
86) Bollywood actors are now prominent in Hollywood. the most famous are Aziz Ansari in 'Get Him to the Greek' and Freida Pinto in 'Slumdog Millionaire'
87) Bollywood has an estimated viewership of 3 billion a year which overtook Hollywood in 2004 with an estimated 2.6 billion viewers
88) North America generates 25% of Bollywood's overseas box office revenue
89) Indian films weren't released in the West until the 1950s
90) Kylie Minogue had a cameo in Bollywood film 'Blue' in 2009
91) 'Jodhaa-Akbar' was released in 29 countries in 2009 which is the largest Bollywood worldwide release to date
92) 3.6 billion Bollywood tickets were sold worldwide in 2009, compared to 2.6 billion tickets for Hollywood films
93) Bollywood's audience reach is growing at a rate of about 15%
94) Sylvester Stallone starred in Kambakht Ishq (Damned Love) in 2009
95) 'Mughal-e-Azam' was the most expensive film made up until 1960
96) Bollywood director Yash Chopra is known as the 'godfather of romance'
97) Fatima Begum was India's 1st female film director in 1926
98) Bollywood has released more than 20 sci-fi films in the 21st century and the genre is becoming increasingly popular
99) It took the director of 'Mughal-e-Azam' 10 years to complete the black and white film at which point he asked the funders to film it all again in colour
100) Cannes film festival 2013 is going to make India its guest country in celebration of Bollywood's 100 year anniversary