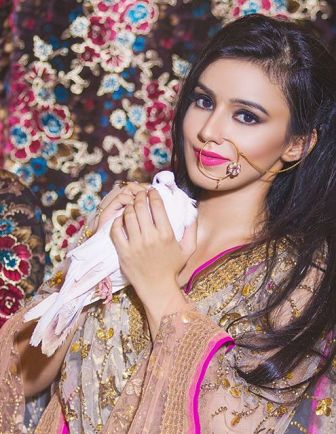 Ankitta Sharma Bio :
Name : Ankitta Sharma
Born: 7 February 1987
Age : 29
Birthplace :Chandigarh, India
Height: 1.63 m
Spouse: Mayank Sharma (m. 2015)
Occupation : Television actress, dancer
TV shows: Amrit Manthan, Sawaare Sabke Sapne
Ankitta Sharma, the lovely bubbly girl is well known to the TV audience in the role of Lajwanti in the show of the same name. The show Lajwanti aired on Zee TV got very popular as the love story between the lead pair, Lajwanti and Sunderlal, is set in the interesting backdrop of partition of India. Thanks to the popularity, Ankitta is bagging other roles also. Presently she is playing the pivotal role in the new Colors' show Ek Shringar Swabhimaan.
Ankitta was born on 7 February 1987 in Chandigarh , Punjab. She had her schooling and education in Chandigarh itself before settling down in Mumbai to work in the cine world. Ankitta's parents wanted her to become an engineer. But the 27 year old actress discovered her talent for acting and convinced her parents that she wanted to pursue a career in this field. Her parents supported her decision and she grabbed each opportunity that came her way. After modeling for a few projects, Ankitta participated in Miss Punjaban 2012 in which she was the first runner up. Later Ankitta was selected for the Ticket to Bollywood on NDTV and won the show.
Ankitta Sharma was chosen for the role of Lajwanti in the show. Being the titular character, it was a great responsibility and Ankitta indeed was the focal point of the story. Set in the period of partition of India, the two characters of Sunderlal and Lajwanti have got a very touching and realistic chemistry. After the success of Lajwnati , she also worked in the show Yeh Wada Raha on Zee TV.
After noticing hers impactful performance in Lajwanti, the makers of the colors show Ek Shringar Swabhimaan , have cast her in another key role in the serial. She plays the role of Naina Solanki, the younger among the two daughters of Sharda who brings her daughters up giving them good education. Ankitta's character is the love interest of Samridh Bawa's character in the serial. The serial is catching up with the audience.
In ongoing Bigg Boss 10 show, Ankitta made an appearance as a guest. She has won awards for her role has Lajwanti in Zee Rishtey awards in 2015.