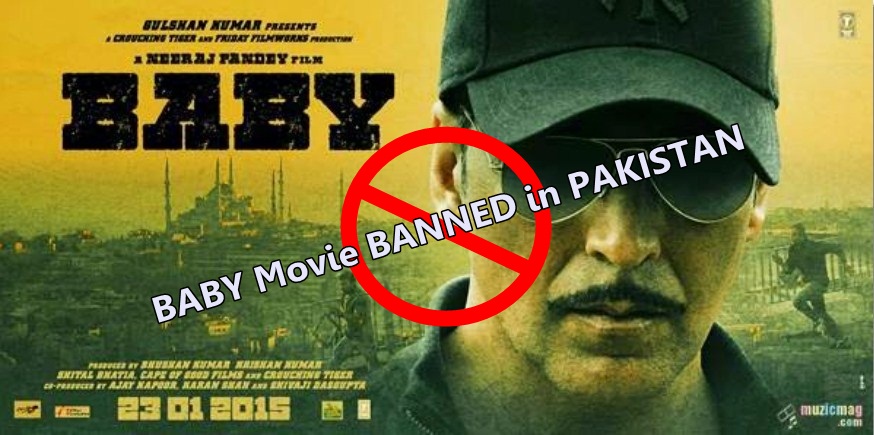 The movie Baby which revolves around the concept of terminating the terror by an undercover team has been banned in Pakistan by it's censor board.
This is the second time Pakistan banned an Indian movie, the first was 'Ek Tha Tiger' that featured an ISI agent. The Akshay Kumar starrer Baby directed by Neeraj Pandey was set to release all over Pakistan on 23rd January 2015 but was banned before its release. The Dawn Newspaper said "Censor boards in Islamabad and Karachi have decided to ban the film because it portrays a negative image of Muslims and the negative characters in the film also have Muslim names."
The movie Baby also features three Pakistani actors among whom Mikaal Zulfiqar and Rasheed Naz are the two. All the CDs and DVDs have also been banned in Islamabad.
The director Neeraj Pandey had quoted that the film was not "anti-Pakistan" or "anti-Islam". Pandey had told The Hindu, "I feel people can be wrong but a religion or a nation can't be wrong. And we are cognisant of it. We have three Pakistani actors in the film. There is no Pakistan bashing and there is no jingoism towards a particular country or religion. The core DNA of the film is fighting against terrorism …"
Akshay Kumar has also clarified that the film film does not show Pakistan in a negative light. "Baby is not an anti-Pakistan film. In fact, it has three Pakistani actors who play very important roles. See, some elements in Pakistan can be wrong but a whole nation cannot be wrong. Terrorism has no religion, and we believe that religion and country are two different things," The director said.