Specials
In 7 Days Baahubali 2 Created 27 Box Office Records
Baahubali 2 got released in over 8000 screens in India and doing very well at the box office. On its first day, it did a collection of around 100 crores including all versions. It took a few days to earn 100 crores for Baahubali: The Beginning but the second installment earned more than 100 crores in three days only.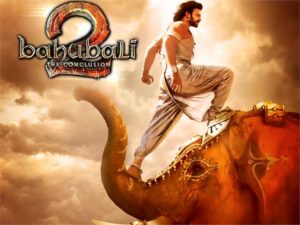 There are other records which the movie has made. Let's have a look.
Day 1
1. Highest Advance Booking
Baahubali 2: The Conclusion raked in an amount of nearly Rs 36 crore through advance bookings.
2. Largest Screen Count
The epic drama got the largest screen occupancy of total 8000 screens.
3. Highest Opening Oocupancy On Day 1
Baahubali 2 had the highest occupancy of 95% across India. Before that only Raees had occupancy of 70%.
4. Highest Opening Day of 2017
The movie raked in 121 crore on day one and it became the highest opening day grosser movie of 2017.
5. First ever to cross the 100 crore in one day
It is the first movie in India to cross Rs 100 crore in one day.
6. Highest Opening Day Collection by a Hindi dubbed film
Baahubali 2 is the first Hindi dubbed movie to earn 41 crore on its fisrt day.
7. Highest opener in Telugu Industry
The movie earned highest amount of Rs 53 crore from Telangana and Andhra Pradesh.
8. Highest Collections On Day One through Telugu, Tamil and Malayalam Version
On day one, the magnum opus earned Rs 80 crore through its Tamil, Telugu and Malayalam versions.
9. First Indian movie to top preview charts in America
Baahubali 2 not only took the India's box office by storm but it has stirred the overseas market also. It managed to be on top of the preview charts beating Fast & Furious 8, Beauty & the Beast and Boss Baby.
Day 2
10. Highest Day 2 Collection
It raked in Rs 102 crore on its second day including all versions.
11. Biggest day 2 Collection of 2017
It is the only movie to earn Rs 102 crore in two days at the box office.
12. Highest collection On Day Two in the US
The movie earned Rs 50 crore + in just two days in the USA. Trade expert Ramesh Bala writes, "Baahubali2 becomes the 1st Indian movie to do $3 Million in a day – $3.47 M on Sat – Apr 29th in #USA – Total so far: $8.16 M [₹ 52.45 Crs]"
13. Fastest Rs 200 crore film ever
The film just took 2 days to get Rs 200.
14. Fastest Rs 10 crore gross in Kerala
Ramesh Bala revealed, "#Baahubali2 becomes the fastest movie in any lang to reach the 10 CR Gross mark in #Kerala.. 2 Days Gross: ₹ 12.68 cr @gumediacompany Rel."