News & Gossip
VIDEO ALERT: Karan Singh Grover Gets Bitten By A Racoon; Sonakshi Sinha By Fish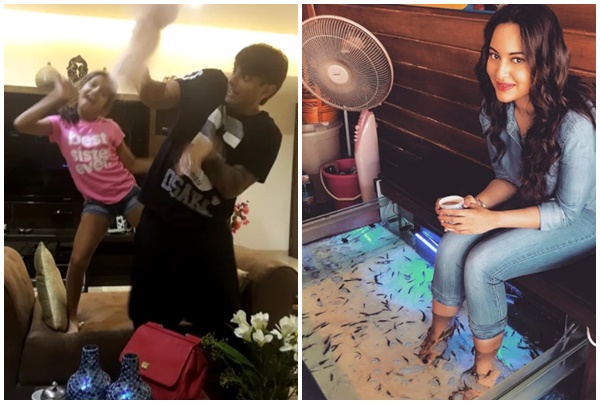 Karan Singh Grover and Sonakshi Sinha took to social media to share videos of them being bitten by animals. Have a look…
Karan Singh Grover took to Instagram to share a boomerang video of him being bitten by a racoon. Check it out….
https://www.instagram.com/p/Bd96-LVA3QT/?hl=en&taken-by=iamksgofficial
KSG captioned the pic as: "When you mistake a piece of fake fur to be a raccoon that stuck to your hand!."
Sonakshi Sinha too took to social media to share a video of her getting bitten by fish. Check it out:
https://www.instagram.com/p/Bd93M9qHIgo/?hl=en&taken-by=aslisona
Soankshi captioned the pic as: "Always be kind. Even if it means sacrificing the dead skin on your feet to feed some hungry fish. #kindagrossbutcool #feedingfrenzy #fishpedicure #somethingfishy #pattaya #thailand."
Sonakshi is getting a foot massage therapy, which is a traditional therapy of Thailand.
A few days back Sonakshi was potted at Manish Malhotra's a popular award function. It so happened that Manish Malhotra, who was seated quite close to the actress, won the trophy of Most Stylish Designer and kept his gong next to Sonakshi.
The actress slyly flicked the trophy and posed with it as if it was her's. Jacqueline Fernandez caught her in the act and took to Instagram story to share the fun and asked her, "How do you feel about winning the award?"
A few seconds later, she asked Sonakshi if the trophy belonged to Manish.
Now, isn't that funny?
After all our story of Karan Singh Grover and Sonakshi Sinha being bitten by animals is also super funny. Share your thoughts about the same in the 'Comments' section below.