News & Gossip
Saroj Khan SLAMS Makers of Varun-Alia's ' Tamma Tamma Again '!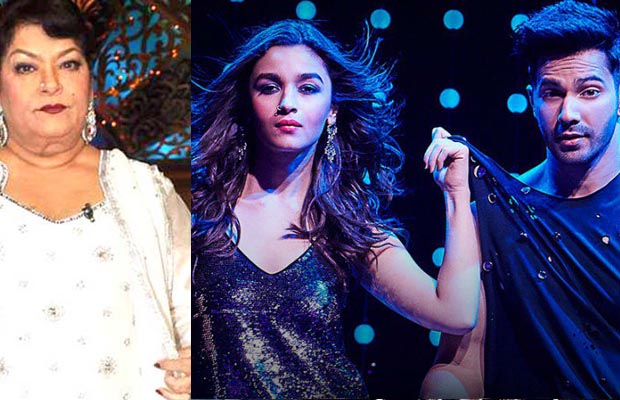 Varun Dhawan and Alia Bhatt are burning up the dance floor with Tamma Tamma. But the song has a history. When it was first filmed on Sanjay Dutt and Madhuri Dixit in the 1990 film 'Thanedaar', it was Saroj Khan who choreographed the snazzy Bappi Lahiri number. Strangely everyone associated with the original number was called to either participate in the shooting or to watch the new Tamma Tamma song and dance after it was shot. Not Saroj Khan.
"Why should they call me? They don't owe me anything,?" Ms Khan retorts coldly when asked why she wasn't there to even watch the song while Madhuri Dixit who had danced to Saroj Khan's choreography was called to view the new Tamma Tamma performed by Alia Bhatt and Varun Dhawan. When Saroj Khan was asked if she thinks the makers should have called her for the reprise version, to which she replied, "Maybe, they think that Masterji [referring to herself] has become old and Madhuri Dixit hasn't. That's why they have called her."
On social media, Madhuri was seen teaching Alia and Varun steps from the original song and they seemed to get it right!
When the old meets new, it's a fusion that will blow your mind! #TammaTammaAgain out tomorrow at 12pm! @MadhuriDixit @Varun_dvn @aliaa08 pic.twitter.com/OszpTBJuYs

— Dharma Productions (@DharmaMovies) February 10, 2017
"Maybe they felt since my assistant Madhuri Dixit was there, they didn't need me around," Ms Khan drips sarcasm, and adds, "You have to ask them why I wasn't invited. I don't mind not being invited….The new version of any of my dance numbers have to be of some standard for them to invite me to watch it." While she seemed confident about Varun's dancing, Khan was unsure about Alia doing justice to this song since it (the original song) had Madhuri in it. "Varun is a good dancer and I know he will be able to do it [the steps] well, but I don't know if Alia will be able to match up to Madhuri. In any case, it will be a feather in Alia's cap," she was quoted as saying. The veteran choreographer even refused to have watched the new version.
When asked what he thought of the new Tamma Tamma, Saroj Khan becomes diplomatic. "I haven't seen the whole song. I've just seen the trailer. And I can't comment." Saroj Khan admits she isn't doing much choreography these days. "I worked hard because I needed to look after my children. Now my children don't want me to work. They want me to rest at home. I am happy doing that."
Well, the song is out now and fans of both these stars have come out in full support. It's all cool now!