Raveena Tandon's Maatr is easily one of the most anticipated movies these days. The trailer has generated quite a buzz amongst the masses and despite being an unconventional flick, everyone is looking forward to it.
Though she is one of the biggest stars in Bollywood, I was pleasantly surprised when she recognized me from a reaction video me and my team had posted on Filmy Mantra.
Raveena gets candid as she shares moments during the filming of Maatr.
Excerpts from the interview:
Filmy Mantra: Relationship between a mother and her daughter is very special. Whenever the daughter faces any crisis, her mother acts as a guardian angel in the most difficult times. Today we have Raveena Tandon with us for her film Maatr. Raveena, please tell us about you film Maatr. As a mother, how much can you relate to the character you are playing in this film?
Raveena: I think I know you. Weren't you in the video giving reaction over the trailer, you and your partner. That's what I was wondering, where have I seen you. Anyway, Maatr is a movie which shows how critical today's situation is in the society especially considering the rise in crimes against women. This movie speaks volumes about that. The victims are even harassed and branded as culprits. Rapists get bail for 6 months and those who are minors are protected by juvenile law. It's true that there have been developments in these laws but the families of the victim have lost faith in our Judiciary. These are the issues we talk about in this film. Going by the overwhelming response the trailer has garnered, I'm sure the youth of this country have realized that we need to be more proactive.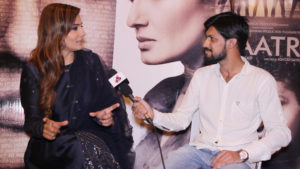 Also read: Raveena Tandon Is Back In Action With Revenge-Drama Maatr!
Filmy Mantra: When you were handed this script, you became quite emotional while reading it. Do want to shed light on that. Also, while bringing the character to life, what emotions did you go through?
Raveena: I did get quite emotional while hearing the narration. I got to know about the horrors the family of the victim face and the scars they have to live with all their lives. We had to take frequent breaks while shooting and during dubbing since it was so emotionally unsettling.