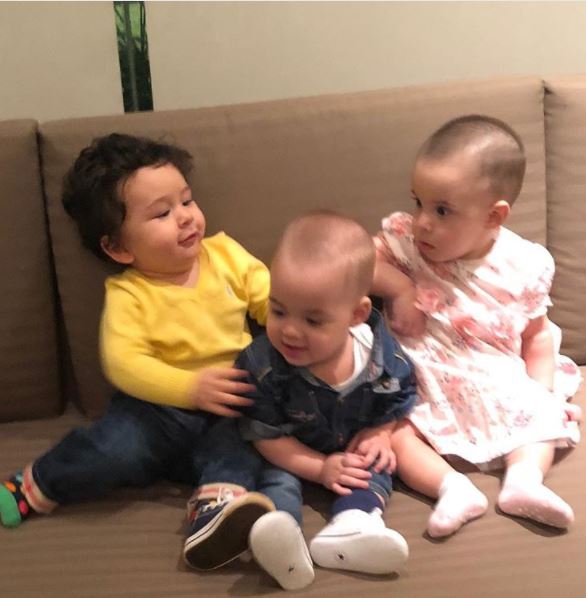 The cutest little boy Taimur Ali Khan, the son of famous B-town stars Saif Ali Khan and Kareena Kapoor has soon turned a year old and his most adorable pictures have popped on Instagram.
Saif Ali Khan and Kareena Kapoor Khan have been facing trolling on the internet since when their new-born baby "Taimur" came on this earth. The name Taimur is a Turkish word for 'Iron'. Karan Johar has also become a father of twins, Yash and Roohi and after a long wait, the moment has arrived where the most lovable picture of the three has appeared on social media.
Looking at the picture it seems that Taimur is looking pretty young than his friends Yash and Roohi. Well, the same picture has been shared on Instagram of Dharma Productions with the caption, "A new generation of friendship begins with the cutest kids in town! Your wait is finally over, let your heart melt now! @karanjohar #KareenaKapoorKhan #YashAndRoohi #Taimur"

The three kids who can be said upcoming stars of Bollywood have become famous for their pictures sharing on different occasions. In fact, just being kids they are enjoying a huge fan following across all the social media platforms. They have been spotted together in the birthday party of Adira, daughter of Raani Mukherjee and Aditya Chopra.
Well, Taimur and the twins Yash and Roohi have always been surrounded by paparazzi ever since they were born and were among the cutest star kids of Bollywood. As said, Taimur Ali Khan is a perfect blend of Kapoors and Nawabs with her brown hair and light–coloured eyes.
Recently, the cuddle baby Taimur has enjoyed a swing in the garden and is seen enjoying his playtime. You'll fall in love with his blue eyes and pink cheeks. He has become a little bundle of joy and an apple of everyone's eyes. His paparazzi has become much more popular than his parents. As per sources, Saif and Kareena have stated that they want their kid to grow like any other normal kid.
What do you think about these cuties? Share your comments below. Stay glued to more updated news.