News & Gossip
Suniel Shetty and Raveena Tandon back again after Mohra and Dilwale | Jul 10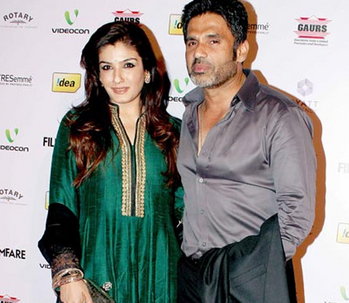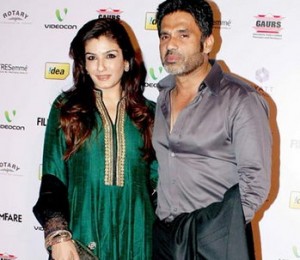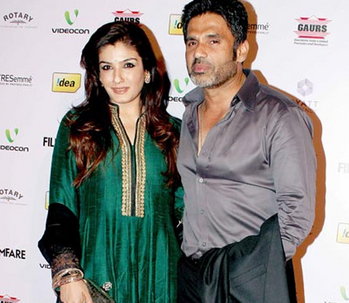 Back in the 90s, Suniel Shetty and Raveena Tandon were a much sought after couple. They came together for superhits like Mohra and Dilwale, though it was Akshay Kumar and Ajay Devgn who eventually got the heroine. However, Raveena had also made a special song and dance appearance for Rakshak with chartbuster track 'Shehar Ki Ladki'.
This was also the time when the duo also signed up for a film called '2 Chehare'. The film went through its share of troubles though and could never have a single stretch of schedules that would ensure its completion. Today, after all these years, the film has seen a meager release in some parts of the country.
"It is a twisted 90s potboiler about change in identity through plastic surgery and the revenge drama that follows," the source adds, "A promo is available online and that features Krishna Abhishek in a double role, with Suniel Shetty primarily doing all the action in his mustached avtar."
In the middle of this all, Raveena ends up appearing in only a hardcore 90s Bollywood song, hence being rightly billed as a special appearance. Meanwhile, in the list of all the new additions, there is Nigar Khan who ends up making an appearance as well.
"At one point in time, the film was shelved. Now it has been revived and one has to see if the final cut turns out to be a coherent affair with so many changes made to it over the years," a trade insider adds, "Clearly, no one is talking about it as yet, as the release has been sudden."
No wonder, the film is hitting the screens this Friday and though one waits to see how much of Suniel Shetty and Shatrughan Sinha (who plays his elder brother) are seen in the film, for now it is their face which is most prominent in the First Look poster. As for Raveena, she would be happy to be in oblivion here.
Joginder Tuteja tweets @tutejajoginder | Follow Filmymantra On Twitter – @Filmymantra