News & Gossip
Soni Razdan refuses to comment on Kangana's sister's accusations against Mahesh Bhatt; calls it 'madness'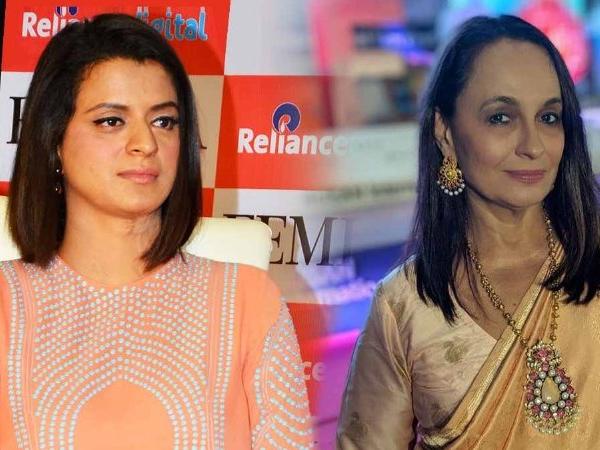 The tale of the war of words going on between Kangana Ranaut and Alia Bhatt has been known to all! Kangana Ranaut has always been against Nepotism and sticking by her believes leaves no stones unturned in rubbishing people praising star kids in Bollywood for the work they put up! The lady who has always been known for expressing her opinions quite boldly has a new target recently! It is Ranbir Kapoor and Alia Bhatt! Kangana Ranaut has constantly been making statements and passing comments over Alia Bhatt and Ranbir Kapoor and although Alia Bhatt gave her back the previous time, there seems no end to this war as Kangana launches a new attacks recently on Alia Bhatt calling her work in Gully Boy mediocre! Following this, the recent developments are that Kangana's sister has put false accusation on Mahesh Bhatt, post Soni Razdan's tweet and now Soni Razdan refuses to comment on it!
Soni Razdan wrote, "Mahesh Bhatt is the man who has given her a break … she goes on to attack his wife and daughter. Daughter over and over again. What is left to be said then about abusing and hatred I wonder. Apart from character of course. Agenda ? What's hers ?" Although she deleted her tweet within a few minutes, Kangana's sister Rangoli wrote long tweets accusing Mahesh Bhatt of having thrown a 'chappal' on her sister Kangana!
Rangoli wrote,
https://twitter.com/Rangoli_A/status/1118177015394213888
https://twitter.com/Rangoli_A/status/1118177434421960707
https://twitter.com/Rangoli_A/status/1118177614462472197
https://twitter.com/Rangoli_A/status/1117369661568503808
When Soni Razdan was asked what does she have to say in response to Rangoli's allegations against Mahesh Bhatt considering Soni didn't tweet anything after her deleted tweet, she said, "I do not wish to be drawn into this madness."
Stay tuned for more updates!