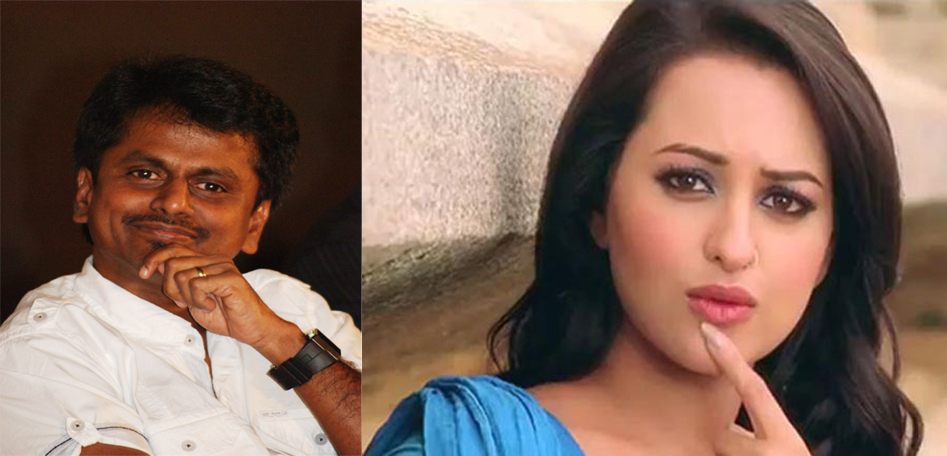 Sonakshi Sinha starts filming for AR Murugadoss
It was recently reported that the Sinha daddy daughter duo would be seen in AR Murugadoss's film. Sonakshi Sinha has now started shooting for this film, as the actress herself tweeted. She took to Twitter to for telling her fans how excited she is for her next. She started the filming on Monday and tweeted, "My first day of shoot today for @ARMurugadoss sirs film! Cant wait to be in front of the camera!! Super charged up…Wish me luck."
This upcoming film is a very special one for Sonakshi. She would be sharing the screen space with none other than her own father and veteran actor Shatrughan Sinha. Though the title of this film hasn't been revealed yet, the storyline is out. It is an official remake of 'Mounaguru' – a Tamil sleeper hit. Other than the father and daughter, the movie features filmmaker Anurag Kashyap too. He has been signed to play a villain. He would be playing a Bhojpuri man, his look complete with a moustache. Yet another upcoming film of Anurag is 'Ghoomketu' which shows him in a contrary role. In this one, he would be seen doing comedy as a police officer. Anurag donned the role of a baddie in the 2011 Nana Patekar starrer 'Shagird'. He played a gangster called Bunty Bhaiya.
This is the third time that AR Murugadoss is making a Hindi film. The director's first Hindi film was 'Ghajini' in 2008, remake of his own Tamil film of 2005. The Aamir Khan and Asin starrer 'Ghajini' proved to be a super hit and holds the record of being the first Hindi movie to break the record of Rs 1 billion. The film won positive reviews, with critics calling it "a winner all the way" and even "Aamir's performance as his best till date". It was liked more than the Tamil version, "Ghajini however succeeds when it is compared to the Tamil version directed by the same director" as critics said.
AR Murugadoss's next Hindi directorial venture too, proved to be a huge success. This time it was Akshay Kumar and Sonakshi Sinha in the lead. In 2013, 'Holiday: A Soldier Is Never Off Duty' hit the screens and went on to become the biggest nett grosser of the first half of the year. This one received reviews such as "fast paced, exhilarating roller coaster ride". Now Sonakshi is ready for yet another project with the director and this one too is a thriller.