News & Gossip
Sharing her new read, Sonali Bendre reveals chemotherapy had made her eyesight weak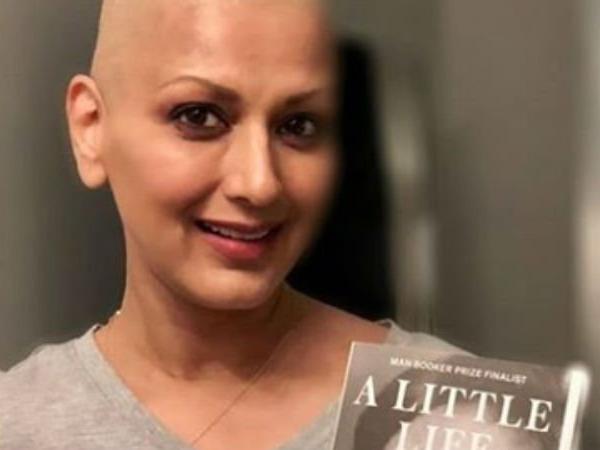 Sonali Bendre revealed to her fans, earlier this year, that she had been battling metastatic cancer and the entire film fraternity as well as her fans were left in shock! Ever since then, her family, friends from the industry are praying for her recovery! The lady who is undergoing her treatment in New York is see quite active on her social media, sharing her medical status, interacting with her fans at various occasions! One such post was shared by Sonali Bendre on her social media account recently is about a Book read by her recently! The Actress also revealed that chemotherapy had made her eye sight weak! Read in for details!
https://www.instagram.com/p/Bo3zvWrh1qe/
Sonali Bendre captioned her post, "Time to announce the next book! The last one took a while, as my eyesight was doing strange things due to the chemo and I couldn't read for a while. Was panicking a bit, but now all is well again! Whew! The next book for SBC is set in the city I'm currently in, New York… it's called A Little Life by @hanyayanagihara. It's been nominated for so many literary awards and is a story of friendship and ambition. We've read books with female friendships before, but this is our first one on friendship among boys… Should be interesting. Can't wait to start reading it, and I hope you read it with me too. #SBCBookDiscussion #SBC#SonalisBookClub"
https://www.instagram.com/p/BprW3dfHPdr/?utm_source=ig_embed
Recently, Sonali Bendre was seen in a radiant red outfit dancing and celebrating with Priyanka Chopra at her pre-wedding Bridal Shower! She shared the picture from the evening captioning it, "It's always lovely to be part of someone's special moment and more so when it's a dear friend. What a fabulous evening @priyankachopra!!! Your bridal shower was filled with so much love and laughter. I wish all that and more for you as you take this next big step. Big hug and much love.
P.S. it felt so great and also somewhat strange to wear a bright colour again! #RedIsTheColourOfRebirth"
https://www.instagram.com/p/BppChX7HWuE/?utm_source=ig_embed
Stay tuned for more updates!