News & Gossip
Sara Ali Khan or Ananya Pandey – whom would Kartik Aaryan like to take out on a date? Check out his answer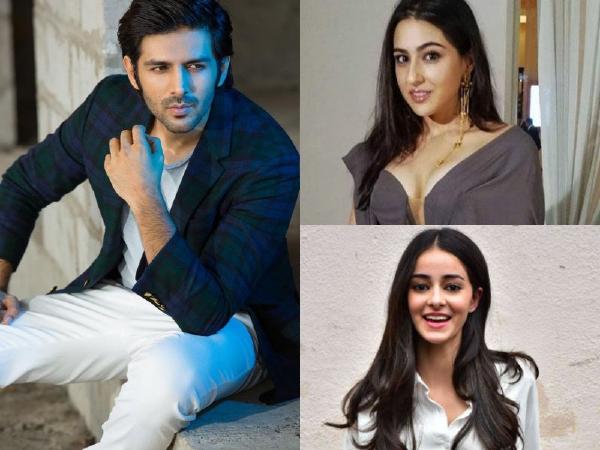 Koffee With Karan, the popular most chat show in Bollywood, hosted by the witty most host, Karan Johar is running its sixth season currently! This season has been the most loved because of the interesting pairs seen on the couch this year! Be it the father daughter duo Sara Ali Khan and Saif Ali Khan, be it Deepika Padukone and Alia Bhatt, be it Abhishek Bachchan and Shweta Nanda or be it Varun Dhawan and Katrina Kaif! It was Kartik Aaryan and Kriti Sanon gracing the couch last night at Koffee With Karan! And here's Kartik Aaryan's answer as to whom shall he choose to take out on a date between Sara Ali Khan and Ananya Pandey!
https://www.instagram.com/p/BrzKpualZPh/
The blue eyed boy in town, Kartik Aaryan has been in the news for all the right reasons recently! On one hand his date with Ananya Panday made headlines and on the other hand, Sara Ali Khan's confession that she would love to date Kartik Aaryan made a lot of news! This has definitely brought the guy in limelight! When Kartik was initially asked about Sara's confession about wanting to date him on Koffee With Karan season 6. He kept on blushing and was visibly embarrassed as he had said, "I don't know what to say to that. All I can say is she is very pretty and I am really looking forward to her film". And later had stated, "Coffee peena chahunga! (I would like to go on a coffee date with her)".
https://www.instagram.com/p/BrvOlSwgrhH/?utm_source=ig_embed
Later, at another event, Kartik was asked about Sara again. This a confident Kartik had quipped that he was waiting for her address. He said, "I'm waiting for her address." And later that night, after winning an award, Kartik was asked about his first celebrity crush, he instantly named "Kareena Kapoor". And when asked about the million dollar question of going out on a date with Sara or Ananya, Kartik blushed and refused to give a proper response. He replied, "Let's see". And added that he would like to give this question a "pass".
Stay tuned for more updates!