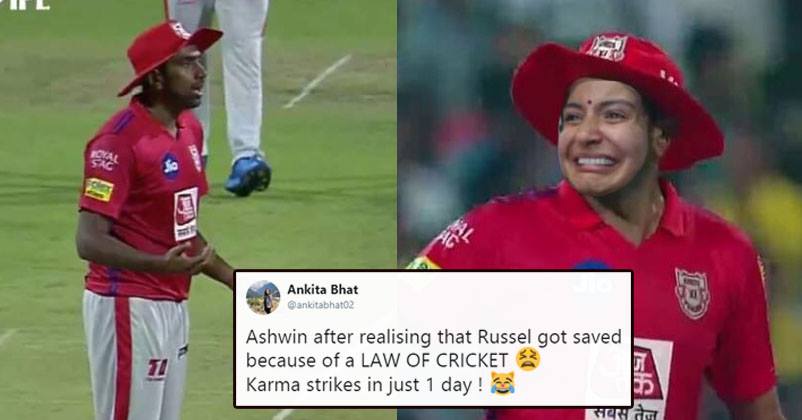 Ravichandra Ashwin who is a captain of Kings XI Punjab in Indian Premier League was mercilessly trolled on social media for making a captaincy blunder against Kolkata Knight Riders. Ashwin who smashed for 47 runs in his four overs, was desperately trying to contain the hosts late in their innings. He was making all possible efforts to keep the match in their control.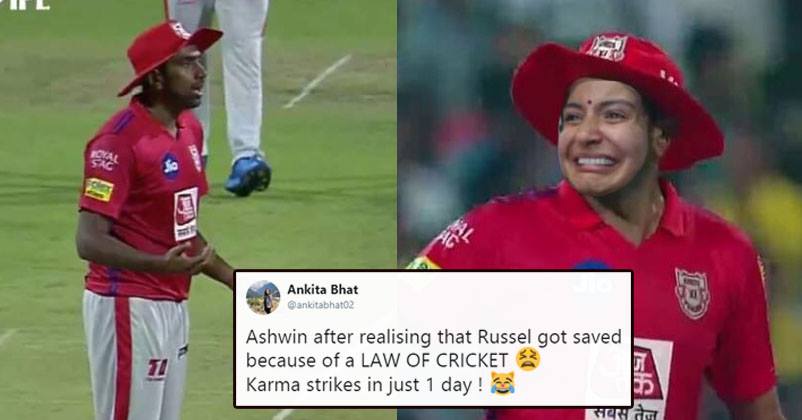 Andre Russell believed to be KKR's hero made a perfect comeback after getting bowled out, because Ashwin forgot that he had only three fielders inside the inner circle instead of four.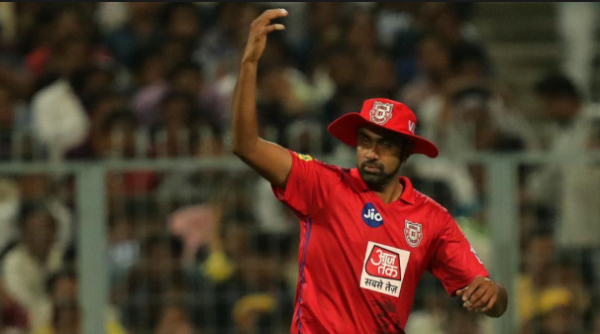 Russell made it to whooping 8 and finished the game at 218 for the loss of four wickets.Punjab defended and managed to score 190 for four, loosing by 28 runs.
Ashwin who was criticised for 'mankading' Rajasthan Royals' Jos Buttler on Monday has been facing more flak after the fielding blunder in Kolkata.
Andre Russel No-Ball moment.. #KKRvKXIP #Russell #DreRuss #NoBall #VIVOIPL #CSKvRCB #RCBvMI #Ashwin #3fielders #IPL2019 #Lucifer #andrerusselnoball @imk8ars #Kohli #Dhoni #DhoniVsKohli pic.twitter.com/Cce0l4cJcn

— Arshik (@he_arshik) March 28, 2019
This sparkled hilarious memes to take over, as people started trolling Ashwin that how Karna got him back within the fields only.
https://twitter.com/Gowthaman_Rockz/status/1110953803245719553
#KKRvKXIP
This scene has a separate fan base… pic.twitter.com/34fh9wVVC7

— Nehal Bhatt (@_lazybaba_) March 27, 2019
Ashwin after realising that Russel got saved because of a LAW OF CRICKET 😫
Karma strikes in just 1 day ! 😹

#KKRvKXIP pic.twitter.com/3Sv9Hj2ZYB

— Ankita Bhat (@ankitabhat02) March 27, 2019
Karma striked back😂😂#KKRvKXIP
Rule is Rule. pic.twitter.com/uKOKhw2gRq

— Milan Manoranjan🇮🇳 (@mrpanda7298) March 28, 2019
Ashwin is a legend! 👏 He can take a wicket without bowling,get a four without hitting from the bat and a no ball without the bowler doing a mistake(all are within the rules) After retirement, Ashwin is going to become an umpire, than a commentator like others😂 😂😂😂 #KKRvKXIP pic.twitter.com/vQHzVFJcXL

— AM. (@akm_theotherone) March 27, 2019
Won against RR by 14 runs, Lost against KKR by 28 runs. Karma strikes with double power. That NO BALL though 😂🤣 #KKRvKXIP #IPL2019 pic.twitter.com/RJWXlIEcjJ

— Sir Jadeja fan (@SirJadeja) March 27, 2019
What the hell is karma @ashwinravi99………win against RR by 14 run and lost against KKR 28 run… Karma strike with double power😂😂😂😂😂😂😂😂😂 #KKRvKXIP pic.twitter.com/zH3ZtRFtqi

— chowkidaarPankaj (@PankajS20409941) March 28, 2019
Brain Fade moment for Ashwin! Russell stays even after being bowled!! Well Jos buttler sent you regards!!😂😂 ' Karma Is a real Bitch' #KKRvKXIP #VIVOIPL

— Ashutosh Naik (@ashunaik23) March 27, 2019
https://twitter.com/Veniouss/status/1110942180800004096
Hey Ashwin, never forget:
Karma is a Bitch! 😂😛😂#KKRvKXIP #IPL2019https://t.co/OhUSbIq67T

— Rofl Republic (@i_theindian) March 27, 2019
When you remind Everyone about Mankading rule but end up
forgetting about 4 fielder rule in 30 yards#KKRvKXIP @ashwinravi99 pic.twitter.com/h1WwDwZX41

— Vicky Sri (@VickySri96) March 27, 2019
That brainfade moment of Ashwin is the perfect example why Karma is a real bitch. #KKRvKXIP

— R A T N I $ H (@LoyalSachinFan) March 27, 2019