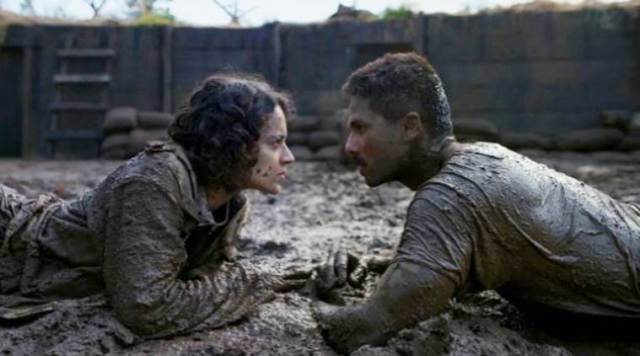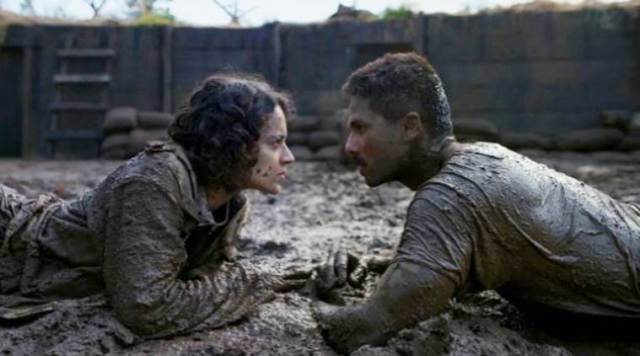 Director – Vishal Bhardwaj
Producer – Sajid Nadiadwala
Studio – Viacom 18 Motion Pictures
Star cast – Saif Ali Khan, Shahid Kapoor, Kangana Ranaut and Satoru Kawaguchi
Rangoon Review
The movie is a period film set during World War II (1939-1945) and supposedly portrays the life and times of Mary Ann Evans aka Fearless Nadia, Bollywood's first original stunt-woman still remembered for her fiery role in the movie Hunterwali. It also stars Saif Ali Khan, Shahid Kapoor and Kangana Ranaut in lead roles. Rangoon, is his loudest and largest, a period drama, which blasts off with an impressive, immersive war sequence that wouldn't be out of place in something by Christopher Nolan. It is also, by some degree, his most accessible film, one that leans less on metaphor and symbolism and more directly on plot. The emotions are overt, the triggers are obvious, the fundamentals spoonfed to the audience more than Bhardwaj usually does, but the world he conjures is stunning.
The year is 1943, and while Indian soldiers fighting under the British flag are being imprisoned by the Japanese army, a young girl known for her stunt work is making waves as India's most popular cinematic attraction. Miss Julia is leaps and bounds ahead of the competition, a bright and beguiling cauliflower-haired sensation that swings from chandeliers, runs across tops of trains, and fights off pirates with swashbuckling flair. With her black eyemask and trim figure, she may as well be called the Lean Ranger. It is this magnificent sideshow-attraction who swallows her pride (in a way that she probably can swords) for Russi, a one-armed magnate who was once, like her, an action hero doing his own stunts.
He now finances the movies, and is seduced by the idea of an army tour for his staggeringly popular Miss Julia, one where she can go boost army morale and help protect his chummy camaraderie with the British. The film is shot exceptionally well by Pankaj Kumar, mounted on a grand scale with finesse we in India are not used to, and some of the shots — like one swirling up the inside of a grand old theatre, or the aerially shot war-sequences — are glorious. All this while Bhardwaj treats his film like a libretto, using songs with pointedly prickly Gulzar lyrics to underscore the narrative, Billimoria is a terrific character, a posturing prince who can't resist the grandiloquent gesture. Played by Saif Ali Khan, he comes across as an impeccably-heeled dandy intoxicated by his own insistence on his own power.
Rangoon Review the Last Word
Rangoon haunts in unlikely fashion and, while the director's most straightforward picture, holds enough of its own marvels to justify multiple viewings.Like a song-and-dance troupe trampling all over a map of Europe to tell their own fractured, misguided jokes, or an old man cozily swilling wine after having faked his own death, Rangoon may be direct, but it is never obvious. As the credits used to say back in the day at the close of a spectacular film, 'Remember, it's a Vishal Bhardwaj creation, which gives the high rating to the film.
Rating – 4.0