News
Rajasthan Police Uses Alia Bhatt ' s Meme To Support Anti Drug Campaign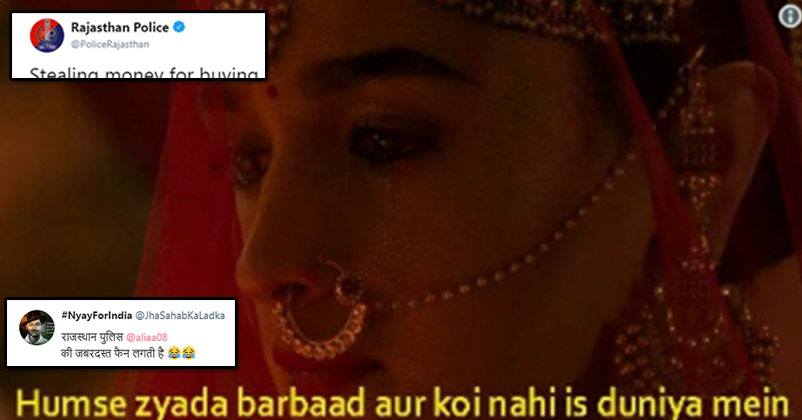 Mumbai Police coming out with fitting memes to spread awareness about road safety. Before the release of Zoya Akhtar's Gully boy, Mumbai Police had the best meme inspired from the Gully boy trailer.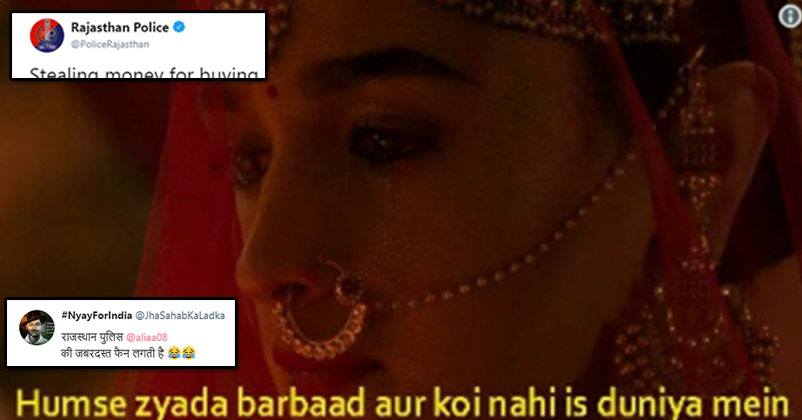 Ranveer Singh and Alia Bhatt's meme where we can see Alia's dialogue "Mar Jayega tu" from the movie. Mumbai Police used this dialogue and wrote, "When he argues to ride a motorcycle without wearing helmet #SillyBoy."
Rajasthan Police also used one of Alia's dialogue from her upcoming film 'Kalank' wherein we can see her saying, "Humse zyada barbad koi nahi is duniya mein". They used this dialogue to spread awareness regarding anti-drugs.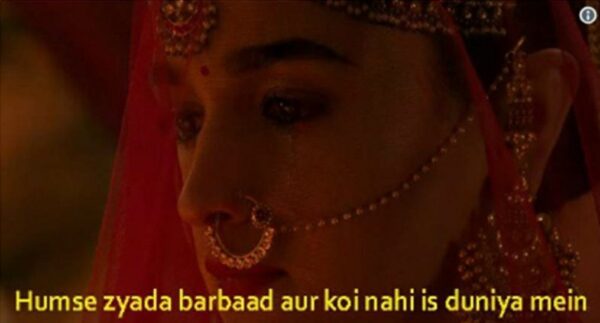 Rajasthan Police took to twitter and wrote "Stealing money for buying #Drugs? If yes, then the #Kalank of theft & being a drug addict is going to end your happiness. Stop consuming #Drugs or else they'll consume you. @aliaa08 @karanjohar @Varun_dvn @sonakshisinha @adityaroy @DIPRRajasthan @ashokgehlot51."
The actors of the movie "Kalank" were also tagged in the message by the Rajasthan police and actor Varun Dhawan supported the move by sharing the tweet with caption, "Say no to drugs".
See how Twitter users reacted:
Stealing money for buying #Drugs?

If yes, then the #Kalank of theft & being a drug addict is going to end your happiness.

Stop consuming #Drugs or else they'll consume you.@aliaa08 @karanjohar @Varun_dvn @sonakshisinha @adityaroy @DIPRRajasthan @ashokgehlot51 pic.twitter.com/OBz5smrqwV

— Rajasthan Police (@PoliceRajasthan) March 26, 2019
Stealing money for buying #Drugs?

If yes, then the #Kalank of theft & being a drug addict is going to end your happiness.

Stop consuming #Drugs or else they'll consume you.@aliaa08 @karanjohar @Varun_dvn @sonakshisinha @adityaroy @DIPRRajasthan @ashokgehlot51 pic.twitter.com/OBz5smrqwV

— Rajasthan Police (@PoliceRajasthan) March 26, 2019
https://twitter.com/Shubham44362739/status/1110511869230383106
Stealing money for buying #Drugs?

If yes, then the #Kalank of theft & being a drug addict is going to end your happiness.

Stop consuming #Drugs or else they'll consume you.@aliaa08 @karanjohar @Varun_dvn @sonakshisinha @adityaroy @DIPRRajasthan @ashokgehlot51 pic.twitter.com/OBz5smrqwV

— Rajasthan Police (@PoliceRajasthan) March 26, 2019
https://twitter.com/escapedsoul2909/status/1110444865169453056
https://twitter.com/JhaSahabKaLadka/status/1110407954614968320
https://twitter.com/sujeetk22288105/status/1111100873705488384