News & Gossip
Priyanka Chopra's Pre-Wedding Celebrations Are On & We Can't Keep Calm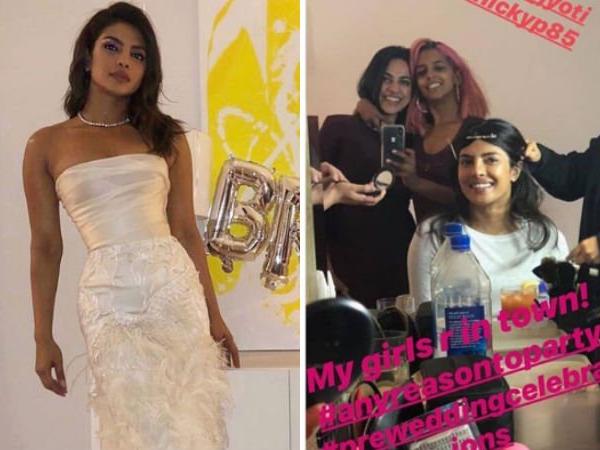 Bollywood currently is only talking of the upcoming grand weddings! Be it Deepika Padukone Ranveer Singh's Wedding or be it Priyanka Chopra Nick Jonas' Wedding, they are absolutely stolen all the limelight from over all the happenings in the Industry currently and everybody is only interested in knowing more about the two most awaited weddings! With the recent announcement of Deepika Padukone Ranveer Singh's Wedding, we know have Priyanka Chopra clearly hinting her upcoming wedding by posting the pictures and videos from her pre-bridal shower that took place yesterday night!
https://www.instagram.com/p/Bpf-p0EAyqT/?utm_source=ig_embed
Priyanka Chopra and Nick Jonas are all set to tie the know on the 1st of December, this year. According to reports, the invites have already gone out and the wedding festivities are to be held in Jodhpur. Before her wedding festivities begin, we see the wedding celebrations have begun already! Priyanka Chopra's Pre-Wedding Shower was held at Tiffany's where Nick and his brother shut it down to find the actress a perfect diamond ring. The actress beautiful as wore a white strapless Marchesa gown with featured detailing on her skirt as she topped it with beige shoes and a beautiful diamond necklace.
https://www.instagram.com/p/BpfyqkMgfVO/?utm_source=ig_embed
Priyanka Chopra's Instagram Stories showed all the Preparations and Celebration at length! She posted a photo of her hair and makeup being done before heading out to the event at Tiffany's Blue Box Café in New York. The party was thrown by her bridesmaids Mubina Rattonsey and Anjula Acharia. Kelly Ripa, Lupita Nyong'o and Chopra's future brother-in-law Kevin Jonas, his wife, Danielle Jonas, and their daughter Alena were the guests.
https://www.instagram.com/p/Bpf7U3rFYTd/?utm_source=ig_embed
Excited much?? Stay tuned for more updates!