News & Gossip
Mumbai Police Uses Kabir Singh Trailer Meme To Spread Awareness, It's On Point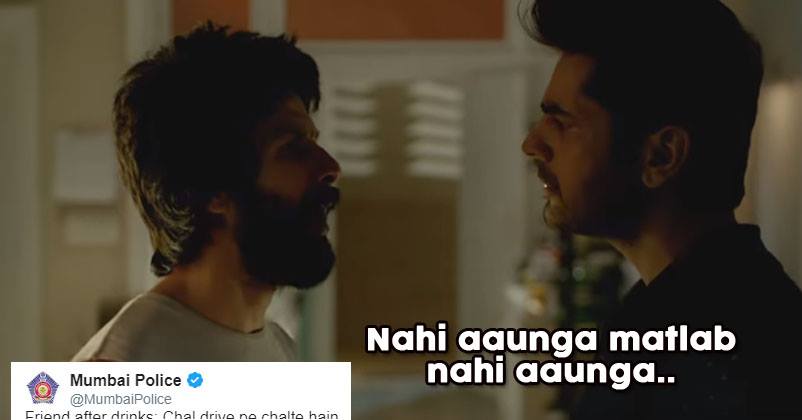 Time and again, Mumbai police has shown that there is no match to them when it comes to creating awareness about various important social issues. They often use trending topics and create memes spreading messages on social media. They have done it again, this time they created a meme from Kabir Singh Trailer to spread awareness about drunk and driving.
Shahid Kapoor starrer Kabir Singh has created a huge stir on social media ever since the trailer was dropped. One dialogue from the trailer that has attracted all our attention is "Nahi aaunga matlab nahi aaunga. Bola naa nahi aaunga." This dialogue has also been used to inspire countless memes, as it fits in almost any situations from our daily life.
Mumbai Police has used this dialogue from Kabir Singh and tried to warn people about drunk and driving. With this meme, Mumbai Police tries to tell people to not go on driving when you are drunk no matter how much friends force you to.
Friend after drinks: Chal drive pe chalte hain.

Me: pic.twitter.com/Cth8wG2mcf

— Mumbai Police (@MumbaiPolice) May 15, 2019
As usual, this Tweet from Mumbai Police has once again taken the internet by storm. Fans are showering praise on Mumbai Police for this amazing tweet.
Good one ! but in this scene I'm telling him not to drink instead….hahaha

— Arjan S Bajwa (@ArjanTalkin) May 15, 2019
Creativity 10/10…Hamesha.👍🏻😊

— Illuminati (@Fariha_ahmed_) May 15, 2019
Wah !

— N (@Nocturnal__N) May 15, 2019
Savage 🔥😂👌👌👌👌👌👌

— Rajeev (@Rajeev_here_) May 15, 2019
Such memes promote & succeed film business or no don't know.But wil surely promote the culture of nt driving under the influence of alcohol.Our actors play huge influence on us.Such memes might surely help reducing Drunken Driving.Great initiative.Thank u @shahidkapoor 4 RT'ng it

— Saameeet (@Sameetc) May 15, 2019
Bole to @MumbaiPolice ready hai #SwagSeSwagat karne ke liye…. to all drunk drivers!!!!

— Brijesh Rammurti (Pro) (@Brijesh9211420) May 15, 2019
My friends do this after smoking 😂😂

— thisistejaskotwal (@tejaskotwal2114) May 15, 2019
And me saying abby na aana to mat aa nikal na.@Advani_Kiara @Varun_dvn @shahidkapoor

— Aditya ADi (@AdityaA31929757) May 17, 2019
This is the best meme generating page!

— Tejas Gaitonde (@tejasgaitonde) May 15, 2019
This message from Mumbai Police should teach people a lesson, don't you think so? Tell us your thoughts in the comment section down below.