News & Gossip
This Picture of Deepika Padukone and Ranveer Singh Speaks Louder Than a Million Words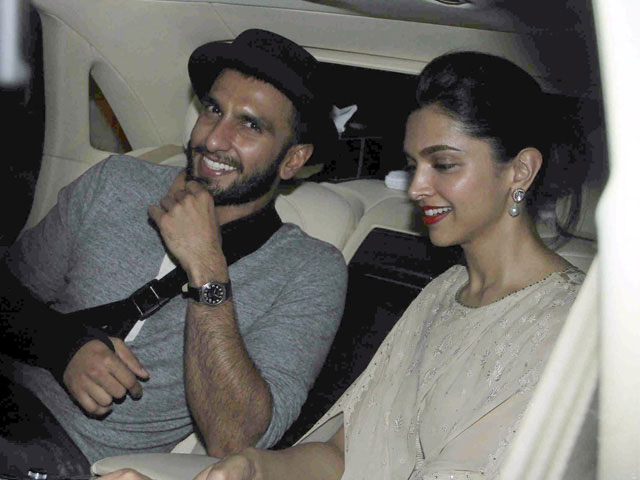 This Picture of Deepika Padukone and Ranveer Singh Speaks Louder Than a Million Words
RANVEER LAUGHED AND GAZED ADORINGLY AT HIS RUMOURED GIRLFRIEND, WHO SEEMED THE PICTURE OF BLISS IN HIS COMPANY – HER SMILE SPEAKING LOUDER THAN A MILLION WORDS
As public scrutiny into their rumoured relationship intensifies, Bollywood actors Ranveer Singh and Deepika Padukone seem to be throwing their customary caution to the wind. We managed to catch the actors in a single frame off-screen as they made their way to producer Karim Morani's birthday celebrations on the night of March 21.
As Ranveer and Deepika travelled to their destination, a Ram-Leela of its own kind seemed underway. Ranveer laughed and gazed adoringly at his rumoured girlfriend, who seemed the picture of bliss in his company – her smile speaking louder than a million words.
While we saw them arriving separately at Karan Johar's get-together last week, the last time Ranveer and Deepika were sighted together was on a shopping spree with with the Padukones in Bangalore in January this year. Ranveer had reportedly taken Deepika, her mother Ujjala and sister Anisha on a luxury shopping spree at a high end shopping arcade.
The Times of India had also reported that the actors rung in the New Year together in Maldives.
Ranveer and Deepika, who last co-starred in Sanjay Leela Bhansali's Ram-Leela in 2013, will next be seen in Mr Bhansali's period romance, Bajirao Mastani. Ranveer also had a cameo role in Deepika's Finding Fanny last year.
Perhaps 2015 will finally see a public admission of their relationship.