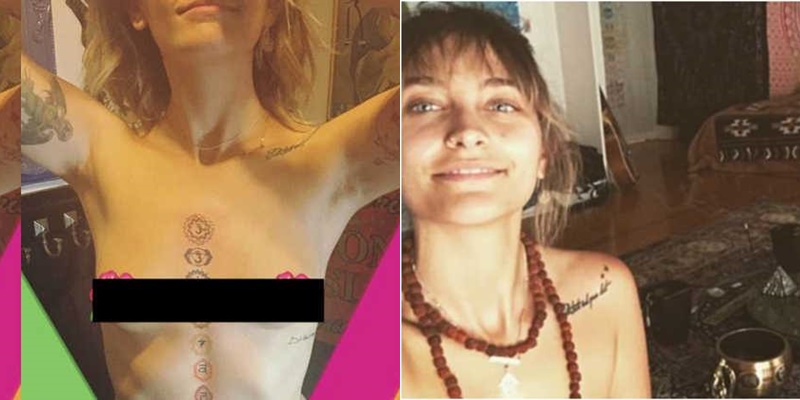 Paris Jackson is the daughter of legendary pop star Michael Jackson. She is just 19-year old and known as an independent soul. She already made her identity in industry as an actress. In the year 2012, May Paris made in People Magazine's Most Beautiful list. Recently she won Emerging Talent Award award too. Recently she flaunted her new body tattoos on her cleavage. Her tattoos starts from her cleavage and ends at navel.  To flaunt such tattoos one has to go topless and so Paris Jackson.
On September 3, 2017 Paris Jackson shared her new tattoos snap with her fans on Snapchat. Below is the snap which pairs shared with her fans/followers.
Have a look on this picture where Paris flaunted her cleavage to navel tattoo on Instagram.
[Also see: Acid Attack Survivor Shares Her Post-Recovery Picture And Twitter Is Going Crazy!]
Everyone is aware of the fact that Paris have interest in spirituality. If you know some facts about Paris then would be knowing how fond she is about the mythologies.
[Also see:  Top 10 Scariest Photos In The World, That Can Scare The Hell Out of Anyone]Paris captioned the above picture as "secreting blood n plasma everywhere."
In above picture, she covered up all her tattoo with some transparent bandages, before revealing the final look of her tattoo to the world.
Once Paris Jackson was quoted saying about posing topless. She had said, "Nudity started as a movement for 'going back to nature,' 'expressing freedom,' 'being healthier' and was even called a philosophy. Being naked is part of what makes us human. For me, it helps me feel more connected to Mama Gaia. I'm usually naked when I garden."
[Also see: 9 Reasons Why Mia Khalifa is so popular and lovely!]
She went all bare in her recent photo-shoot. According to Indian mythology, "Chakras, sometimes spelt Cakra or Cakka, is any centre of a subtle body believed to be psychic-energy centres in the esoteric traditions of Indian religions. They are thought to be part of the subtle body, not the physical body, and connected by energy channels called Nadi."
In the above still Paris is spotted topless sunbathing on beach with her dog, Koa.
Must say Paris is bold enough to go through the painful procedure of being tattooed. What are your views about this story? Do tell us your views in comment section below. Stay tune with us for more latest hot news and gossips.