MS Dhoni returned as captain of the Chennai Super Kings for their crucial match against the Delhi Capitals. Besides scoring a quickfire 44 runs off 22 deliveries, Dhoni was involved in two exceptional stumpings.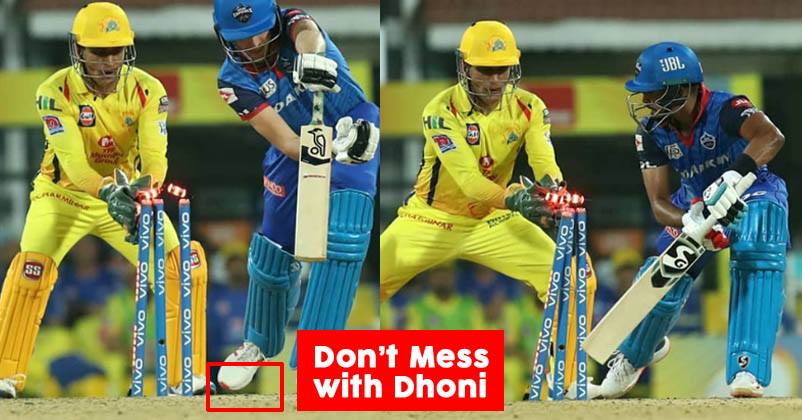 Chris Morris with a turning delivery and although the batman's foot was in the air for a very short amount of time, Dhoni whipped the balls off in a flash to complete a brilliant dismissal.
DC had a bad start to the innings and other than the team's captain Shreyas Iyer, no other  batsman was able to give a fight to CSK bowlers. Dhoni also played the important role in DC's downfall as he carried out two lightning fast stumpings of Ravindra Jadeja's bowling. He stumped two important batsmen of DC Chris Morris and Shreyas Iyer and the manner in which he did it left everyone awestruck.
Here is the video:
Do not mess with MSD's gloves https://t.co/MKb12I658q via @ipl

— gujjubhai (@gujjubhai17) May 1, 2019
The foot of each of the batsmen was in the air for just few seconds but even that small duration was more than enough for Dhoni.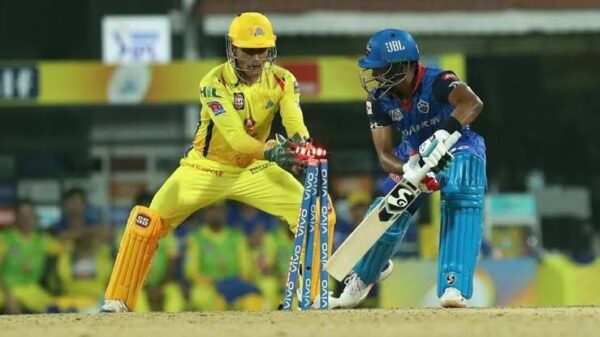 After seeing this, Dhoni's fans went crazy after this match and flooded social media with memes and jokes for praising their favourite cricketer, declaring that he is faster than light.
Here are some of the selected reactions:
Speed to Dhoni : pic.twitter.com/MYfbMz64MX

— Godman Chikna (@Madan_Chikna) May 1, 2019
*dhoni stumps* #CSKvDC

umpire: its not out
Dhoni: its out
Umpire: its not out
Dhoni: pic.twitter.com/6FSsFMWztp

— prayag sonar (@prayag_sonar) May 1, 2019
https://twitter.com/who_is_pc/status/1123644732872187904
*After 20 years*

*A wicket keeper stumps*

Dhoni fans: pic.twitter.com/FrXGAMhEg6

— Silly Point (@FarziCricketer) May 1, 2019
https://twitter.com/RoshanKrRai/status/1123657263883800576
watching #Dhoni stumping be like.#CSKvsDC pic.twitter.com/b4n6gtwQ71

— کنجر🍅 (@Akramwasim_) May 1, 2019
Umpires to batsmen, when Dhoni stumps them.. pic.twitter.com/wsN49aLbEF

— Keh Ke Peheno (@coolfunnytshirt) May 1, 2019
https://twitter.com/NeecheSeTopper/status/1123640478979674112
Dhoni's speed of stumping is faster than – "MutualFundAreSubjectToMarketRisk" 🙌🏻#WhistlePodu#Yellove pic.twitter.com/gPwZZO8VIr

— Bhavya Shah (@bhavyashah77) May 1, 2019
Everyone else : Love is in the air.
Dhoni: Foot is in the air 😻 #CSKvDC pic.twitter.com/gyfWPV3Uul

— dk. (@d1ksha_) May 1, 2019
When the batsman lifts his leg for a fraction of a second.

1. Bowler
2. Dhoni pic.twitter.com/h1cvz8mYGP

— Sagar (@sagarcasm) May 1, 2019
https://twitter.com/Sanket_HR/status/1123651091210559488
1. Fiction
2. Reality#IPL2019 #msdhoni #CSKvDC pic.twitter.com/OkCSSbHcVD

— Jaggu (@rhumour_D) May 2, 2019