News & Gossip
Manoj Tiwary Got Trolled Mercilessly For His Weird Bowling Action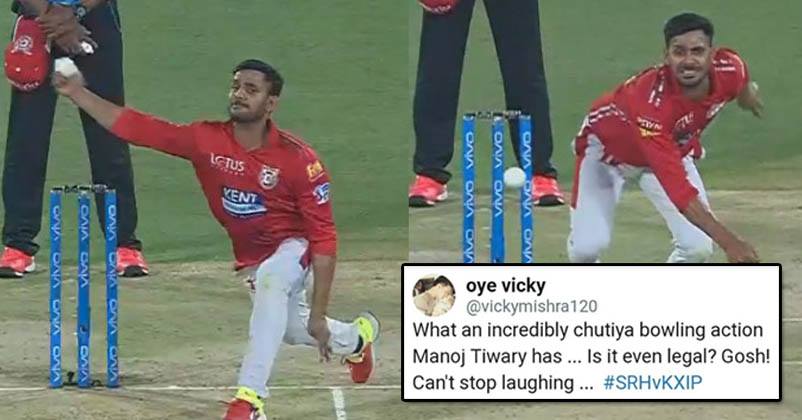 IPL 11 has started with a bang. Cricket lovers are getting a full dose of entertainment, all thanks to nail-biting matches. Almost every match in the IPL offers lots of thrill and actions. However, IPL also offers some very funny moments as well.
The match between SRH and KXIP also offered some very entertaining moments. People were left in splits after seeing the weird action of Manoj Tiwary. Manoj Tiwary came as a replacement to out-of-form Yuvraj Singh during the match.
When Tiwary tried to bowl in the match, he left everyone surprised. His weird action caught everyone's attention and Twitter is having a field day.
Some of them are even claiming that his bowling action was illegal. According to the ICC rule,
"An Illegal Bowling Action is where a player is throwing rather than bowling the ball. This is defined by the ICC as being where the player's elbow extends by an amount of more than 15 degrees between their arm reaching the horizontal and the ball being released. Match Officials in international cricket use the naked eye and their cricketing experience to decide whether they believe a player may be using an Illegal Bowling Action and, if so, they will submit a report."
This Is How Twitter Reacted:
https://twitter.com/tarun7sk/status/989546266718683136
https://twitter.com/saurabhmanjhi_/status/989522372511186944
https://twitter.com/vickymishra120/status/989525462694023168
https://twitter.com/tejasd24/status/989527589889785856
https://twitter.com/venkat_cs_kumar/status/989525944204312578
Manoj Tiwary is bowling like how Superman flies.#IPL2018 #SRHvKXIP pic.twitter.com/WhPNFXoiot

— Suneer (@suneerchowdhary) April 26, 2018
https://twitter.com/b_darekar/status/989523436069408769
Manoj Tiwary be like
Lo bachho tum underarm khelo aaj #SRHvKXIP #IPL2018

— Rameez Devjiyani (@rameezdevjiyani) April 26, 2018
What do you think of the same? Tell us your thoughts in the comment section down below.