Featured
"Maesha Soi is future star", says Dinesh Sudarshan Soi who got Best Debutant Director's Award at Kalyanji Jana's Dadasaheb Phalke Icon Award Films – 2020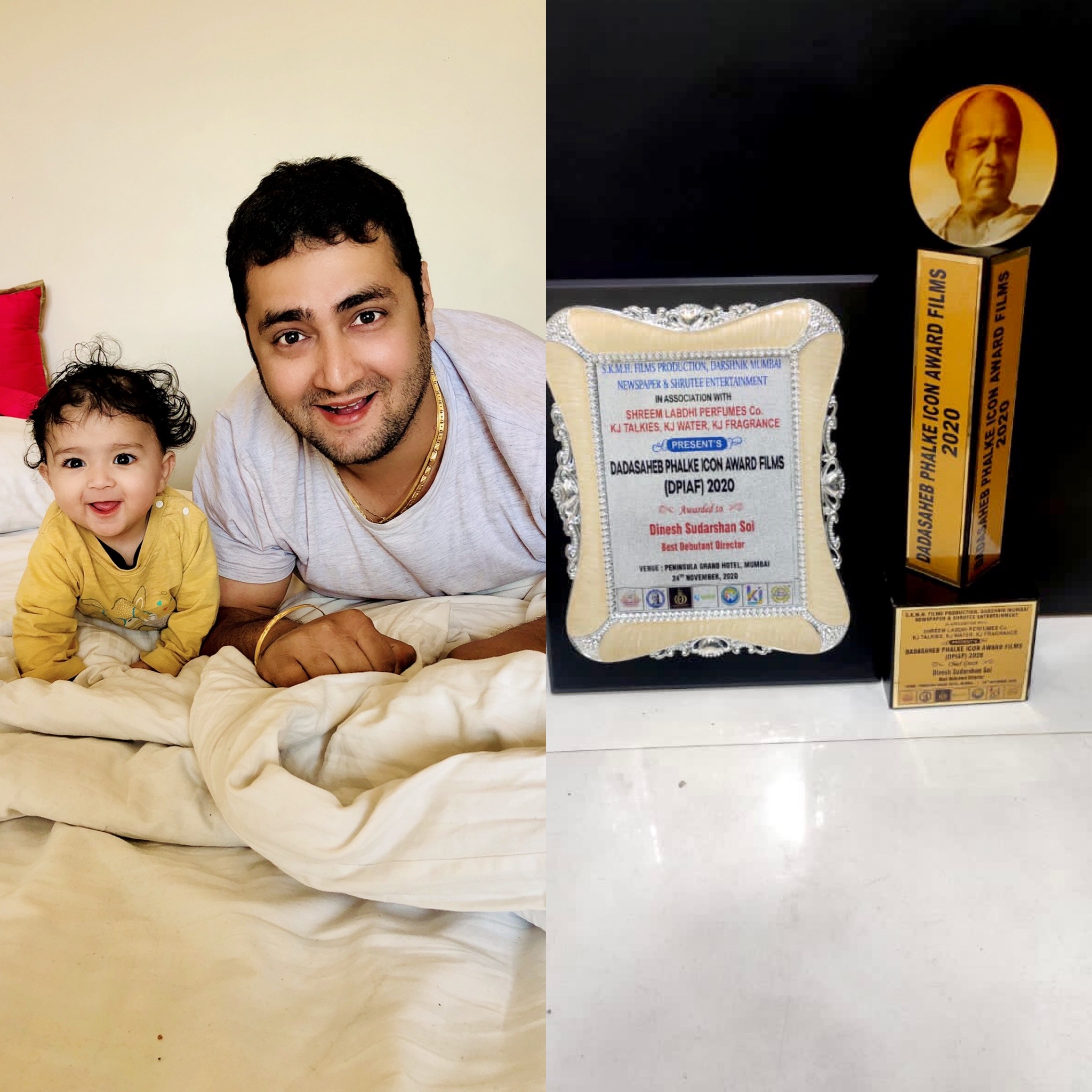 Acclaimed Director Dinesh Sudarshan Soi is doing really happy and the reasons are quite obvious. This year on May 2, 2020 he became father of a cute baby girl – Maesha Soi. Maesha seems lucky for the father as few 3 months later on Sept 29, 2020 Dinesh started his new music label -DS Creations™️ Music handled by brother Deepak Soi and wife Sonia Malhotra Soi. All his directed music videos already got tremendous response and now on Nov 24, 2020 he bagged Best Debutant Director's Award at Dadasaheb Phalke Icon Awards Films (DPIAF) – 2020 organised by renowned Organiser Mr. Kalyanji Jana.
As we all know that Dinesh Sudarshan Soi is a brand name and comes among finest personalities in the entertainment industry. Along with degrees of ACCA (I), M.com, MBA in academics, Dinesh had Mr. India North 2007 title in his kitty before moving to Mumbai in 2008. He portrayed the role of 'Jugnu' in Star Plus popular show Mann Kee Awaaz Pratigya (2009-2012).
On Nov 1, 2017 as a Casting Director he set record with India Book Of Records for maximum castings (4,500) in the world. On March 13, 2018 Dinesh received the title of Finest Casting Director from Asia Book Of Records for maximum castings (5000). On Nov 27, 2019 Dinesh again received the title of 'Best Casting Director' from Bravo International Book Of World Records by successfully accomplishing 6000 projects (maximum in the world by that time). He got many other acknowledgements like Best Casting Director Award at 3rd Global Achiever's Awards 2018, IMDb's Top Contributor Trophy from Founder/CEO of IMDb Mr. Col Needham in 2018, Best Casting Director Award at Dadasaheb Phalke Icon Award Films 2019, and Best Debutant Director Award at 6th Mumbai Darshnik Press-Media Awards 2019 and Best Debutant Director's Award at Empower Trainers Pvt. Ltd.'s Award show.
Dinesh Sudarshan Soi being considered as the Busiest Casting Director in the world had started his journey as a Director on Jan 20, 2020 with superhit music video 'Tum Kaho Toh' produced by well known Producers Abhishek Archana Srivastava & Ayush Saroj Jaiswal, being released worldwide by Zee Music Company. Would like to mention that Producer Abhishek Archana Srivastava also got Best Debutant Producer's Award at Dadasaheb Phalke Icon Award Films – 2020 for Tum Kaho Toh. Just like casting, Dinesh got success in direction field with leaps and bounds and now considered as one of the busiest music video Directors of Bollywood who has numerous successful music videos in his kitty. Just like Tum Kaho Toh, all his directed music videos got tremendous response, to name a few are Phir Hasenge, Hey Girl, Jatti, Dil Tune Toda Hai, Tera Naa, Mausam, Teriyan Akhiyan, Sorry, Dynamite, Sohna Sohna Munda, KaroNa, Kardi Aa Worry, La La La La, Aldo, Lalla Lalla Lori, Ban Sajna, Kya Karun, Sorry, Teriyan Yaadan Aayiyan, Tere Bin Rehna Nahi Aaunda, Tumne Na Jana, Kangna, Gustaakhiyan, Ruthna Manana and Hifaazat.
Dinesh Sudarshan Soi's Casting firm DS Creations™️ handled by his wife Sonia Malhotra Soi & partner Gaurav Sharma is a brand name in casting & Celeb Booking. In an interview when asked about how it feels on being a father and what are his upcoming projects, he said "I am immensely happy and couldn't express my feelings in words. I just want to make my lifeline 'Maesha Soi' proud and be the best dad possible. She is a future star. On work front, I am directing few music videos for Dhamaka Records, an esteemed music label founded by Priyaank K Sharma and Paras Mehta and inaugurated by Shraddha Kapoor & Padmini Kolhapure ji on Nov 1, 2020. I will be directing a refreshing web series, in an addition to that planning to kick -start with an exciting movie, will reveal everything in detail quite soon. My daughter Maesha Soi is my lucky charm and my life has taken a positive turn since the day she has entered into my life."
That's great and hereby we wish this charming young Director all the best. Wish that you keep rocking like this Mr. Dinesh Sudarshan Soi !!