News & Gossip
Madhuri Dixit reveals why she and Sanjay Dutt are addressing each other as 'sir' and 'ma'am'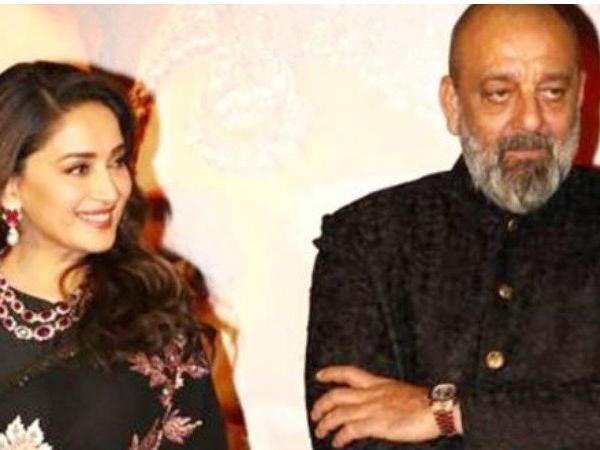 Madhuri Dixit and Sanjay Dutt have come to work together after decades and this is one major reason why people are very excited about Kalank! As earlier know it was quite difficult for Karan Johar to cast Madhuri Dixit and Sanjay Dutt together but he pulled it off quite well and the two too maintained their dignity and grace and did a good job of keeping the personal things aside while working on a project together! It still always amuses and excites people to see or hear of an interaction between Madhuri and Sanjay and to know what equation the duo now share! Well, recently Madhuri Dixit and Sanjay Dutt while talking about each other addressed each other as sir and ma'am and here's Madhuri revealing why!
https://www.instagram.com/p/Bvyk5imHDyl/
While the cast is busy promoting the movie Kalank, people have their eyes upon Madhuri Dixit and Sanjay Dutt. Apart from noticing their formal, cordial praises for each other here and there, another thing that caught everyone's attention is how both of them have started addressing each other as sir and ma'am. First Sanjay Dutt said 'Madhuri ma'am at the teaser launch of Kalank following which, Madhuri too addressed him as 'sir' during the next trailer launch. "I thoroughly enjoyed myself working with everyone. Alia, Varun, Sonakshi, and Aditya are all commendable actors. And Of Course Sanjay Sir (laughs)", said Madhuri.
https://www.instagram.com/p/BvjdybljaLo/
Although Varun already joked about same during the trailer launch but when Mirror got in touch with Madhuri recently, they quizzed her about this respectful gesture and what's the story behind 'sir' and 'ma'am' and Madhuri didn't hesitate from admitting, "We enjoy pulling each other's leg. We both have kids now and discuss their education. It's been great working with him."
https://www.instagram.com/p/Bu5-6RjnPWl/
Sanjay Dutt only has praises for Madhuri's growth as an actor. "Working with her is a pleasure. Madhuri is such a great actor. I've done many films with her, I can't even recall in one go. So, to work with her again in that one scene that we did together in Kalank was amazing. She's got that command as an actor. It's a pleasure to share screen space with her after so many years. So much has gone past, people have matured. She herself comes across as such a matured actor.", said Dutt adding that he hopes to work with her again.
Stay tuned for more updates!