News & Gossip
Kangana Ranaut in no mood to spare Deepika Padukone after her drug chats go viral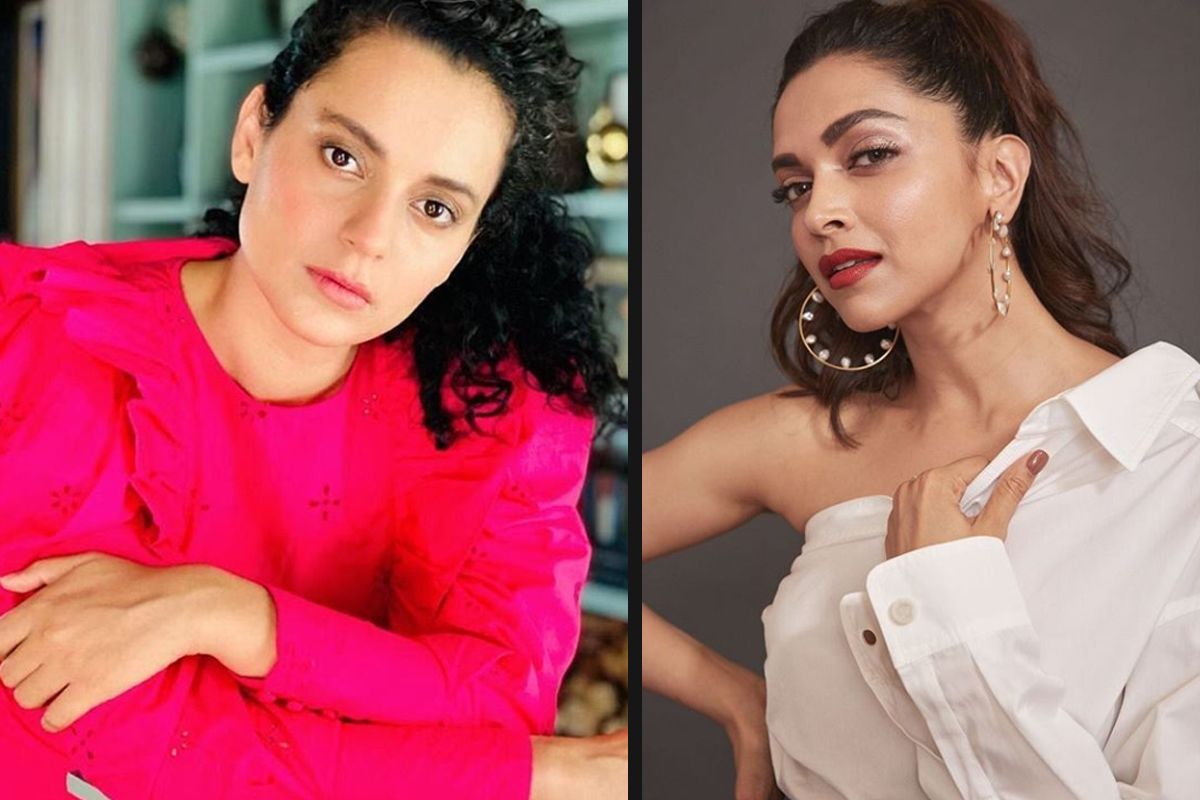 Kangana Ranaut does not seem to give up on her fight against Bollywood drug nexus and standing her grounds firm the 'Manikarnika' actress has once again launched her scathing attack on Deepika Padukone after an alleged drug WhatsApp chat surfaced showing the A-listed star talking about 'Hash'.
Taking to her Twitter account, Kangana tweaked Deepika's messages on mental illness and wrote, "Repeat after me, depression is a consequence of drug abuse. So called high society rich star children who claim to be classy and have a good upbringing ask their manager, 'MAAL HAI KYA?'." Followed by hashtags #BoycottBollywoodDruggies and #DeepikaPadukone in her tweet.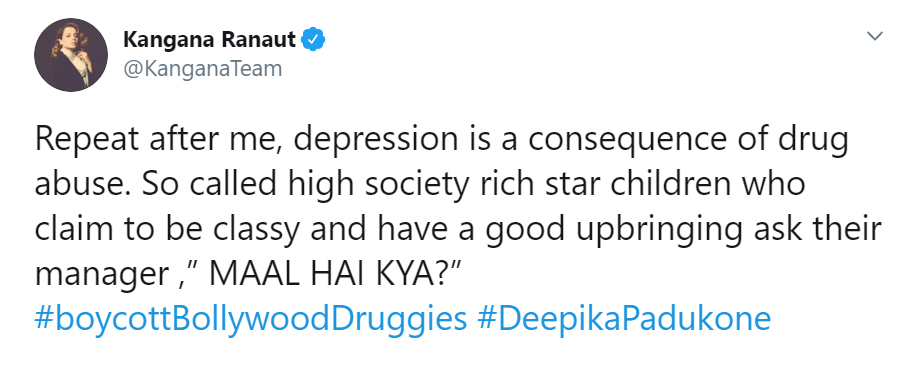 In this alleged WhatsApp chats Deepika is reportedly in conversation with her manager Karishma Prakash and dates back to October 28, 2017, where two people 'D' and 'K' both are a part of a WhatsApp group with Jaya Saha, who is also under NCB scanner for her alleged drug chat, and are talking about some 'maal', later, 'D' specifically asks for 'Hash' and not 'Weed'. In this chat 'D' has been confirmed to be Deepika Padukone who was all set to attend a party at a high- end restaurant, Koko, and was asking for some 'Hash'. This drug chat reportedly surfaced after Rhea Chakraborty's manager Jaya Saha was summoned for questioning by the agency. As per reports, Karishma Prakash has also been summoned by the Narcotics Control Bureau (NCB).
The content of Viral drug chat from October 28, 2017, read
 At 10:03 AM, (+91-992——-) 'D' writes: K…Maal you have?
At 10:05 AM, (+91-961——-) 'K' writes: I have but at home. I am at Bandra…
At 10:05, K writes: I can ask Amit if you want
At 10:07, Deepika writes: Yes!! Pllleeeeasssee
At 10:08, K writes: Amit has. He's carrying it
At 10:12, Deepika  writes: Hash na?
At 10:12, Deepika writes: Not weed
At 10:14, K writes: What time are you coming to Koko
At 10:15: Deepika writes: 1130/12ish
At 10:15: Deepika writes: Till what time is Shal there?
K writes: I think she said 11:30 because she needs to at the other place at 1
Notably, Kangana Ranaut has continuously been voicing against Bollywood drug cartel, Nepotism and to get the late actor Sushant Singh Rajput justice. Meanwhile, SSR's girlfriend and prime accused, Rhea Chakraborty, who is already in 14-days judicial custody with NCB after she was arrested under several drug charges on September 8, had also come under the NCB scanner after a WhatsApp drug chat was recovered by Enforcement Directorate. Later, many names started to drop-in in this drug scandal including Jaya Saha who was instructing Rhea Chakraborty to put "four drops" of some substance (CBD oil, a banned drug) in supposedly late actor's drink and let him drink, the substance will kick in about 30-40mins. The WhatsApp message from 2019 reads, "Use 4 drops in tea, let him sip it …. Give it 30-40 mins to kick in".