News & Gossip
John Cena Tweeted Shah Rukh Khan's Quote, SRK Gave Him A Great Reply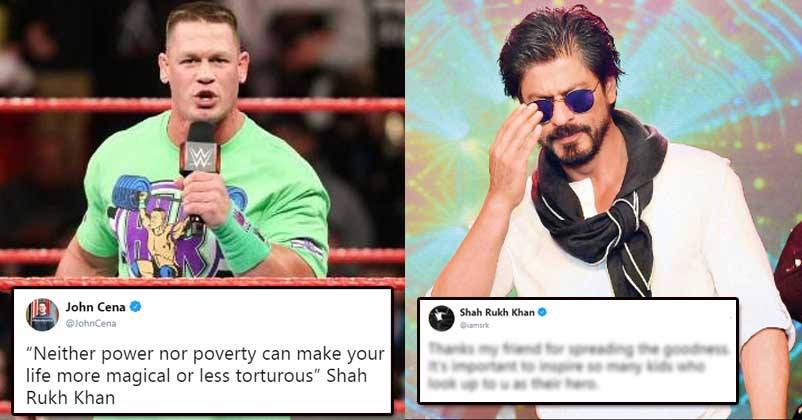 Shah Rukh Khan is inarguably the biggest and most influential Bollywood superstars. Popularly known as King Khan, he is also very popular all over the world. It is believed that he is the most popular Bollywood stars as far as the overseas market is concerned.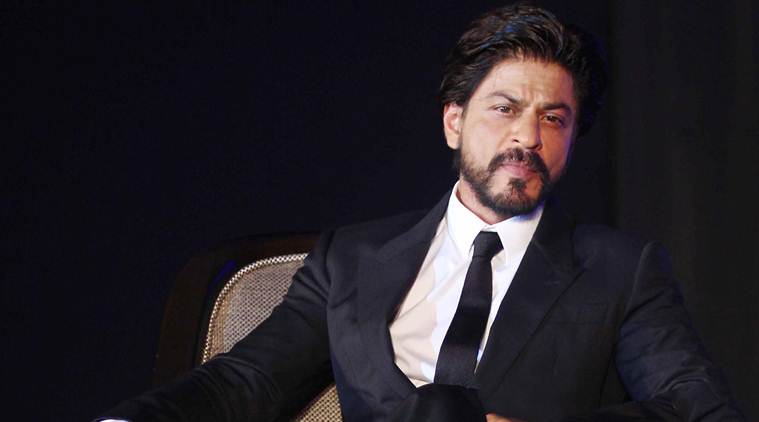 It looks like he has got a fan in popular WWE wrestler John Cena. On Monday, Cena shared a quote of SRK on his Twitter handle. Sharing the quote, Cena tweeted,
"Neither power nor poverty can make your life more magical or less torturous" Shah Rukh Khan

Even King Khan was impressed by Cena's tweet so much so that he replied him back. Thanking Cena for the same, SRK tweeted, "Thanks my friend for spreading the goodness. It's important to inspire so many kids who look up to u as their hero."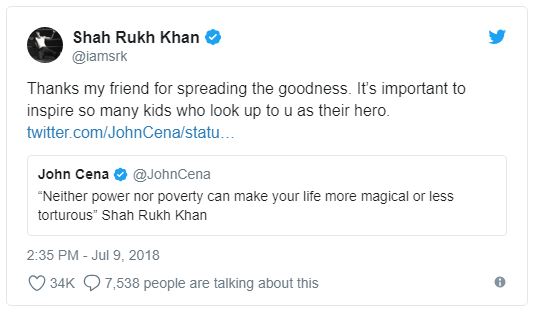 To which, John Cena replied, "Your words and work reach so many. They have helped me smile, laugh, think, and grow. Thank you, for being you."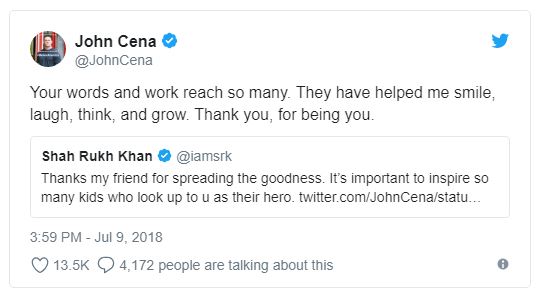 It is not the first time that John Cena and Shah Rukh Khan had a conversation on Twitter. Earlier last year, WWE superstar shared King Khan's Ted Talk with a message that read, "This was randomly put up in a small article by @theCHIVE very glad i stumbled across it."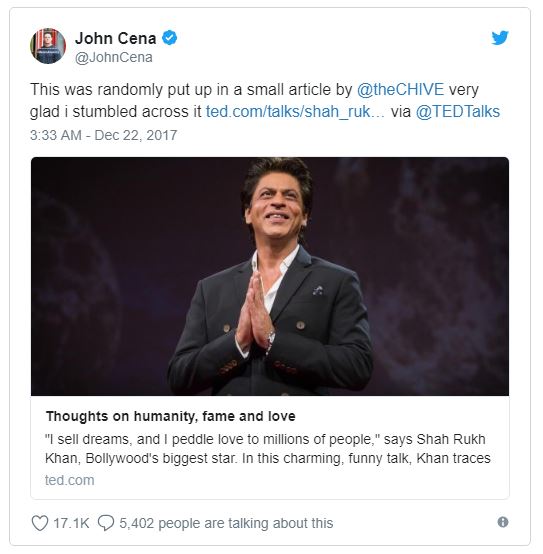 That time too, SRK thanked him and wrote, "thx for taking out time to 'See' it. Wish I can 'See u' someday. Love & health to u my man."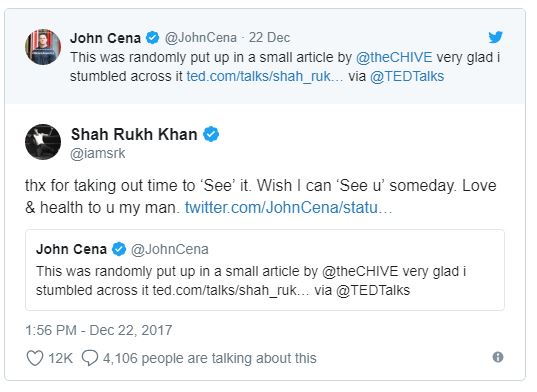 After SRK's reaction, Cena replied with another tweet, "You as well sir. Your perspective on life is one I strive to attain, that, and being visible of course. #Cyberspaceghost"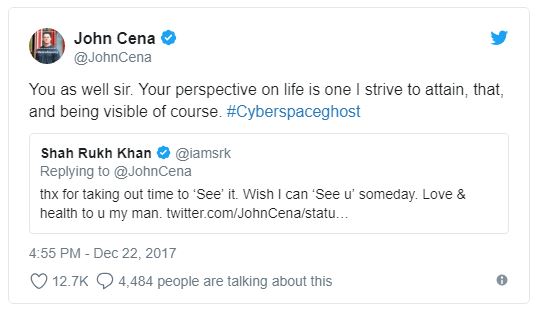 John Cena has been sharing SRK's quote for a very long time. He has also shared some of King Khan's quotes on his Instagram handle. Check out his Insta posts right down below.
https://www.instagram.com/p/BgOce5zAjxS/?utm_source=ig_embed
https://www.instagram.com/p/BdLpH4aAXc3/?utm_source=ig_embed
Not only SRK, Cena has also shared quotes of popular former Indian cricketer Rahul Dravid. Cena is a true inspiration for many, we hope he keeps inspiring us like this for a very long time.