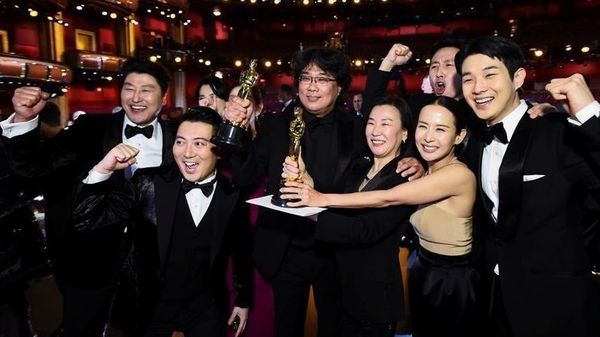 The South Korean movie, Parasite, which won four Oscar awards under the categories of Best Screenplay, Best Foreign Film, Best Director and Best Picture is said to be an unofficial remake of a Tamil movie. 
While the world is appreciating 'Parasite' on winning the 92nd Academy Awards, fans from South India are accusing that this movie is inspired by the Tamil film 'Minsara Kanna' which was directed by KS Ravikumar, starring superstar Vijay and Monica Castelino. Twitter has been abuzz with this news for several hours now.
@khushsundar Today parasite movie got 4 oscar awards but after watching the movie I came to know the plot of the story which was taken from Minsara kanna. In minsara kanna all the family was employed for love help& the same here parasite all the family were employed for survival.

— Rajeshkannan (@rajesh7) February 10, 2020
'Minsara Kanna' is a story revolving around a rich boy (Vijay), who works as a soloist at the home of a businesswoman (Khushbu). Later, he employs every member of his family at Khushbu's residence. Vijay does all these to get the love of the actress (Khushbu). When the film released, it had received an average reaction from the audiences. Whereas, the story of this year's Oscar-winning flick 'Parasite' revolves around a poor family taking pseudonyms and latching on to a rich family like a parasite.
Minsara Kanna = Parasite 😌😋

— K (@kiwitweets_) February 10, 2020
But, Vijay's fans are claiming that the story of Parasite is very similar to 'Minsara Kanna'. They are also praising their favourite actor and the director KS Ravikumar for it.
Also just hit me that Minsara Kanna( Vijay padam) is same storyline/plot as Parasite… just diff kind of twists & turns.. #aarootales

— Aarti 🐾 (@talesfromaaroo) February 10, 2020
It is to be mentioned that Minsara Kanna, which released in 1999,  featured Vijay and Monica Castelino in the lead roles while Rambha, Khushbu, Karan, Mannivannan, Mansoor Ali Khan played supporting roles.