News & Gossip
Hrithik Roshan Is Planning To Re-Marry Sussanne Khan, Here Is Truth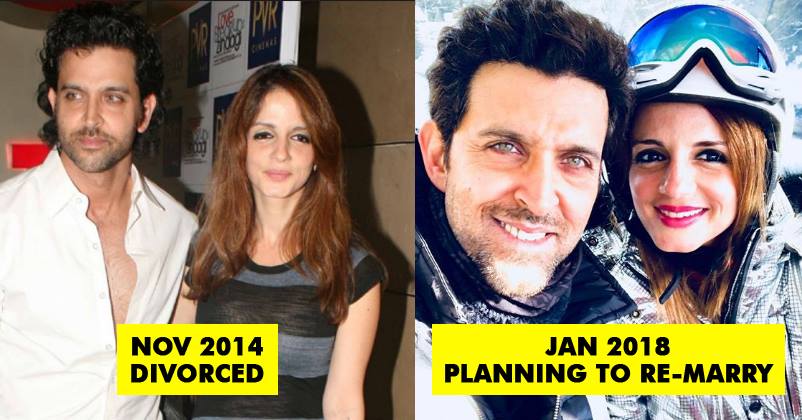 Hrithik Roshan and Sussanne Roshan broke their fans heart when they announced their separation back in 2013. It was really shocking news for their fans, as it was supposed to be an end to their 14-year-old marriage.
But as they say, matches are made in heaven, it seems Hrithik and Sussanne are a match made in the heaven indeed. Wondering why we say so, scroll down!
We have seen Hrithik and Sussanne together many times, all thanks to their kids. They were doting parents, who always thought of their kid's welfare. But, we can't ignore their bond and camaraderie.
Sussanne has always been a strong support to Hrithik whenever he needed despite their divorce. In his spat with Kangana Ranaut, she gave him full support. Recently, she gave some major hint while wishing Hrithik on his birthday.
She took to Instagram to share a selfie with a message that reads, "Forever and always you stay the sunshine in my life.. Happy happiest birthday 🖤 🎂 🌈🧚🏻‍♂️🌟smile that smile brightest and u always will spread that light…limitless 😇 #sacredheart". The fans got overjoyed after seeing their happy selfie.
https://www.instagram.com/p/BdvR9QpALoB/?utm_source=ig_embed&utm_campaign=embed_legacy
Several reports floating around suggest that Hrithik and Sussanne are going to give their fans the biggest news. Yup, reports suggest that ex-couple is planning patch things up and get married once again.
A source was quoted saying to India Times,
"Hrithik and Susanne have maintained the dignity of their relationship even after separation. Since last three months, the couple is thinking to give their relationship a second chance. The might remarry soon"
Another source said,
"Susanne and Hrithik are made for each other. We won't be surprised if they are reconsidering their relationship again."
We hope everything turned out to be true. If this happens, it would be the biggest news of 2018.