Sports
France Takes The World Cup Trophy While Putin Gets Trolled For Getting His Own Umbrella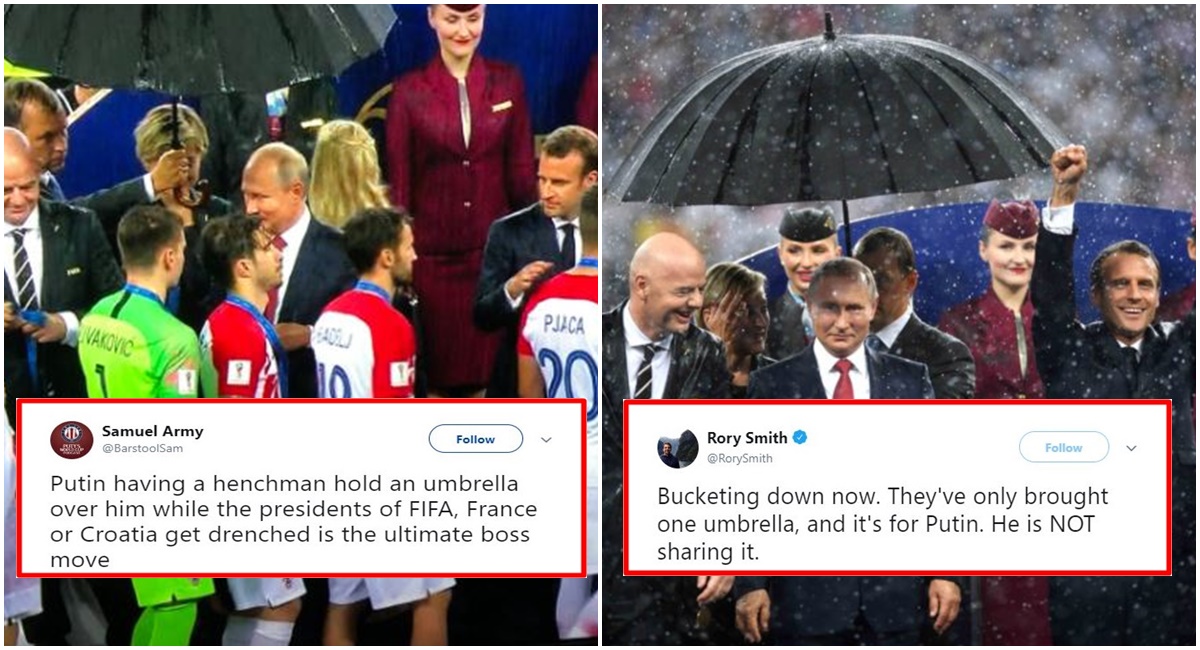 France became the champion for the second time after 1998 when they won the World Cup title for the first time. The entire country rejoiced its win and the rain during the prize distribution ceremony was like a cherry on the cake. It was a perfect day where everything ended so beautifully. Amidst the victory what caught our eyes was Russian president Vladimir Putin.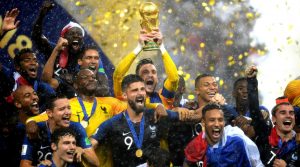 As it was a prize distribution ceremony all the dignitaries of both the countries were present at the podium to present the trophy and medals. FIFA president Gianni Infantino, French President Emmanuel Macron, and Croatian President Kolinda Grabar-Kitarovic gave away the medals to both the teams.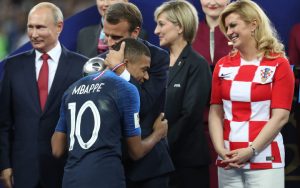 Everyone was drenched but Putin was the only one who was under his umbrella. He was the host of FIFA World Cup 2018 and being a host, such hospitality was not expected from the president. He became a joke on social media.
Does anyone else think it extraordinary that Putin stays nice and dry under a HUGE umbrella , while allowing the Presidents of Croatia and France to half drown under a DELUGE ? Hospitality ? Not so much. pic.twitter.com/Dv8AurHGCt

— Sam Neill (@TwoPaddocks) July 16, 2018
Putin didn't have a single drop of water on him. Social media users started trolling the president.
It's now absolutely bucketing down at the Luzhniki. Lackeys have appeared with umbrellas for the heads of state and FIFA dignitaries. Putin was the first to get his umbrella as Infantino, Macron and the Croatian president got soaked.

— Gabriele Marcotti (@Marcotti) July 15, 2018
Bucketing down now. They've only brought one umbrella, and it's for Putin. He is NOT sharing it.

— Rory Smith (@RorySmith) July 15, 2018
Putin having his own Umbrella Guy while everyone else gets soaking wet in the rain is an absolute power move pic.twitter.com/KAoi8gXhUk

— Clem (@TheClemReport) July 15, 2018
Putin outsmarts other world leaders yet again by bringing an umbrella to a torrential downpour, while leaving Macron and Grabar-Kitarovic to soak pic.twitter.com/PYHNJsOvRx

— max seddon (@maxseddon) July 15, 2018
https://twitter.com/Sio_Chamberlain/status/1018547792732721152
Umbrella priorities:
Putin > World cup trophy

— Anirban Dasgupta (@adg_5) July 15, 2018
Talking about the final match, France became the world champions after defeating Croatia 4-2 in 90 minutes. France shone in the second half and within the first 20 mins, Paul Pogba and Kylian Mbappe scored two stunning goals.
2018 World Cup will not only be remembered as the most elegant game but it will also be remembered for Vladimir Putin's love for his umbrella.
Anything to add to the story? Do let us know in the section below.