Television
EXCLUSIVE! Hina Khan says that Bigg Boss 'could be one reason' she bagged Komolika in Kasautii Zindagii Kay 2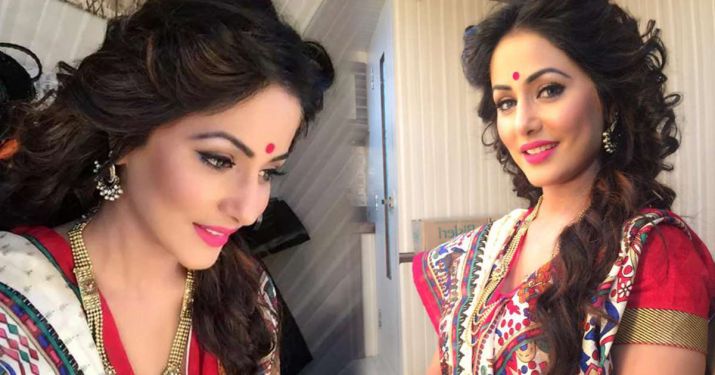 Hina Khan, who emerged as the runner up of Bigg Boss 11 has now made an entry in the most loved show on Indian Television, the remake of the favourite most love saga, Kasautii Zindagii Kay! The actress, who played the role of an Indian Bahu in a Television Show for eight years will now be seen playing the role of the most iconic vamp, Komolika! With her entry in the show in the episode that telecasted last night, Hina Khan has already started trending over social media and has managed a lot of glare already! The awaited most face of KZK2 is finally here and Hina Khan owes all the credit to Bigg Boss for having her bagged Komolika in KZK2!
https://www.instagram.com/p/BpZeEg3h545/?hl=en&taken-by=realhinakhan
While talking to a leading media house about her role Komolika in KZK2, Hina Khan said, "Ekta Kapoor is the Queen of Television, if her vision says that she can see me playing two roles, then I'm sure there is no getting into the 'negative zone'. It is her vision that she has offered me two roles – one hardcore negative lead and one positive lead. She is someone who has created television and has a vision unlike any other. There is no fear."
https://www.instagram.com/p/BphMxHKFCMT/?hl=en&taken-by=realhinakhan
Owing the credit of having bagged Komolika in KZK2 to Bigg Boss, Hina Khan said, "I also let go of four big shows as a positive lead. But when I met Ekta, she offered me two very big shows, the best of both worlds. And isn't this a compliment that she has this confidence in me that I can pull off both negative and positive roles. So eventually I believe one needs to be a good performer and opportunities will float on its own. Don't you think Ekta can answer this question better than me? She knows exactly why she chose me for Komolika. Having said that, I feel each and every step in one's career leads to the next one. Hence, when we are talking about Komolika, she was one of the fashionable characters of television during its reign. In Bigg Boss people appreciated the way I dressed in the house and so yes that could be one reason but again I think Ekta would probably know best"
Read More: Bigg Boss 12: Anup Jalota on Jasleen Matharu: 'My family doesn't even know her'
https://www.instagram.com/p/Bo55v07BdXk/?hl=en&taken-by=realhinakhan
Talking about the show, Hina revisited her school days. She reminisced, "I remember when I was in school, my mom grand mom and aunties would love watching Kasautii and we too would sit and watch it with them! From Prerna to Komolika to Anuraag, we would enjoy watching them all on screen. It was an amazing show, with iconic characters to always remember! I really hope we repeat history and make this show the best and give it good ratings! Which is, of course, a team effort, so let's see how it goes!"
Stay tuned for more updates!