Bigg Boss
Bigg Boss 12: Anup Jalota on Jasleen Matharu: 'My family doesn't even know her'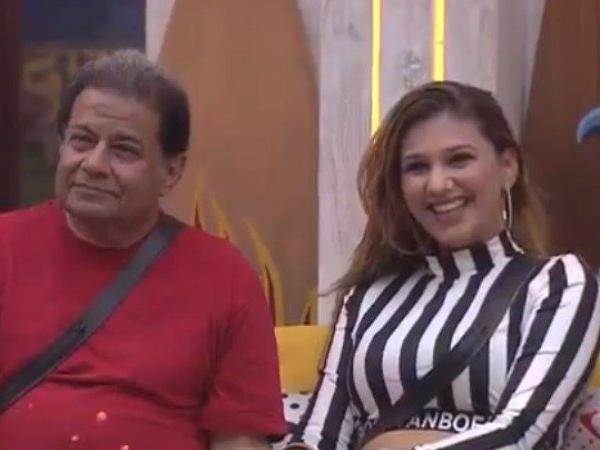 Bigg Boss 12 is all about the Vichitra Jodis that entered the season! Out of all the Vichitra Jodis, the Vichitra most however was that of The Bhajan Samrat Anup Jalota and his girlfriend Jasleen Matharu! The duo had earlier been Guru Shishya and now are dating each other! Anup Jalota is 65 years old while Jasleen Matharu is 28 years old! Despite the striking age gap, Jasleen and Anup truly showed that Love has no age defying it! With a lot many ups and downs inside the Bigg Boss house, Anup Jalota is now evicted from the Bigg Boss 12 House and here's his exclusive interview post eviction! Anup says his famy doesn't even know Jasleen Matharu!
https://www.instagram.com/p/Bnyelw7lRO2/?utm_source=ig_embed
Post eviction from Bigg Boss 12 house, Anup Jalota got into a conversation with leading media houses and the revelations made by him truly were shocking! Here's what Anup Jalota said about Jasleen Matharu and their relationship and about the Bigg Boss 12 contestants!
How are you feeling since now you are evicted for real?
The channel asked me to leave. The makers told me that I am being too self-conscious and wanted me to blend in with everyone. I refused to do it. Why should I not be self-conscious? I have achieved so much in life, including a Padmashree. But I'll definitely go back if called again, I enjoyed the show.
You went in as teacher-student Jodi which turned into something else.
We share a musical relationship. I want Jasleen to be popular and it was only possible if I went to the show with her. I had initially refused to be a part of the show. Her father also asked me to help her out.
https://www.instagram.com/p/BlH5ADGhA7L/?utm_source=ig_embed
Do you think your relationship with her soured after your stint in the secret room?
We don't hide anything from each other. I wanted to help her out and I always speak my mind. I wanted her to be strong when I leave. After I returned, I actually saw her fight for herself.
Your take on Sreesanth?
I don't understand what his strategy is; whether he wants to quit or stay in the show. If you don't want to quit then perform in all of the tasks. Neither does he perform nor does he quit the show. We became good friends but what he is doing is wrong. He fights with Dipika (Kakar) every week and then they patch up. It doesn't look good. I am 65-years-old, I have never called for a doctor once in the show unlike others.
He also passed some derogatory comments at commoners in the house.
That was really wrong. He is unable to control himself and talks like this. I am against it and I have told him that.
You passed some pretty intense comments on Jasleen's friendship with Saurabh Patel.
That was for Saurabh. He comes from a small village. People over there won't really like it if they see him like that. People living in cities won't mind as much. Saurabh listened to me and I was happy he did that.
You and Jasleen had a romantic date in the house. Have you been on a date with her before the show?
I sing songs for her sometimes. We hardly know each other. She has come to my place 5 times hardly. My family doesn't even know her. There's nothing what audiences think there is; the whole purpose was to help her out. She will keep learning music from me and I will keep teaching her; we'll do shows together sometimes. We have a teacher-student relationship and I would appreciate if people didn't stain it with labels.
https://www.instagram.com/p/BpfSTJ2hw9d/?utm_source=ig_embed
Who is your favourite contestant?
Romil Chaudhary has a high chance of winning the show.
Jasleen was seen asking Romil about property rights in live-in relationship.
She must have been asking for someone else. We don't even live with each other.
Who is the worst contestant?
Read More: EXCLUSIVE! Hina Khan says that Bigg Boss 'could be one reason' she bagged Komolika in Kasautii Zindagii Kay 2
Me (laughs). Seriously, see I got evicted. On a serious note, Surbhi Rana. She thinks she is strong but it's not strength when you apply a teeka of blood on your forehead.
Who will be in the finals, according to you?
Romil, Megha Dhade and Dipika.
Stay tuned for more updates!