News & Gossip
Donald Trump Tweeted About Diwali and Forgot Hindus, Got Massively Trolled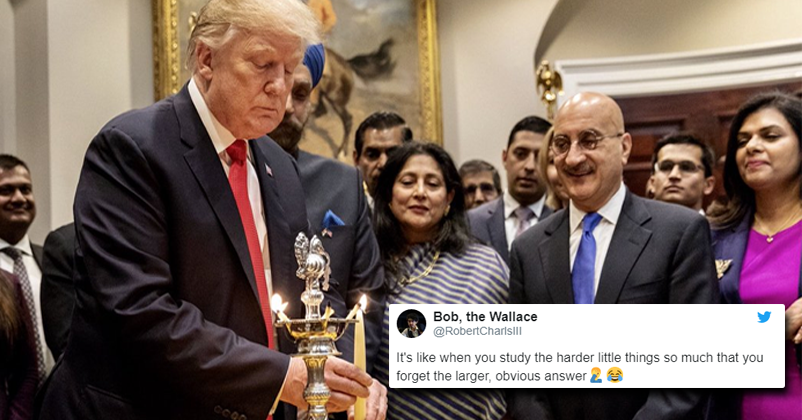 You hate him or love him but you certainly can't ignore him. This is Donald Trump for you, folks! No matter what he does, he lands himself in trouble. He did it again, this time while wishing Diwali.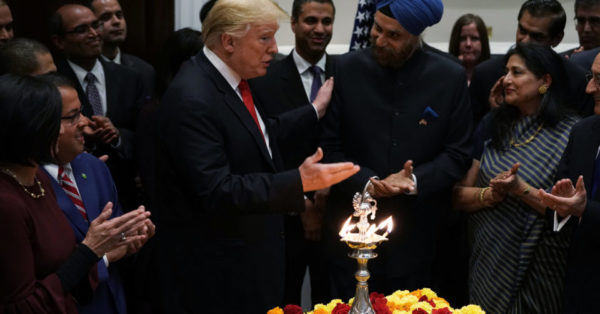 As you all know, Diwali was celebrated all over the world on November 7. It looks like American President also lit up a diya in the White House. Mr. President took to Twitter to share a picture with a caption that reads,
"Today, we gathered for Diwali, a holiday observed by Buddhists, Sikhs, and Jains throughout the United States & around the world. Hundreds of millions of people have gathered with family & friends to light the Diya and to mark the beginning of a New Year."
https://twitter.com/realDonaldTrump/status/1062450942707228672
What was he thinking? How can he forget Hindus, especially when Diwali is the biggest festival of Hindus? In the pictures, you can see Trump surrounded by some Indians, as he lit up the lamp. I'm literally confused and speechless.
As usual, netizens slammed Donald Trump in the most hilarious way possible and reminded him of his mistakes loud and clear. Check out some of the top comments down below.
1
https://twitter.com/thevirdas/status/1062588179612663808
2
A week late and still manages to screw it up 👏👏 https://t.co/rJqYikHTRC

— Shiven (@Shiv077us) November 14, 2018
3
This is terrible. It's unconscionable @realDonaldTrump did not know Diwali was a Hindu holiday. So embarrassing. https://t.co/Ggx9OWcuVO

— Annie Gowen (@anniegowen) November 14, 2018
4
A simple Google search….or an intern could have whispered something…or your brain could maybe…think…SO MANY OPTIONS. https://t.co/ZtS1tDqk7T

— Brian K. (@Yenyewe) November 14, 2018
5
https://twitter.com/singh_gurraj07/status/1062632387367104512
6
Even Wikipedia could have helped "Diwali is celebrated by Hindus, Jains, Sikhs and Newar Buddhists, although for each faith it marks different historical events and stories, but nonetheless the festival represents the same symbolic victory of light over darkness"

— MarianneThamm (@MarianneThamm) November 14, 2018
7
https://twitter.com/TheBigDogTheGu1/status/1062647699105857536
8
https://twitter.com/SeemaTrivedi6/status/1062721446852608000
9
Cultural humility is seriously lost on the trump administration.

— Dr. Lisa (@trumpismoot) November 14, 2018
10
https://twitter.com/SushilSancheti9/status/1062647466871279616
What do you have to say about this? Tell us your thoughts in the comment section down below. Stay tuned to this space for more viral stories.