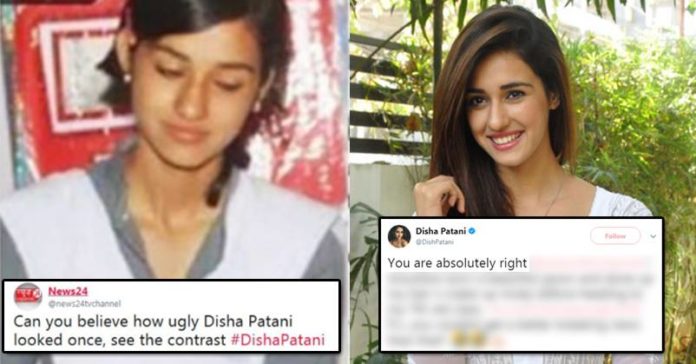 MS Dhoni actress Disha Patani is giving major fashion goals to youth ever since she stepped in entertainment industry. Few days back she walked for a designer at Lakme Fashion week, and her fashion sense became the talk of the town. Cna anyone would have imagined someone ever calling her UGLY? Well that happened!
Recently a news portal shared her childhood photograph which they labelled it as 'UGLY'. Instead of crying over it or ignoring it, Disha Patani took the matter to the twitter and gave a swaggy reply to the news channel. See below the tweet of Disha:
https://twitter.com/DishPatani/status/959490475827765248
Her caption read as,
"You are absolutely right @news24tvchannel ! shouldve worn a beautiful gown and done up my hair n make up nicely before heading to my 7th std class. #sorryforbeinganuglychild P.s. you couldnt get a better breaking news than that? "
Well said Disha! We couldn't imagine of any better reply than this. It is not a lesson for only this media house but for many who forgets the limit while criticizing any actor/actress. Criticizing the 7th class pic, labeling it as 'UGLY' seems like the author owed a personal stylist and make up artist during 7th std.
Did you loved Disha's reply to media house? Share your views in comment section below and stay tuned with us for more latest news and Bollywood happenings.