Kangana Ranaut has been on a promotional spree for 'Rangoon' and instead of words, she has been spitting venom. The woman simply has no filter when she talks and while it is appreciated in most cases and she is lauded for being feareless and opinionated, though, it has also led to Kangana being embroiled in many a controversy. Unexpectedly, she did something similar on filmmaker Karan Johar's talk show Koffee With Karan when she called him the 'movie mafia' and labelled him as the 'flag bearer of nepotism in Bollywood'. Though it was all in good spirit for the show (or so we thought), Kangana's comments became the talk of town and the media left no stone upturned to dissect her comment and to read between the lines. The situation was soon blown out of proportion when Karan reacted to the situation advising Kangana to 'stop using her victim card' every time she lands herself in a soup.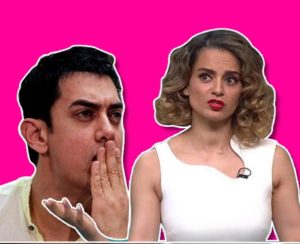 While a horde of celebrities have voluntarily expressed their views on the controversy and also chosen sides in this war of words, the newest addition to this train was Aamir Khan who turned 52 today. As is the norm on Aamir's every birthday, even this year he held an interaction session with the press where he was asked to share his views on the controversy as a whole. Aamir Khan, whose father and uncle have both been successful film producers in the past had a pretty obvious reason backing his answer. He said,
"In general, I think it's a normal human tendency to

try and help people who you love and care for. It doesn't have to be someone who is part of your family, it could be someone you care for. It's a very natural emotion."
Aamir further went on to say,
"I try to make sure that in my work, I don't let it interfere. As a creative person, I am responsible to my audience and I give huge importance to that. I try not to bring in emotions in my work."
Well, we wonder how Kangana, who is always all praises for Aamir, would react to his take on nepotism in the industry.