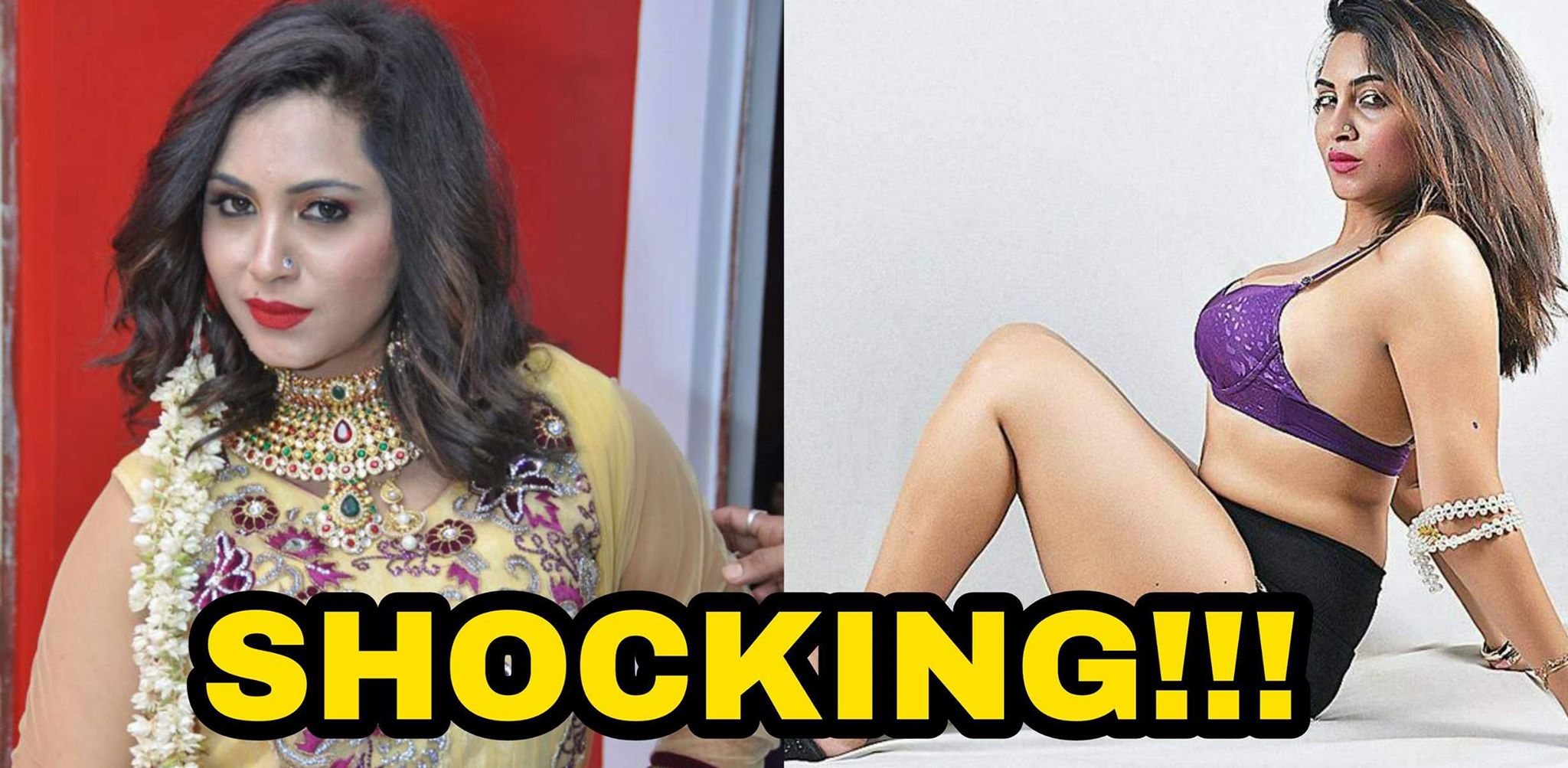 Bigg Boss 11 is offering a full dose of entertainment to the viewers, all thanks to interesting and controversial contestants. One contestant, who is created lots of buzzes is Arshi Khan. Bigg Boss 11 is surrounded by several controversies. Several reports suggest that Arshi Khan has lied about her age, marital status, and personal life in order to enter BB 11 house.
Currently, Arshi Khan is in the news for lying about her marital status.
According to the report, Arshi is married to a 50-year-old bookie.
Recently Arshi's friend and south Indian actress Gehana Vasisth opened up about her to an entertainment portal. She said, "I know everything about her because the same PR person handles both of us. He has every proof on record, in terms of documents that prove Arshi is married to a 50-year-old bookie."
Arshi has also claimed that she had an affair with Pakistani cricketer Shahid Afridi. Currently, she is in the news for faking her identity.
On BB11, Arshi often flirts with popular TV actor Hiten Tejwani. It is reported that she has given false information to the makers of Bigg Boss.
Actress Gehana Vasistha has claimed that Arshi is married to a 50-year-old man and has been lying about her age to stay in the game.
Talking about her age, Gehana told in an interview, "Since I am also from Bhopal, from where Arshi Khan comes from, I can tell you that Arshi Khan is over 32 years old, but she has claimed to be only 27 years of age. She has reduced her age by over 5 years because I happen to know her from her school days. She has also faked her educational qualifications while applying for Bigg Boss 11 and I have proof of the same. I wonder how the channel and the makers of Bigg Boss have selected such a contestant who has been faking all her life."
On her affair with Shahid Afridi, Gehana said, "forget about having sex with Afridi, Arshi Khan has never met him face to face or even spoken to him on the phone even once in her lifetime."
Actress and model claimed that Arshi has almost 10 criminal cases filed against her.
Arshi Khan is the latest controversy child, who is making lots of noise in Bigg Boss house.
In the launch episode, Arshi told Salman that her quality is to create controversy with her words.
Arshi has created huge ruckus inside BB 11 house since the beginning.
She even kissed a cutlet of superstar Salman Khan, which was kept in the garden area of the house. A fan club of BB11 posted that photo on Twitter.
Arshi Khan has made lots of noise, all thanks to her bold photos on social media.
She has made headlines for her controversial statements.
Arshi Khan gained popularity when she claimed of having a physical relationship with former Pakistan Cricket team captain, Shahid Afridi.
Talking about the same, Arshi Tweeted on 8th September 2015. Her Tweet reads, "Yes, I had sex with Afridi! Do I need the Indian media's permission to sleep with someone? It's my personal life. For me, it was love."
During an interview in 2016, Arshi Khan claimed that she was three months pregnant. She even claimed that her mother would have been very happy if she was pregnant with Shahid Afridi's baby. Later, she said that her pregnancy news was fake.
Arshi Khan also made headlines during ICC T20 World Cup 2016.
Arshi was also involved in a prostitution racket in Pune.
Arshi Khan is a 28-year old and hails from Afghanistan. Her family shifted to Bhopal when she was just four-years-old.
She has done her schooling in Bhopal.
Arshi Khan made her acting debut with 2014 Tamil film 'Malli Mishtu'.
She rose to fame when she did a bold photo shoot. In one of them, she pasted Pakistani flag on her body.
Arshi Khan never fails to entertain her fans with her bold photos on her social media profile.
Arshi has been criticized for her bold photo shoots. Some organization has even issued fatwas for posing in a bikini while wearing a hijab.
She has also claimed that self-proclaimed Radhe Maa ran a sex racket. She said that she was approached to join it.
Her life completely changed when she was spotted by popular stage personality Janab Ehsaan Chishti.
Talking about him, she said in an interview, "Ehsaan ji thought that I have a attractive face and figure and if I try and work hard, I can possibly make it as an actor. He used to instigate me and it was at Ehsaan ji's provocation that I started acting in various dramas in Bhopal city. I started getting offers for modelling and that's how I got assignments."
You may not know that she was also part of 'The Last Emperor', which was the first 4D period action film in India.
Arshi Khan is also the winner of multiple local beauty pageants. She is currently creating lots of controversy for her performance in Bigg Boss 11 house.
Arshi Khan has won Miss Maharashtra Global Tourism contest.
She has worked in several advertisements. She has appeared in an advertisement for Pepe Jeans and Aggrawal Jewelers to name a few.
Lately, she was in news for slapping a small-time Bhojpuri film producer, who hailed from Indore.
Arshi Khan is a big fan of Bollywood films. Her favorite actor is none other than Shah Rukh Khan.
Arshi was also part of Maneesh Singh's film titled 'Green Terror'. She was seen in the bold avatar, where she played a female terrorist.
In Bigg Boss 11 house, she has been involved in fights with several contestants including Zubair Khan, Hina Khan and Bandgi Kalra.
Arshi is playing pretty well in Bigg Boss 11 season, where she is seen flirting with fellow contestant Hiten Tejwani. Her funny banter with Hiten is being loved a lot outside the house.
She has always said that she will create fights among contestants.
Arshi Khan is one of the strongest contestants of Bigg Boss 11, she would be hoping to go a long way in the eleventh season of Bigg Boss.
Tell us your thoughts in the comment section below. Stay tuned for latest Bigg Boss 11 news.