News & Gossip
Arbaaz Khan Admits Betting In IPL, Twitter SLAMS Him In The Most Hilarious Way!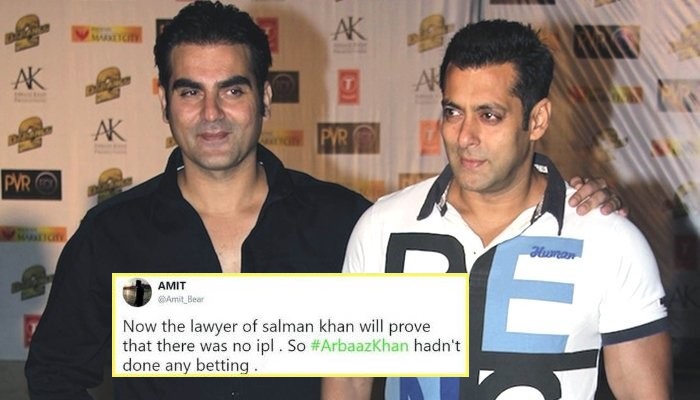 Bollywood and cricket are two most popular entertainment sources in India. The popularity of IPL was pretty much assured even before its debut, after all, it brought Bollywood and cricket together. In fact, it is the most popular franchise-based cricketing event in the world. Cricketers from all around the world want to play in IPL and people all across the globe watch it with great enthusiasm.
Amidst all glamour and glittery, IPL has been mired in controversy for very long time. Remember the time, when S. Sreesanth was arrested for match-fixing back in 2013, the Indian pacer was banned from all form of games by BCCI following that incident. Now, actor cum filmmaker Arbaaz Khan has landed himself in trouble. He was summoned by police for interrogation after his name was revealed by bookie Sonu Jalal post his arrest.
Arbaaz Khan has confessed that he was betting for last six years. Last year, he had said that he lost Rs. 2.83 Crore. Everyone is wondering what will happen after this new shocking revelation. Will he be punished for his involvement in IPL betting? However, Twitter has already come up with the best reactions to this latest development. It is seriously funny.
This Is How Twitter Reacted:
Now the lawyer of salman khan will prove that there was no ipl . So #ArbaazKhan hadn't done any betting . #ArbaazIPLScandal

— AMIT (@aviator_amit) June 3, 2018
Hope #ArbaazKhan has a good lawyer and a great driver too

— Dharmesh (@Mumbaiikar) June 1, 2018
https://twitter.com/Shubh1mm/status/1002535032341217281
https://twitter.com/imshivani97/status/1002762183745269761
https://twitter.com/ikpsgill1/status/1002536407938711552
Raju Hirani's next film is an international project, a biopic on Arbaaz Khan's tumultuous life, starring Roger Federer. #ArbaazKhan

— Ajabajooba (@ajabajooba) June 1, 2018
*Arbaaz khan is accused for betting in IPL*

Arbaaz to Salman: Bhaiya, kuch tips dona…
Salman: Tell them, wo main nahi, mera Driver tha…

*Roger Federer bolega to fayde me rahega*#Arbaazkhan

— Freezy Bugs (@FreezyBugs) June 1, 2018
https://twitter.com/iFunkaar/status/1002514450275061760
https://twitter.com/IronyOfIndia_/status/1002556578053140481
https://twitter.com/tweetruchhii/status/1002513619584610304
https://twitter.com/Mr_LoLwa/status/1002538589475954688
https://twitter.com/VermaSachinK/status/1003171669261930496
What's common between #ArbaazKhan & Salman Khan?
Black bucks

— Dr. Gill 2.0 (@ikpsgill1) June 1, 2018
According to sources, Thane Police has stopped all investigations on #ArbaazKhan after seeing his bank statements. In fact constable Patil gave him Rs 100 with a bidi and said "yeh le, minimum balance to maintain kiya kar, fine lag jaayega…"

— The Lying Lama 2.0 (@KyaUkhaadLega) June 1, 2018
https://twitter.com/Sachinspired/status/1002896296871526401
https://twitter.com/imshivani97/status/1002763028792729600
https://twitter.com/SirJadejaaaa/status/1002559475822268418
https://twitter.com/ChaasMaster/status/1002505056485244928
https://twitter.com/DoctorrSays/status/1002529809124200449
What do you have to say about this? Tell us your thoughts in the comment section down below.