Sports
AFGHANISTAN SAY THEY HAVE BETTER SPINNERS THAN INDIA AND KARUN NAIR GAVE A FITTING REPLY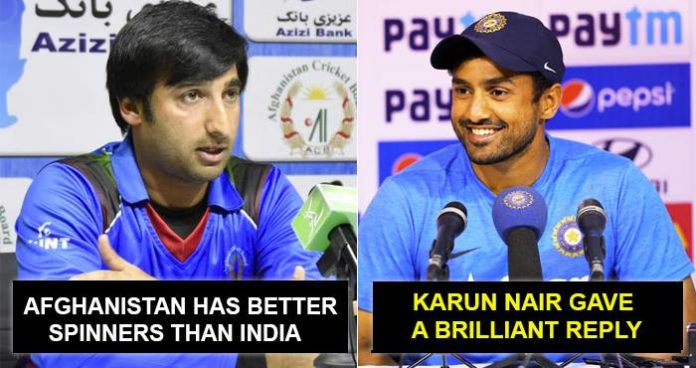 India gears up for the upcoming Test Series with Afghanistan! The Afghanistan cricket team is in high spirits as they keep boasting about their cricket skills of being better than that of our Indian Cricketers! All of the credit simply goes to the splendid performance of their star bowler, Rashid Khan who created a lot of buzz with his performance in the IPL season this year!
https://www.instagram.com/p/BSKkLKqg9iR/?utm_source=ig_embed
The Afghanistan team is in high praises of itself before they play against India at the Chinnaswamy Stadium.The skipper of Afghanistan cricket team, Asghar Stanikzai was so high on confidence that he said that the spinners of Afghanistan are better than the spinners of India.
To this statement of theirs, Karun Nair gave a commendable answer! He said, "That was a big statement to make considering Afghanistan haven't played Test cricket. All our spinners are proven wicket-takers in Test cricket, so there is nothing much to say there."
https://www.instagram.com/p/BioMAqcDf5o/?utm_source=ig_embed
On talking about Rashid Khan and his bowling skills Karun Nair said, "We all have played Rashid in the IPL. I think Test matches are a totally different ball game. No one has played him in the longer format, and I'm sure he hasn't bowled much too with the red ball. I think it's going to be a challenge for everyone."
https://www.instagram.com/p/BhjtipijEWN/?utm_source=ig_embed
Karun Nair made some comments on another spinner Mujeeb Ur Rahman, he said, "I can read it from the hand. I think that's the best way to play spin. He is a good bowler but we'll have to wait and watch what happens in the Test match."
The match surely shall be an interesting one! Stay tuned for more updates! Do write your suggestions and feedback in the comment section below!