Former Indian captain MS Dhoni is inarguably the most popular cricketers in the world. Fans love him for what he represents on and off the fields. MSD has made us proud countless times but what he did yesterday during India Vs New Zealand third T20 match will make you love him even more.
During the third and final T20 match between India and New Zealand, a fan came running on the field when India was fielding in the first innings. The fan came to touch Dhoni's feet. This fan was also carrying India's national flag when he ran towards Dhoni. When he went down to touch MSD's feet, the flag touched the ground. As soon as MSD saw the flag touching the ground, he picked it up.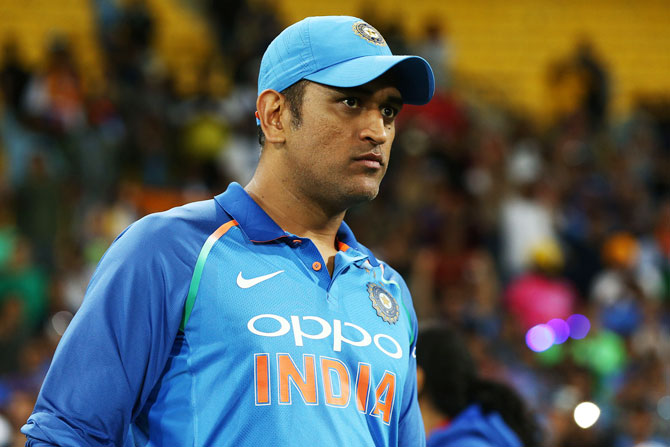 The video of the same has gone viral on social media, where fans can't keep calm. They are showering Dhoni with lots of love and praise for his patriotic gesture.
14th time, Fan breached security authorities and touched Dhoni's feet!! And that too in NZ 😨🙏🏻!!@msdhoni #MSD #NZVIND pic.twitter.com/bx3oZMSNDy

— MSD 😎 (@Vidyadhar_R) February 10, 2019
This is not the first time a fan has breached the security in order to take MSD's blessings. It has happened many times earlier in IPL and many international matches. Fans are once again showing their love towards former Indian Skipper for his sweet gesture. Check out some of the Tweets down below.
He picked up the flag first. Huge huge Mr. Dhoni. @msdhoni https://t.co/ibFla4cY5z

— 10 Bamboos (@Baba_Gyancho) February 10, 2019
Dhoni never keep Flag on his helmet as he had to put it down for sometimes sums up this ❣🙏🏻!!

Massive Massive respect for this legend!!@msdhoni #MSDhoni pic.twitter.com/7wD16hYthE

— MSD 😎 (@Vidyadhar_R) February 10, 2019
Meanwhile living in the Society where people burning National flag _/_ Dhoni #NZvInd @msdhoni pic.twitter.com/L8EuB55osc

— Son Of Sumathi ♥ Selvakumar (@Iam_Jaimsd) February 10, 2019
The m guy that went on field didnt care about India's flag touching the ground but Dhoni did.

— Tejas (@Tejaa_vu) February 10, 2019
The guy who was trying to keep the flag at Dhoni's feet, complete idiot. Fine, you follow Dhoni but did he forget it was a national flag?? Dhoni smart enough to quickly snatch it💙.

— Pratik Chavan (@PratikC50626267) February 10, 2019
Dhoni picks the flag first 😎😍😍😍Patriotic level💪👌👌👌👌 pic.twitter.com/64gSk9SnbG

— Deepak (@Deepak05649055) February 10, 2019
A Fan Breached Security To Touch MSD's feet at New Zealand
.
And Fan dropped INDIAN flag on Ground 🇮🇳
.
MSDhoni Picked the flag 1st #INDvNZ #Dhoni #Dhoni300 @msdhoni pic.twitter.com/vqvbjcayHE

— 🇮🇳 Sudhanshu Pandey 🇮🇳 (@SudhanshuSK14) February 10, 2019
Thala #Dhoni da…😘😘@msdhoni Respect Our National Flag…..🙏🙏 #INDvsNZt20 #IndVsNZ pic.twitter.com/vHVLG6FWyX

— X-Men™💭 (@itz_xWoLveriNe) February 10, 2019
What do you think?