News & Gossip
Taking a break from cancer treatment, Sonali Bendre gears up for a special collaboration with her son Ranveer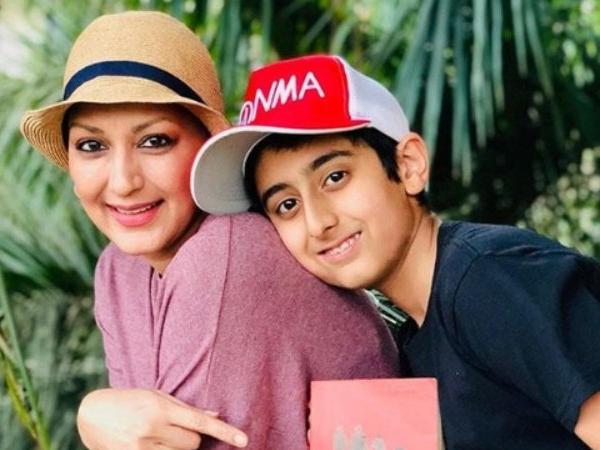 Sonali Bendre revealed to her fans, earlier this year, that she had been battling metastatic cancer and the entire film fraternity as well as her fans were left in shock! Ever since then, her family, friends from the industry are praying for her recovery! The lady who is undergoing her treatment in New York is see quite active on her social media, sharing her medical status, interacting with her fans at various occasions! The latest buzz had reported that Sonali Bendre had returned to India with her husband Goldie Bahl, amidst her cancer treatment! Well, on returning to India, this is what Sonali Bendre is up to!
https://www.instagram.com/p/Bp5_cJPBH8L/
As Sonali Bendre writes on Instagram, "As we come close to the end of another year, it's amazing to see how much this book club has grown and how I can see tangible effects. After my son hosted his first SBC Live, he's become more enthusiastic about reading, so much so that he has now recommended a book for us! So the next book for #SBC is Half Brother by @kenneth.oppel. I'm really excited as it's the first mom-son collaboration on the book club, and I'm looking forward to exploring this book with you all! #TheFamilyThatReadsTogether#SonalisBookClub @sonalisbookclub"
https://www.instagram.com/p/BruCX1mBQH-/?utm_source=ig_embed
The actress is still undergoing her treatment bust is on a break as of now! She has her family and her friends standing by her back in her tough times and we hope Sonali Bendre recovers soon! Stay tuned with us at Filmymantra for more updates!