News & Gossip
A Brave Police Inspector Saves Muslim Boy From Angry Mob Led By VHP And Bajrang Dal Activists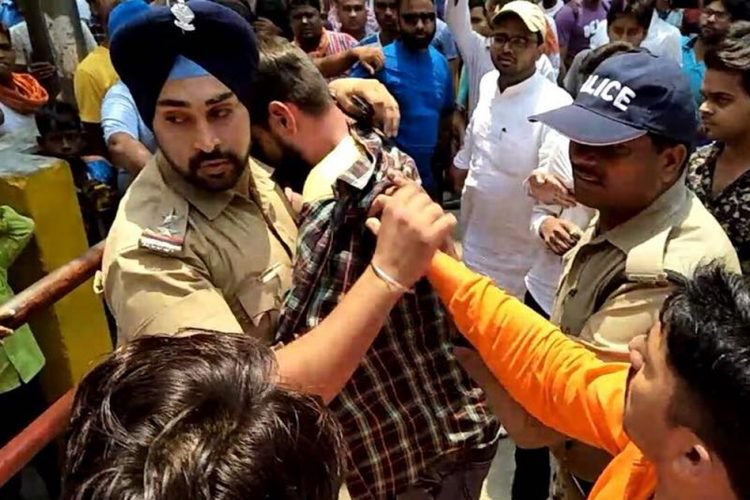 India is a secular country, where people of every religion live in harmony. However, some rowdy elements in the society always try to create unrest. At the same time, there are people, who always help without thinking about their religion and anything.
A brave Sikh police sub-inspector saved a Muslim boy from an angry mob on May 24 in Uttrakhand's Ramnagar. The mob was angry after finding the boy with a Hindu girl.
According to the report of The Lallantop, the boy and girl met in a temple in Girija Village, which was a very crowded place. However, the mob spotted them and got a hold of them anyhow. Then, the brave cop named Gagandeep Singh rescued the boy fearing he would be lynched by the angry mob. The viral video shows the cop rescuing that boy from the clutches of those angry mobs.
Gangandeep Singh can be seen talking to the mob all alone, whereas they keep shouting. Another police can also be seen controlling the crowd. When the cop refused to give the boy to then, they started shouting anti-police slogans. Everything was happening, when Gagandeep was trying to protect the boy while the angry mobe continuously tries to beat the boy.
https://www.facebook.com/kirandeep.kaur.3726/posts/1746468918782123
Some witness was quoted saying to The Lallantop that the boy was sitting on the floor after being beaten up by the mob, whereas girl was arguing with them before police arrived at the scene.
The girl asked a man why he thrashed the boy, the man allegedly said, "We will chop him to pieces. You are a Hindu and roaming around with a Muslim man. I will chop you too."
The police revealed that the mob included the members of Vishwa Hindu Parishad (VHP) and Bajrang Dal. The group also alleged that the boy and girl were "getting intimate", however, the police had not said anything about the same.
We appreciate the brave act of Officer Gagandeep Singh. With the growing incident of mob lynching, we need more such officers, who could save the innocent.