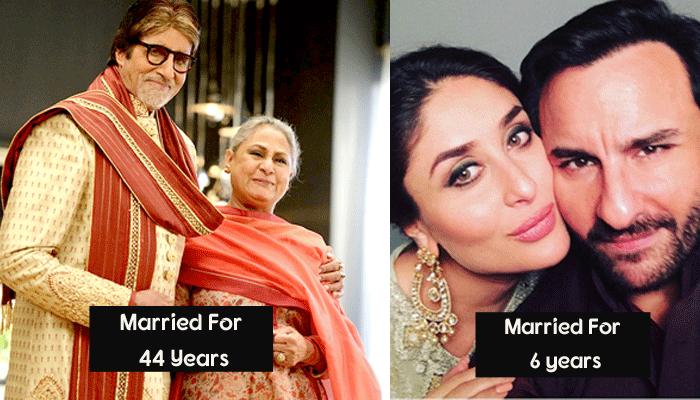 Bollywood celebrities have inspired us in every choice of our lives, from the sense of style to fashion till fitness trends. Bollywood is the only source of inspiration when it comes to romance.
Not onscreen but also in the real lie, some of the Bollywood couples have been looked up as the epitome of love. These famous couples have proved that love transcends everything. Let's take a look at such 6 motivational real-life couple in Indian cinema.
Amitabh-Jaya
Well-known as the golden couple of Bollywood, Amitabh and Jaya have been through a fair share of controversies. They have emerged at large with their heads held high and their love has grown stronger eventually. The tall, dark, and handsome, Amitabh Bachchan has fallen with Jaya Bhaduri and they had tied the knot June 3, 1973. Well, at that point of time, Jaya has already been well-known as an established actor, while Amitabh has already been successful with his first hit, Zanjeer (co-star Jaya Bhaduri). Amitabh has found success as an angry young man and become successful as a Bollywood superstar.
However, this couple has faced issues pretty early in their marriage. The rumours of the love affair between Amitabh and Rekha has mainly led to major issues in their marriage. While filming Silsila, Yash Chopra has openly spoken about Rekha and Amitabh saying that the atmosphere during the shoot has been much tensed.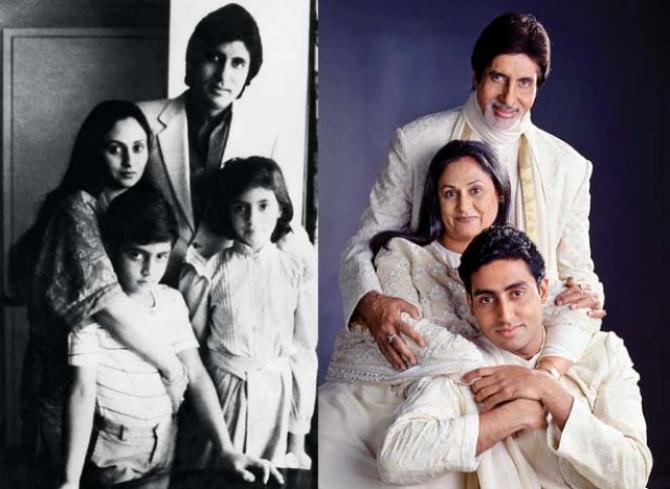 Dharmendra-Hema
He is considered as the original He-Man of Bollywood, who is a married man and never stopped from being besotted by the Dream Girl, Hema Malini. Initially, Hema remained aloof to his advances as she never wanted to get involved with someone who was already married. On the sets of the epic film "Sholay", however, their love finally blossomed. The couple soon hit a patch while Prakash Kaur, Dharmendra's first wife refused to give him a divorce.
Hema was also wooed by Jeetendra and Sanjeev Kumar. Her biography claims that Hema Malini has also got married to Jeetendra. When Dharmendra has made up his mind, well he never looked back after that. He didn't leave his first wife and in order to get married to Hema, he chose to convert to Islam. Both the actors took conversion to Islam in the year 1979, has changed their names to Aisha Bi R. Chakravarty and Dilawar Khan Kewal Krishn and finally got married. Today, they were blessed with two children Esha and Ahana.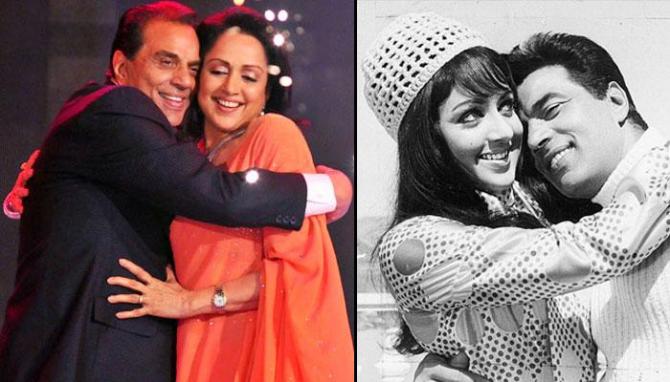 Shah Rukh-Gauri
Shah Rukh Khan and Gauri's love is the most romantic among all of them. Their life seems more like a fairytale and stayed 'happily ever after' in spite of all highs and lows. While dating Gauri, Shah-Rukh Khan has been pretty over possessive about Gauri. Â However, this has enraged Gauri at times and she even left Mumbai without informing him. Distorted and distressed, Shah Rukh borrowed some money from his mother and went to find her. After some fanatic search, the couple reunited again and realized that they cannot stay apart any longer.
Of course, Gauri's parents were against this match as Shah Rukh Khan belonged to a different religion and he was just a struggling actor without any financial stability. However, Shah-Rukh Khan's charm has won them over and the duo went for a registered marriage, a nikah as well as a Hindu style wedding. Today, the couple has been blessed with two children, Aryan and Suhana. They have another son of surrogacy, Abram. Today, he is popularly known as the king of Bollywood with an on-screen lover image that has never made Gauri insecure ever. She has been his side through thick and thin.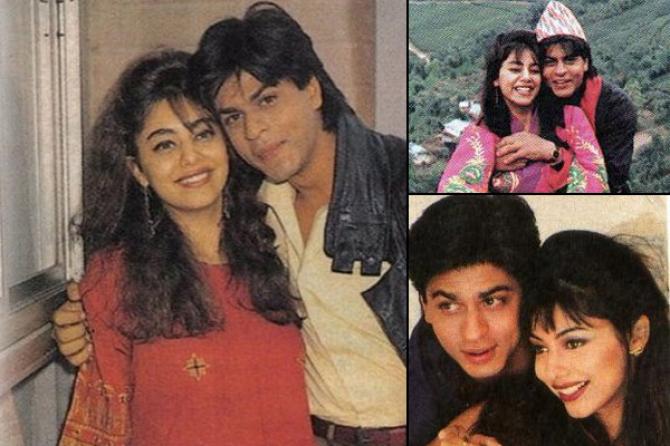 Rishi-Neetu
Rishi Kapoorx fell head over heels in love with his co-star, Neetu Singh. Their real-life chemistry has been a success in the box office and has set millions of hearts became fans. Neetu, who was just 21 during the wedding chose to leave the Bollywood industry after the post marriage.
Many people have speculated that it was a forced retirement. However, Neetu silenced the rumours saying that it was her personal choice. As per Neetu, Rishi was a very supportive husband and has never ever forced to leave her career. The famous Bollywood couple was blessed with two children, Ranbir and Riddhima. Neetu made a comeback in a couple of movies with her husband Do Dooni Chaar, Love Aaj Kal, and Jab Tak Hai Jaan and she has dazzled the audience with her praiseworthy performances.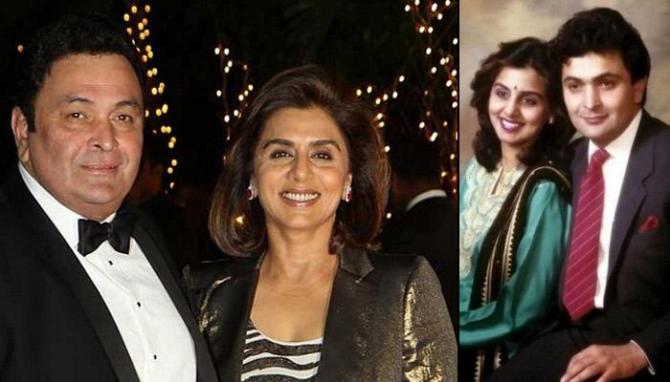 Saif-Kareena
On the sets of the movie, Tashan Sailf fell in love with Kareena Kapoor. During the patch of Shahid and Kareena relationship, Bebo and Saif started dating in the year 2007 and their love went steadily. After dating each other for 5 years, the couple has tied the knot with respect to each other's religion.
Though they are of different religion, however, it never affected their love for each other at all. Their marriage has broken all the barriers of religion, culture, and age. Both of them were blessed with the cutest boy in Bollywood, Taimur Ali Khan.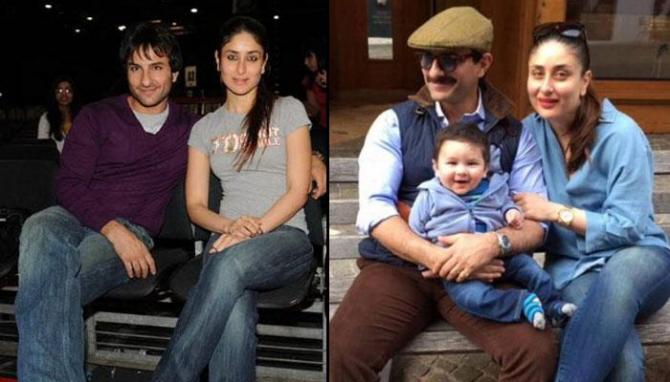 Abhishek-Aishwarya
They are the most powerful couple of the Bollywood industry, Aishwarya Rai Bachchan and Abhishek Bachchan has made us believe that marriages are made in heaven. During the year 2006-07, when they were shooting for 3 films together, their love finally blossomed. During the shooting of Dhoom 2, they developed feelings for each other and it was on the premier of the movie, Guru when Abhishek finally the queen of hearts, Aishwarya.
Before tying the wedding knot, there are a few obstacles faced by the duo. Aishwarya's Manglik dosh was the one and much-hyped kiss between Aishwarya and Hrithik in Dhoom 2. The third one was Jhanvi Kapoor who had slit her waist claiming that Abhishek has promised to marry her! However, nothing stopped their love between the two couples and they finally tied the knot in 2017. They are now proud parents of Aradhya.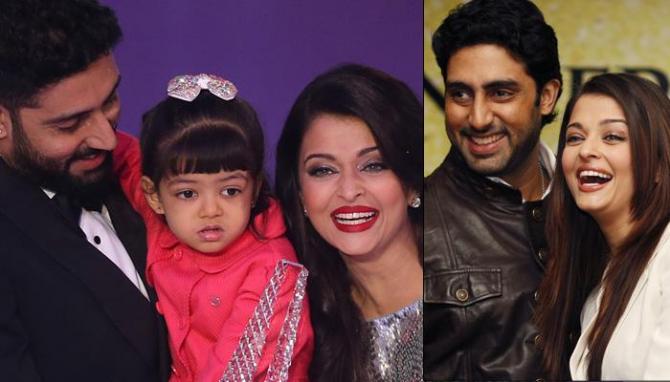 What do you think? Are they the perfect couples? Share your thoughts.