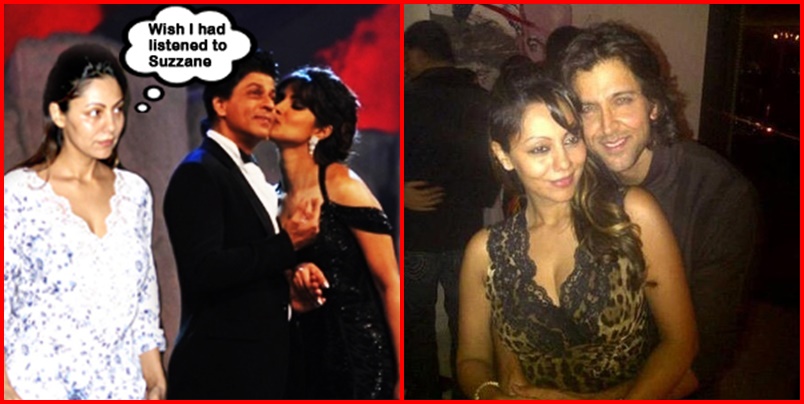 The glamorous world aka Bollywood is always in the limelight for its celluloid love stories as well as for famous real life Bollywood love triangles. The multi-talented stars set the silver screen flare with their perfect chemistry with co-stars and the romantic, amorous songs are oh-so-important part of our movies. Besides, Bollywood is also in the spotlight for its fairy tale weddings, scandals and controversies amongst the co-stars.
The public is always kept on their toes by the love affairs of the B-Town stars. The celebrities and their deathless love for each other drew public eyeballs even raised a few super-cilia. But who cares? Although some stars are able to find their prince of dreams and there are few whose relationships end on bitter notes. Some of them are still dating while others are separated. But that does not affect their rising career.
Here's the list of some of the most famous love triangles of Bollywood:
1. Salman Khan – Katrina Kaif – Ranbir Kapoor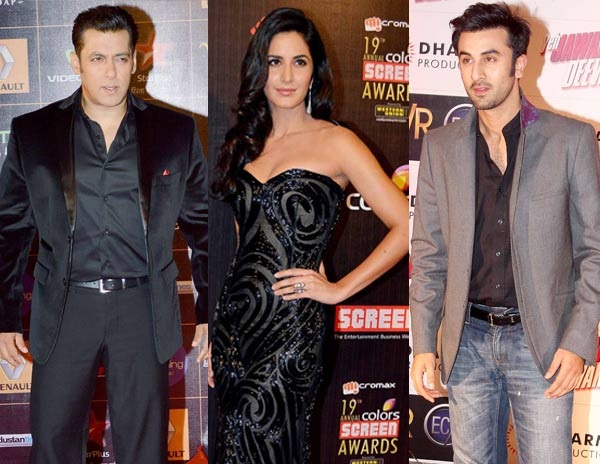 Aww… the hottest and latest Bollywood love triangle in the current scenario! Do I need to be elaborative in this case? Well, Salman Khan was the Godfather of Katrina when she was a newcomer. They both started dating and soon her career got off the ground. Katrina was not happy with Salman's bold nature. On the other end, Ranbir was dating Deepika Padukone. On the sets of Ajab Prem Ki Ghazab Kahani, Ranbir and Katrina fell in love with each other. Amongst the rumors of cheating, Salman and Ranbir broke-up with their respective partners and Ranbir started dating Katrina formally. The cute couple is quite serious about each other and now are in-line to ring their wedding bells soon in 2016. So, let us wait and watch the bride-to-be Katrina in a Punjabi Bahu look. Fingers Crossed!
2. Shahrukh Khan – Gauri Khan – Priyanka Chopra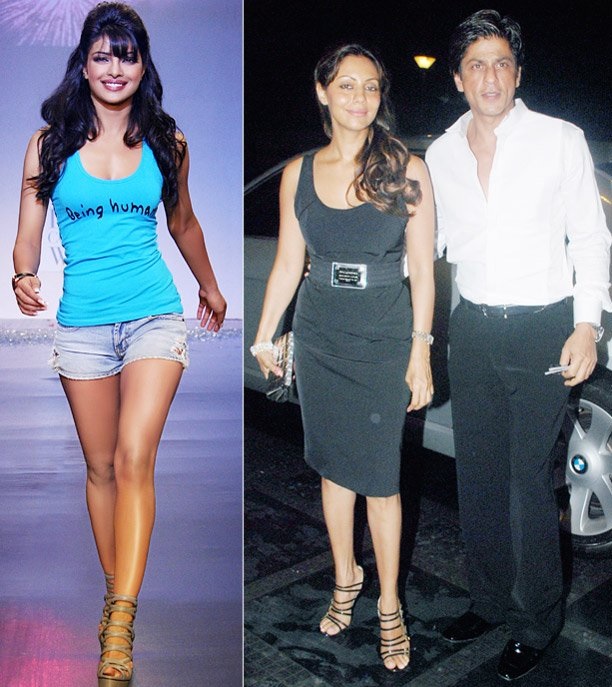 Oh, there must be no one who is not aware of the 3:00 am visits of Shahrukh Khan at Piggy Chops place. Shahrukh got a crush over Priyanka while shooting for Don. The duo started appreciating each other's company but how could Gauri Khan tolerate this? Yes, she is absolutely correct, how could anybody's wife tolerate the extra-marital affair of her husband? Well, Gauri warned Shahrukh not to share any film with Priyanka henceforth and now the couple is living happily. Infact, Priyanka Chopra is nowhere to be seen in any of Gauri Khan's bollywood parties.
3. Shahid Kapoor – Kareena Kapoor – Saif Ali Khan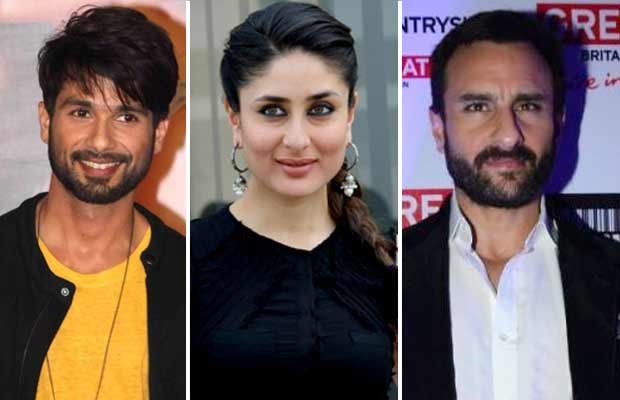 The lovey-dovey couple in Jab We Met is unforgettable. Shahid and Kareena were childhood friends and fortunately they became admirers of each other, but soon their relationship started facing some or the other difficulties. On the sets of film Tashan, starring Kareena Kapoor and Saif Ali Khan, the co-actors were seen spending more and more time with each other. It was thus, a final blow to end relation between Kareena and Shahid. Common people also pampered this couple and wished they could have long last relationship, but destiny was not happy. Soon after, Kareena ended her relationship with Shahid, embraced the Nawab and tied a knot last year. Shahid is also all set for marriage with a Delhi girl Mira Rajput by this year end.
4. Katrina Kaif – Ranbir Kapoor – Deepika Padukone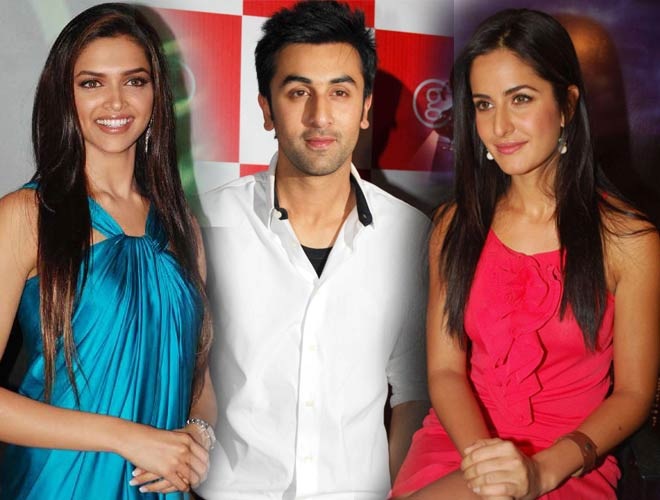 Ranbir Kapoor and the long-legged beauty, Deepika met and had a love at first sight at the very beginning of their career. Their relationship lasted for two years. Deepika even tattooed "RK (Ranbir Kapoor) on her neck as a sign of love. But sooner she found out that the chocolate hero of Bollywood, Ranbir was in relation with Katrina and was cheating her. Later, Ranbir too accepted that he was cheating Deepika. What happened to Bollywood? Is this is the real glamorous world? I always wonder!
5. Harman Baweja – Priyanka Chopra – Shahid Kapoor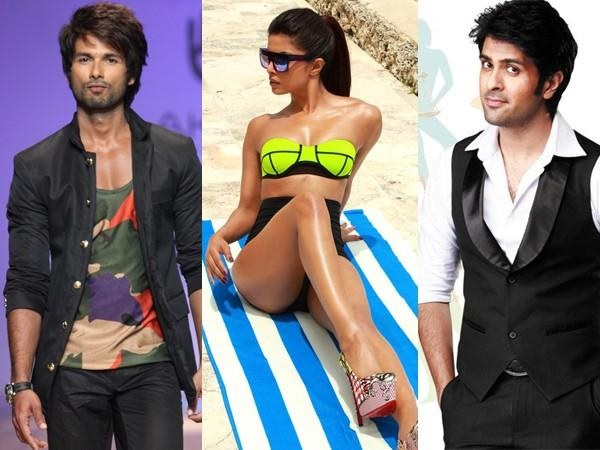 Priyanka Chopra was feeling alone after breaking up with Shahrukh Khan. Her upcoming film co-star, Harman Baweja in Love Story 2050 brought them closer. But as the film did not do anything special on Box office, their relationship also ended sooner. She then fell for Shahid Kapoor during the shoot of Kaminey. Shahid who broke up with Kareena felt some pleasure in the company of Priyanka, but their relationship also ended very soon. How could these stars end or start a relationship so soon? Ahh, an unanswerable question I think!
6. Sussanne Khan – Hrithik Roshan – Barbara Mori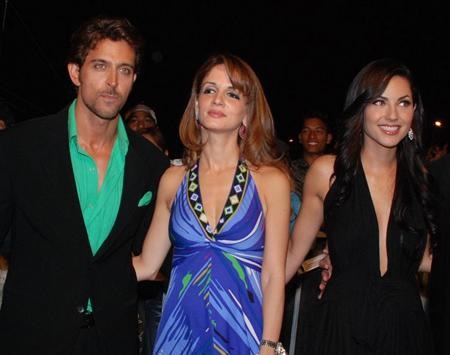 The cutest, heartthrob Bollywood couple Sussanne and Hrithik were childhood friends. They married each other in 2000. This fairytale couple was victim to rumors of several link-ups from time to time. It was rumored that Sussanne was in a relationship with Actor Arjun Rampal, it was just a rumor, not confirmed! Well, during the shooting of Hrithik's film Kites, it was rumored that he was attached to his film co-star, Barbara Mori. However, at that time the couple put full-stop to all the rumors but sooner they ended their 17 years of long relationship because of these foolish rumors or whatever! They should have thought twice, right? What say? Nevertheless, the couple is finally divorced but do go out of vacations and spend time with each other only for the sake of their children whom they believe should not suffer due to their divorce.
7. Salman Khan – Aishwarya Rai – Vivek Oberoi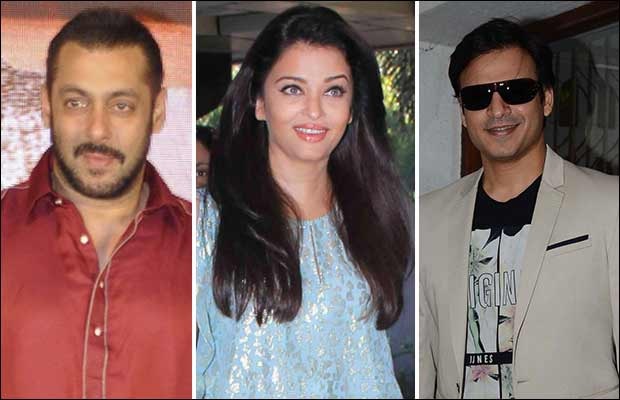 The Dabangg actor was deeply in love with blue-eyed Aishwarya while shooting Hum Dil De Chuke Sanam. We can also see their love blooming in the film and supersonic chemistry. But soon things turned sour when Salman was charged in abusing physically and mentally to his lady-love Aishwarya and ended in a relationship. She then found peace in Vivek Oberoi's company, but there relationship also could not last long. Aishwarya then married Abhishek Bachchan and is living happily. Vivek Oberoi also got married afterwards. We hope Salman would ring his wedding bells soon! Aish has now has a lovely daughter Aradhya.
8. Zarina Wahab – Aditya Pancholi – Kangana Ranaut
Queen of Bollywood, Kangana was also a victim of Bollywood love triangles. She was a newcomer and a struggler when she met with Aditya Pancholi. The duo started liking each other's company. Though Aditya was 20 years older than her and married, it did not discourage him with falling in love with a younger, newcomer actress. The things went on the fritz when the rounds of physical abusing rolled the floor. Later the lovebirds parted ways for everyone's good. Kangana is now in the news for accusing Hrithik Roshan of being her "silly ex" and also claims that Hrithik was in a relationship with her for 4 years which Hrithik has been denying.
9. Shilpa Shetty – Akshay Kumar – Twinkle Khanna
The Khiladi of Bollywood is also not escaped from being the dupe of Bollywood love triangle. Romance flourished between Akshay Kumar and Shilpa Shetty on the sets of Main Khiladi Tu Anari. Shilpa was profoundly in love with his co-star. But, the news that Akshay was cheating her with her best friend. Twinkle Khanna, she left devastated and overwhelmed. Soon she broke her relationship with Akshay and Akshay too married Twinkle Khanna later.
10. Rekha – Amitabh Bachchan – Jaya Bhaduri in Bolywood Love Triangles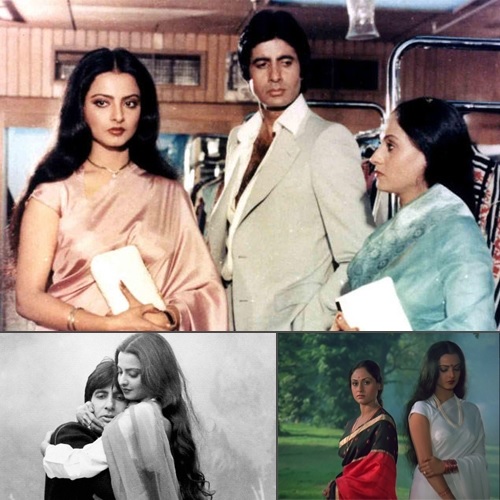 OMG! Big B aka Amitabh Bachchan also could not help himself in getting entangled in Bollywood love triangle series. Well, Amitabh and Rekha felt in love on the sets of Do Anjaane. But Amitabh was married to Jaya. Thus the relation in between Rekha and Amitabh, both on-screen and off-screen came to an end with Silsila. It was rumored that Amitabh was married secretly with Rekha as she turned up with sindoor and mangal sutra at Rishi Kapoor and Neetu Singh's wedding. But the duo separated when they recognized that there was zero future of their relationship at least for this birth. Rekha has not married anyone and she still puts sindoor in her maang. But they duo didn't make any on-screen appearance till now.